13 Nigerian Christmas Recipes You Will Love
You will love these Nigerian Christmas recipes!
Yes! I'm excited to share some Nigerian Christmas recipes to try out and I promise, you will love it!
For most of you that will travel, these varieties of recipes will really be of help, because after Christmas day you will keep having visitors.
I've put together these handful number of Nigerian Christmas recipes to surprise and give your family and visitors a cool treat.
These Nigerian Christmas recipes have the three meal courses. So there are appetizers, desserts and main courses. Breakfast, lunch and dinner recipes all inclusive. I got you all covered . LOL!
These Christmas recipes are already on the blog. What you will do is to click on the highlighted text and it will take straight to the posts.
Here are 13 Nigerian Christmas recipes you will love
Super Nigerian Fried Rice: This is a friendly recipe, virtually loved by everyone, and it's a sister to the popular Nigerian Jollof rice. Fried rice is not missed in most event organized in Nigeria. You will love my special fried rice recipe. Can be taken with moi moi and vegetable salad.
Organ meat pepper soup: This is also called assorted meat pepper soup. It's an appetizer and also a perfect treat for the harmarthan weather we are presently in. It can be taken with white rice or white agidi also known as eko.
Delicious Homemade cookies: This is cool treat for entertaining visitors. You could make and store in an air tight as long as you can. Perfect for breakfast when taken along side with tea.
Cow skin sauce. This hot and spicy recipe is a sister to nkwobi but very less expensive. It's also very easy to make. Can be taken down with soft drink or fresh palm wine for those that take it. Perfect recipe for harmattan .
Yummy Pancake: This recipe is indeed yummy and healthy breakfast treat. My pancake recipe was made with vegetables. You will love it!
Ukazi soup: This is a delicious soup loved by the Igbos.
Christmas Cupcakes: This cake is so yummy and perfect for the season. You could make and gift someone this season.
Poached eggs: This is a cool breakfast recipe but not popular in Nigeria. I've made the Nigerian style. Your kids and anyone that have a taste will ask for more.
Coconut candy: This is one of my favorite snack. Made with very few ingredients. Your family will love it!
Garden egg leaf soup: This soup is super! It's a healthy and unique soup. Check out recipe and thank me later. Can be taken with fufu or any other swallow of choice.
Peppered Chin chin: Make this delicious peppered chin chin and store in an airtight container. Serve with chilled soft drink.
Abacha: This is also known as African salad. It is an appetizer loved by everyone. Check out my super recipe.
Peppered Cow liver: This is tasty recipe. It's healthy, nutritious and also perfect for the harmarttan weather.
My recipes are very easy to understand and self-explanatory.
I added more spicy recipes because of the Harmarttan weather to keep you warm! LOL!
Loves surprise your friends, families and well-wishers with these recipes.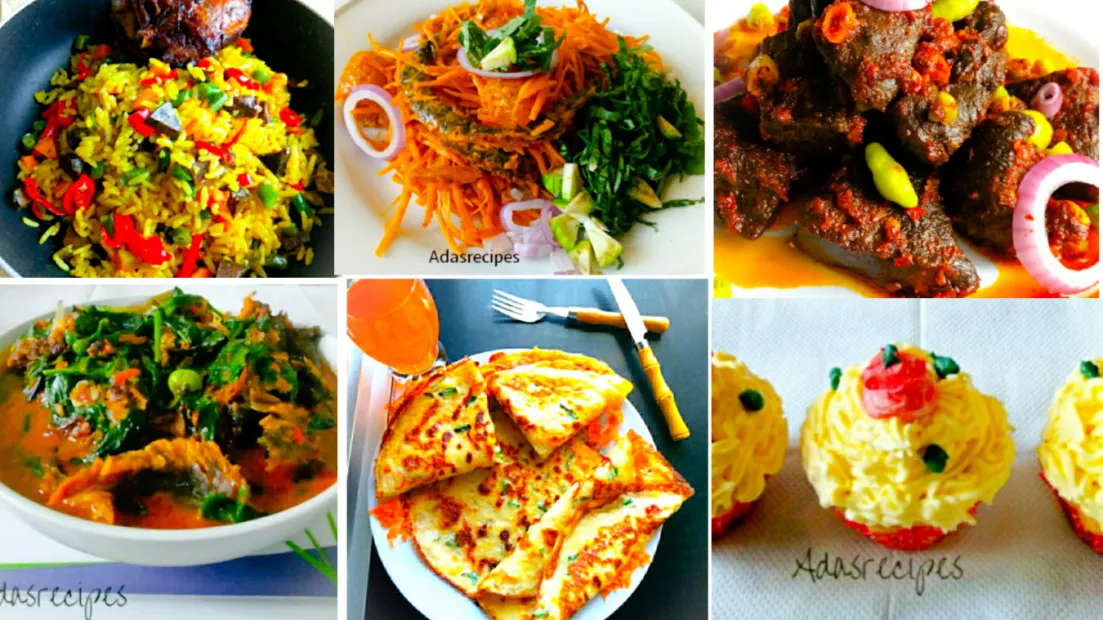 Enjoy!
Share this post as usual and leave a comment below.
Have a memorable Christmas holiday!
Ada.