Super Nigerian Fried Rice Recipe Wins Hubby's Heart
Nigerian fried rice recipe!
Prepare this super recipe for hubby and thank me later!
A friend of mine newly married, not up to 6 months, called me to teach her how to make fried rice.
This Super Nigerian fried rice recipe was actually the recipe on my list for next week, but I decided to make it this week because of my friend.
She got married to a man that doesn't joke with fried rice. Depriving hubby of his favorite, you know what that meant.
To totally rule out the fact that hubby goes out to have fried rice treat when he has a wife.
I broke protocol to avoid stories that touches, and taught her how to prepare super Nigerian fried rice, twas so so super delicious.
Hubby was so impressed and applauded her, because he can always enjoy his favorite, any time, any day.
Also Read: Make Mouth-Watering peppered cow liver
Fried rice recipe is a popular Nigerian dish loved by many.
You don't talk of event organized in Nigeria without a pot of fried rice.
Nigerian fried rice recipe is so so special, delicious and colourful because of the assorted vegetables used in preparation .
It is reserved for the guest of honour in some events, which shows how special it is. Jollof rice can be served generally, not fried rice. Lol!
My Super Nigerian fried rice was Super delicious with the organic mixed spices I used which gave it a super taste and flavour.
It was prepared with green beans, carrot, green pepper, cow liver, chicken, the rest of the ingredients are on the list.
My rice wasn't parboiled , rather washed with cold and hot water.
Take note of the water level of the rice in the picture below, can water little at a time till it get well done.
You need extra carefulness for fried rice to come out fine.
Please note that fried rice goes bad on time compared to jollof because of the vegetables.
I once had this experience. Don't leave to stay hours, refrigerate or you can as well heat to avoid that.
To prepare Super Nigerian Fried Rice Recipe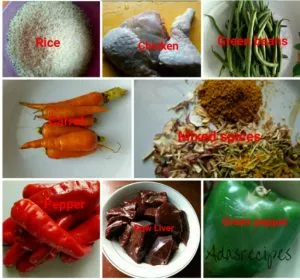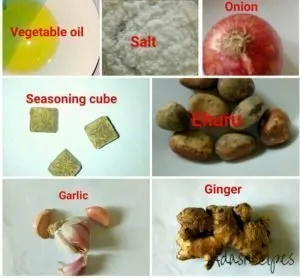 I Used
500g Chicken
Mixed spices as desired(should be added in moderation,too much of it could utter the taste of the food)
2 medium ehuru
1 medium clove garlic
1/4 small fresh ginger
1 1/2 medium onion
2 cups rice
2 medium green pepper
7 Small carrots
2 cups diced green beans
7 medium cow liver
5 large shombo(pepper)
3 seasoning cubes
vegetable oil (enough for cooking)
Salt to taste
Preparation
1. Scrape the back of the carrot, wash and dice, not to tiny please
.
2. Wash, remove both heads with knife and dice the green beans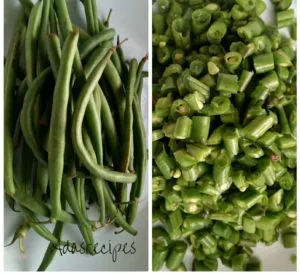 3. Wash and slice the shombo pepper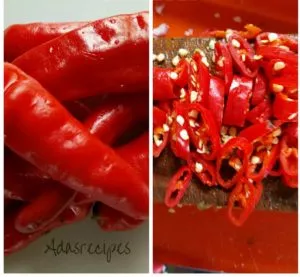 Wash the green pepper, remove the seeds and dice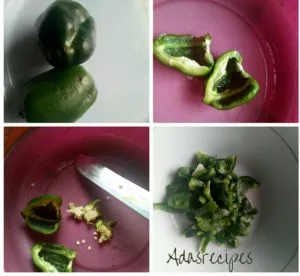 Cooking Procedure
1. Thoroughly wash the chicken and cow liver, put in an empty pot, season with seasoning cube, salt, onion, mixed spices, blended ehuru, garlic and ginger
2. Work with hands to mix evenly and apply heat. Do not add any water and allow to cook for 20 minutes on medium heat.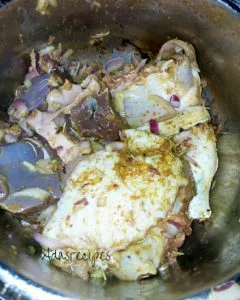 3. Then dice the cooked cow liver.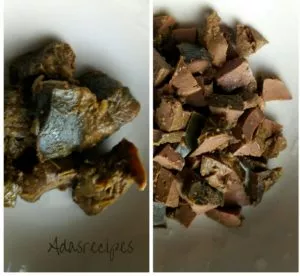 4.Wash the rice with cold water, till you wash off the whitish colour, then with hot water.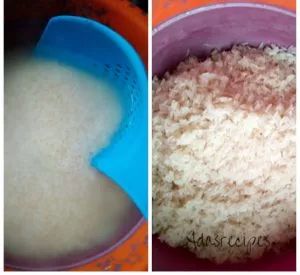 5. Add very little water to the water gotten from the chicken, known as the stock, add the remaining seasoning cube, salt and leave to boil,once the water starts boiling, add the rice and curry powder until you are ok with your desired colour, leave to cook until done.
6. In an empty dry frying pan, add enough vegetable oil, once is well heated, add the chopped medium onion and the vegetables and fry for 2 minutes on medium heat and remove from heat.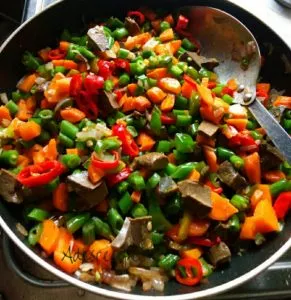 7. Divide the rice and vegetables in to 2, then add the vegetables to the rice and stir on medium heat, until everything is well mixed, remove from heat.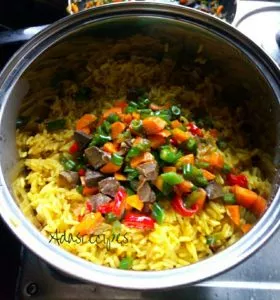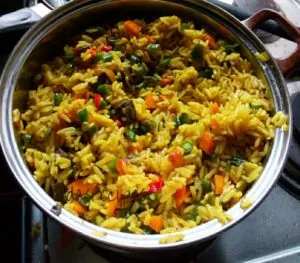 Ready Super Nigerian fried rice recipe!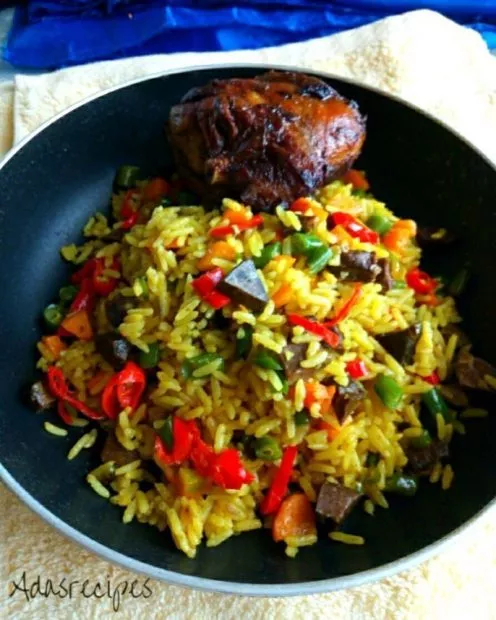 Served with moi moi, vegetable salad etc
Try this out and don't forget to share and leave a comment.
Have a great day!
Ada.