Hello people,how are you doing today? I want to share with you how to make mouth-watering peppered cow liver.
Tell me who doesn't love peppered cow liver, let me tell you who's really missing out in this mouth-watering appetizer.
Peppered  liver is a small chop, spicy and delicious .It's an appetizer enjoyed by Nigerians and becoming trending in households and events organized in Nigeria. It is taken down with chilled drink. I often made it for my family and we loved it.
On the other hand,cow liver is an organ meat,animal protein and it's highly nutritious.It's one of the internal organ of a cow which are collectively known as offal.The offal comprise of the liver,tripe/shaki,kidney used in making the assorted  meat pepper soup we all know.
Also read: Hot Delicious Fresh Fish pepper Soup For This Season
Peppered cow liver is easy to make and not time consuming. I made it with few ingredients, majorly pepper and you done making the mouth-watering pepper liver.
To make mouth-watering peppered cow liver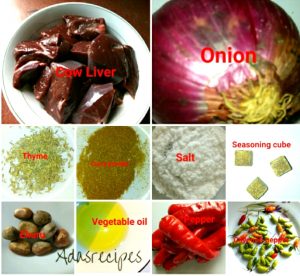 I Used
12 medium cow liver
1 medium onion
2 seasoning cube
1/4 teaspoon curry powder
1/4 teaspoon thyme
1/4 teaspoon ehuru
salt to taste
10 ml water(for the cooking only)
9 fresh pepper(shombo)
1 handful fresh cayenne pepper
vegetable oil (enough for frying)
Preparation
1. Wash the cow liver and set aside
2. Chop 1/2 onion and set aside
3. Blend together the remaining 1/2 onion with the shombo pepper
4. Chop the fresh cayenne pepper and set aside
Cooking Procedure
1. Put the washed cow liver in an empty pot,add the chopped onion,thyme,curry powder,ehuru,salt.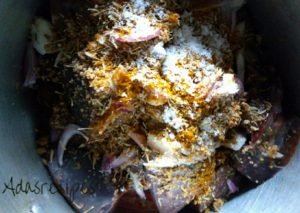 2. Work with hand to mix evenly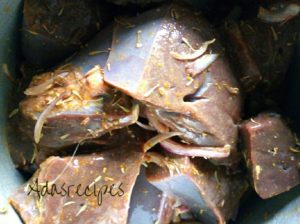 3. Apply heat, simmer for 5 minutes, then add 10ml water , cook for another 15 minutes on medium heat and remove from heat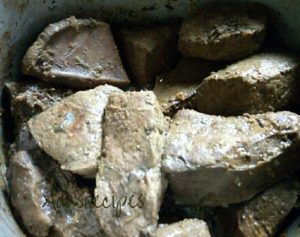 4. Put vegetable oil in an empty dry pot and allow to heat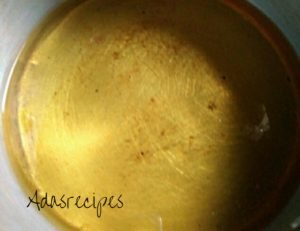 5. Fry the liver for 5 minutes on medium heat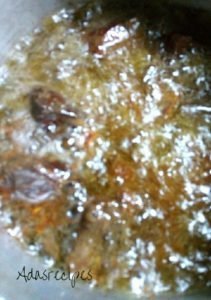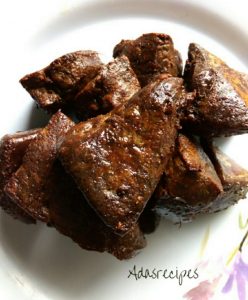 6. In an empty dry pot, take one cooking spoon of vegetable oil from the one used for frying the liver, add the pepper and onion blend, remaining seasoning cube and stir till dry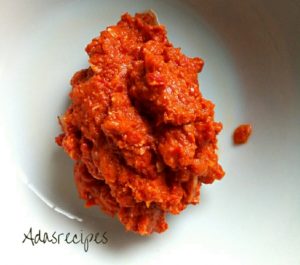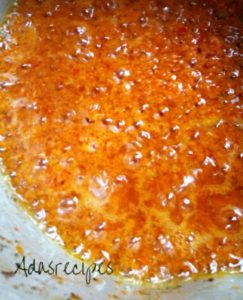 7. Add the chopped fresh cayenne pepper, the fried cow liver and stir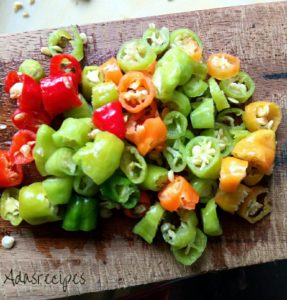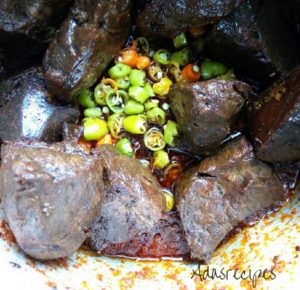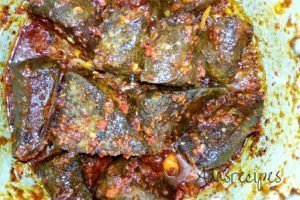 8. Keep stirring till everything is well incorporated. Add more chopped fresh cayenne pepper and sliced onion to garnish. Yes! This is it!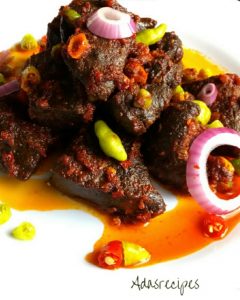 Enjoy with chilled drink of choice and don't forget to try it out!
Please leave a comment and tell us what you think about this Mouth-watering peppered cow liver.
Talk to you soonest
Ada