I Emerged Overall Winner in PROMASIDOR Nigeria Cooking Competition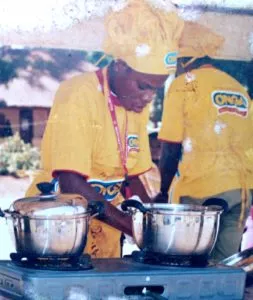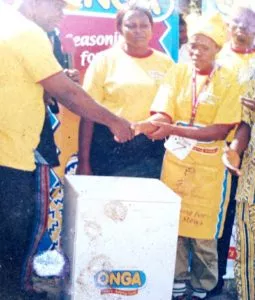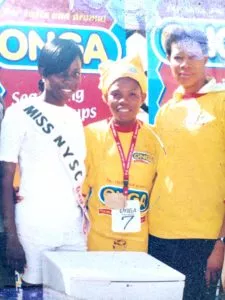 The day I emerged overall winner in a cooking competition organized by promasidor Nigeria limited makers of Onga seasoning was one of my happiest day. A remarkable day, I will never forget.
I thank God Almighty who made all things possible. Twas indeed God. I can't thank him enough.
I also thank my mum who taught me how to cook finger-licking dishes, and my hubby like no other, who has been so amazing. U rock my world.
During the 3 weeks November 2009 batch C NYSC orientation exercise at Umudi Nkwerre, Imo State, Promasidor Nigeria limited makers of Onga seasoning,Organized a cooking competition.
We were randomly selected and was provided everything needed for the cooking competition.
The cooking competition was on soups. A dice was thrown and we randomly picked what we prepared. Mine was okro soup.
We were given the ingredients based on the soup we blindly picked, and specifically Onga Seasoning.
We started the cooking competition. Of Course I knew time management was very crucial, the taste of the food and presentation also.
The okro soup I prepared was wow! It was so so delicious. Before I said Jack, my soup disappeared into the thin air.
They finished my soup. Lol! The okro popped very green and well drawn without ogbonno. I guessed that was one of the criteria that made me won.
Also read: Prepare Delicious Garden egg Leaf Soup Everyone Will Love
We had no idea of what the judges looked out for to award winner of the competition.
To cut the story short, I did the needful and emerged overall Winner in the cooking competition organized by promasidor Nigeria limited makers of ongaonga seaso and the cook of the year.
As the winner of the cooking competition, I won a sizeable Onga branded LG refrigerator with kitchen utensils.
The refrigerator came when I needed it most because the one I had was faulty and planned getting one.
Thanks to Promasidor makers of Onga seasoning who met that need lol! Have been enjoying my Refrigerator till date.
I shared this because, cooking has been what I derived joy doing.
Exercising my cooking passion within my jurisdiction wasn't just enough, I needed to take it a step further to affect the world positively .That was why Ada's Recipes blog came into existence.
Ada's Recipes' priority is to make cooking fun for you.
Make it a point of duty to always visit Ada's recipes blog and you be always glad you did.
Please one more thing! Don't for get to like, share and subscribe.
What food do you love cooking and why?
Please let's know by leaving a comment
Enjoy your weekend
Ada.