Unripe plantain Porridge you cannot resist
Hello lovelies, how are you doing? Hope great? I'm here again to teach how to prepare appetizing unripe plantain porridge no one can resist.
If you don't enjoy unripe plantain porridge, you can't resist this. After sharing this recipe, you will fall in love with unripe plantain porridge.
Most people don't enjoy unripe plantain porridge,including my husband. When I got married, one of the foods I noticed he doesn't enjoy was unripe plantain porridge. He preferred the ripe plantain, however its prepared, boiled, fried.
Also read: Enjoy This Hot Potatoes And Plantain Fries
I'm the direct opposite of my husband when it comes to eating of unripe plantain porridge. It's one of my favorite staple. Research has shown that eating of unripe plantain is very healthy for pregnant women as well as diabetic patients
We were always told to eat more of unripe plantain porridge during antenatal clinics. It contains iron, a vital mineral highly needed for the proper functioning of the body. In all my pregnancies I ate more of this recipe.
We went for a visit, and was served this recipe, our host hadn't the idea that my hubby doesn't enjoy it. He didn't eat it, he was plain to the host that he doesn't enjoy it. I and the kids did justice to it.
One day I made up my mind that this had to stop. My hubby should be a partaker of this highly nutritious meal. I convinced him to prepare appetizing unripe plantain porridge no one can resist. My hubby that detest it couldn't resist it. He ate it, he enjoyed it and its now one of his favorite dishes. Lol!
Unripe plantain porridge is a staple eaten by Nigerians, though most people don't enjoy it when compared to the ripe plantains. In the preparation of the Unripe plantain porridge some combine with semi ripe to give a little sugary taste. For me, I go by the name, unripe plantain porridge and strictly prepare that. Well, it's good you go by what works well with you.
Unripe plantain which is the key ingredient is packed with lots of health benefits.
It helps in weight management for those that want to lose weight
It helps to build strong and healthy bones
It is a very important meal for diabetic patients because of the low sugar content
It helps to reduce constipation because of the richness in fiber which aids digestion
To Prepare Palatable Unripe Plantain Porridge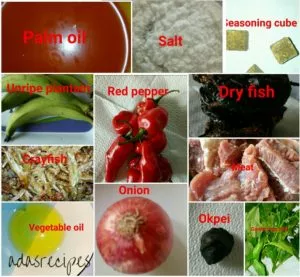 I Used
4 medium unripe plantain
2 medium cow meat
1 medium dry fish
1 okpei
2 tablespoons ground crayfish
2 seasoning cubes
salt to taste
2 cooking spoons palm oil
1 medium onion
vegetable oil enough for frying the meat
water for cooking
2 handfuls garden egg leaf
1 fresh tomato seed for garnishing
Preparation
1. Put the unripe plantain in a bowl of water, with a knife, indent a vertical line and remove the outer or green skin,put the peeled plantain in a bowl of water to avoid getting dark
2. Cut into tiny cubes and set aside
3. Wash the meat with salt water and set aside
4. Scrub the dry fish with salt and iron sponge, then soak in hot water for 2minutes, transfer in cold water and debone thoroughly.
5. Blend pepper, 1/2 onion and mash the okpei with spoon
6. With hands pick and cut the garden egg leaf into bold pieces
7. Wash the tomato seed and cut to your desired shape
Cooking procedure
1. Put the washed meat in an empty pot,add the chopped onion, one seasoning cube and salt, steam for 5 minutes
2. Add very little water and leave to cook for another 7 minutes and drain water
3. In an empty dry pot, add vegetable oil, place on medium heat,when the vegetable oil heats, add the meat and fry on both sides for 5 minutes
4. Put the stock in an empty pot and add more water for cooking. The level of water should be a little bit above the plantain
5. Add the diced plantain and dry fish and leave to cook
6. Once it starts boiling, add the blended pepper,onion,crayfish,okpei,the remaining seasoning cube and leave to cook for 25 minutes, don't stir
7. Add the palm oil and stir, when the raw taste is more, taste and add salt if need be
8. Add the garden egg leaf, stir and leave for 2 minutes, remove from heat.
There you have my appetizing Unripe plantain porridge which will keep you salivating. Lol!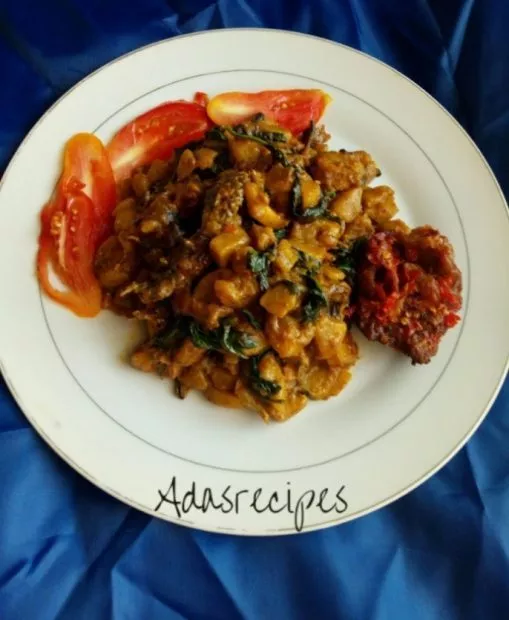 Enjoy!
Please don't forget to leave a comment
Ada.