Poached Eggs Recipe(Nigerian Style) is a goal! Oh, I love this goodness!
How many of you are excited about this super recipe? I am number one! LOL!
Great day to you loves, how's everything going? Trust perfect?
Yes! It's poached eggs recipe(Nigerian Style) on the table today!
Am super excited to share with you how I made it!
I prepare this recipe often for my family, and it has been on my mind to share it with you, because I know most of will be very much interested.
Of a truth, you will so much love this recipe if you have a taste. In fact, you will prefer this method of egg preparation.
Children love eggs in whatever form prepared, but my kids would always go for poached eggs when they are given options.
Poaching eggs is not a popular method of egg preparation in Nigeria.
Egg recipes mostly prepared by Nigerians are scrambled eggs, fried eggs and vegetable egg curry sauce.
Invariably, Poached eggs recipe is not really a Nigerian popular or well-known recipe.
Generally, Nigerians love eggs and is mostly used in the preparation of Nigerian food recipes such as egg roll, scotch eggs, moi moi rollup, bread, cakes to mention but a few.
There are other methods of making poached eggs, but our bone of contention in this post is preparing it in the Nigerian way, which I also call the Nigerian Style.
You know, in every recipe be it world recipe, Nigerians would always create their own version.
There are some oyibo foods that cannot just work well with us, that's just the truth. So we device a means to suit our taste. LOL!
My poached eggs recipe(Nigerian Style) was mehn super delicious. Please don't miss trying it out.
Twas spiced with onion, dry cameroun pepper, fresh pepper, mixed spices, check out the names of the mixed spices I used on the ingredients list below.
In Poached eggs recipe preparation, the raw egg is put into a boiling water to poach.
You can also break in the raw eggs into a plate before placing it in a boiling, which was the method I used.
Also, the egg is gently and carefully put into the plate and not whisked, meaning the egg white should be clearly separate from the yolk.
For the other method, the egg is also gently dropped directly into the boiling water.
Poached eggs recipe(Nigerian Style) is a method of cooking eggs in a boiling water without the egg shell.
It's very healthy and nutritious, a good source of protein, though not a popular recipe in Nigeria.
Also, is an alternative to eating or enjoying eggs if you are bored with boiled and fried eggs.
It's very easy to make, and can be twisted by spicing it up.
This is good both for children and adult, it's also a perfect breakfast treat and can be taken with bread and tea, fried plantain etcetera.
It requires very few ingredients and not time consuming.
Let's get into the preparation proper.
To make poached Eggs Recipe(Nigerian Style)
Here are the ingredients I used.
3 medium raw eggs

3 medium round slices onions

3 round slices fresh pepper

3 Pinches of dry cameroun pepper

3 pinches of salt

3 pinches of the mixed spice(curry powder, dry onion, fried shallot, thyme)

Little vegetable for greasing.
Preparation
With a pastry brush, grease the plate.

Carefully and gently break in the eggs into the greased plate, make sure the yolk is separate from the egg white and do not whisk please.

Add the sliced onion, dry Cameroon pepper, mixed spices salt and fresh pepper.

In a boiling water, place the plate of raw eggs, leave to cook for about 20-25 minutes on medium heat, it will take less time if aluminium plate is used. It took more time because I used a plastic plate. The poached egg will also take the shape of the plate used.
Transfer into another plate.
Enjoy!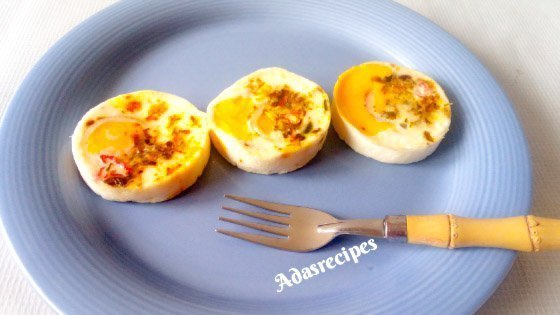 Watch the practical video below on how to make poached eggs recipe(Nigerian Style)
Hope you enjoyed reading this post?
As always, share this post, leave a comment and don't forget to subscribe with your email for free to get my super recipes straight to your inbox.
See you in my next post.
Happy Independence!
Ada.