Make Best Nigerian Egg Roll
Best Nigerian Egg Roll is indeed the best!
Hello good people, how are you guys doing today?
How has it been trying out Ada's Recipes?
You noticed I always tell you to try out my recipes because, I don't want you to miss out.
That shows how much I love and care about you and your wonderful family.
It's the best Nigerian egg roll Rolling!
I'm super excited to share this recipe with you.
I know you will love it!
Nigerians love egg rolls so much, the challenge most have is that, majority don't know how's prepared.
Though some knowledge is needed on how Nigerian egg roll is made, especially when it comes to wrapping and frying the egg rolls.
These are the two major challenges people I came across complained about.
Either it didn't give that egg roll shape or didn't cook well inside.
The good news I brought today is that, if you follow this post, making Nigerian egg roll will be as simple as anything simple you can think of.
The best Nigerian egg roll is one of the popular Nigerian snack.
It's deep fried and also similar to the Nigerian buns and fish roll, because they share almost the same ingredient aside from the egg wrapped with the dough.
Also, sausage rolls and spring rolls are in the same family.
Sometimes, people mistaken egg roll for scotch egg, they are two different snacks.
Our area of concentration today is on eggs rolls, in my subsequent post, I will teach how to make Scotch egg.
Stay glued to adasrecipes blog so you wouldn't miss out in my super recipes.
My best Nigerian egg roll was very yummy, my kids enjoyed it so much,everyone in my house was so full and satisfied.
The food I prepared was forgotten, because the egg roll took it's place, lol!
Also Read this: Hot Onion- flavored soft Buns!
To address the two challenges I mentioned earlier people face in making Nigerian egg roll.
There are other methods but will share with you the method I used. Like I told you it's simple.
My egg roll dough was stretchy and sticky because I added enough water, I wanted an egg roll with an easy bite, I controlled the sticky dough with flour.
The secret why the egg rolls came out smooth and well rounded was that I extensively worked with flour during the wrapping stage.
With the help of the flour, divide the dough with the number of eggs you have, then flatten a little with your hand, put the egg, remember the dough is stretchy and soft, pulling up the dough to cover the egg, then seal and smoothen moving the dough in your hands in a circular motion.
To Make Best Nigerian Egg Roll
I Used
10 medium egg
4 leveled cups all purpose flour
3 tablespoonfuls granulated sugar or to taste
1 teaspoon salt(not heaped)
1 teaspoon ground nutmeg
1 tablespoonful powdered milk flavor
2 leveled tablespoon baking powder
2 tablespoon margarine
250 ml lukewarm water for mixing
Vegetable oil enough for deep frying
Preparation
1. Wash and boil the eggs for 5minutes on medium heat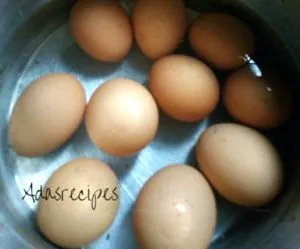 2. Transfer the boiled egg into a cold water and leave 3 minutes,then remove the shell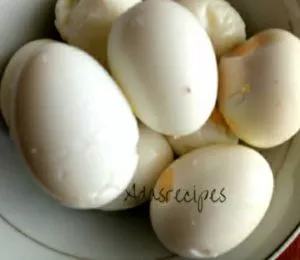 3. Sift the flour,add the ground nutmeg, salt, granulated sugar,baking powder, powdered milk flavor, mix together, then add the margarine and work with hand until it looks like raw garri.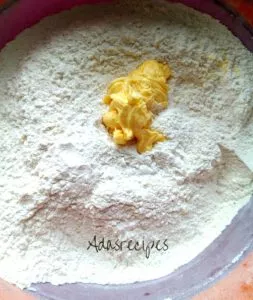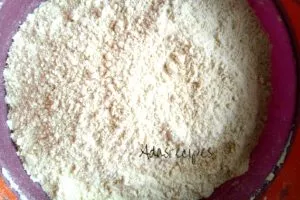 4. Add water little at a time,knead to get a sticky dough,and transfer to a floured surface.(This was the stage I worked extensively with flour). I divided the dough with the number of eggs I had which was 10medium and wrapped the egg with the dough .I explained that above.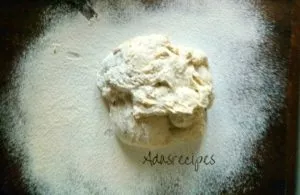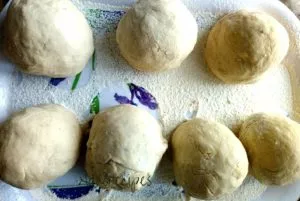 Frying Procedure
1. In empty dry pot, add vegetable oil enough for deep frying, leave to heat very well, put the dough in the oil and fry on low heat, stir at intervals and fry until golden brown.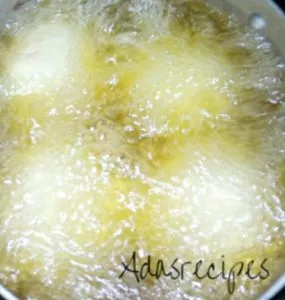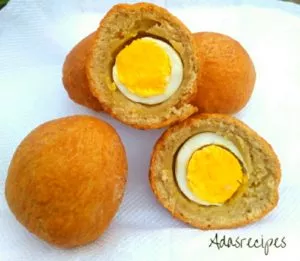 There you have it!
Enjoy and share with those around you!
Don't forget to leave a comment and share what you think.
Check out the practical video on how to make the best Nigerian egg roll.
Enjoy your day!
Ada.