Spicy Shredded oil bean sauce (ugba) Everyone Will Enjoy
Spicy shredded oil bean sauce(Ugba).
Hello lovelies,how are you doing today?Trust you are good? Am good too.
The kids have been on mid term break and it has been awesome controlling them.
You know kids can be every wonderful.
Wow! Who will tell me what's on the table today?
The first to tell me will have the largest share.Your time starts now!Lol!
Delicious spicy shredded oil bean sauce (ugba) is on the table today!
I know some are already salivating! Don't worry,it will go round.
Spicy shredded oil bean sauce (ubga) is one of the delicacies the igbo's don't do without when it comes to entertaining visitors.
Also read: How To cook Palatable Ukwa and Corn
During traditional marriage ceremonies in Imo State, Mbaise to be precise,spicy shredded oil bean sauce is never found wanting.
It's usually the first delicacy presented to the guest before any other foods.
Spicy shredded oil bean sauce (ugba) is an appetizer enjoyed by Nigerians.
it's a local delicacy found in joints and restaurants and usually taken down with palm wine.
The oil bean is shredded, boiled and tied in an airtight leaves to ferment for about 2 to 3 days.
It is highly nutritious, rich in protein and contains essential fatty acids and minerals.
African oil bean also has lots of health benefit which are as follows:
It helps for proper heart function
It helps in weight management
It contains anti bacterial properties which helps fight bacteria
It's also good for treatment of diarrhea
To make spicy oil bean sauce (ugba)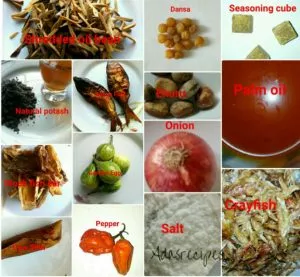 I Used
2 cups shredded oil bean
5 small stock fish ear
2 medium bonga fish
1 medium cow skin
2 cooking spoon palm oil
1 tablespoonful ground crayfish
1 medium red bonnet pepper
1/2 medium onion
1 cube stock cube
salt to taste
4 tablespoon natural potash water
3 seeds ehu
2 seeds dansa
1 medium garden egg for garnishing
Preparation
1. With a knife scrape,wash and cut the cow skin into tiny pieces and set aside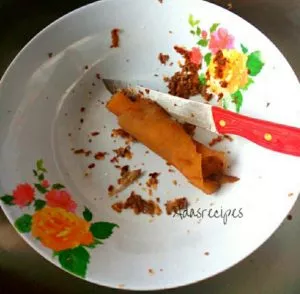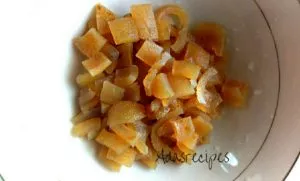 2. Chop the onion,coarsely blend the pepper ,grind the ehuru and dansa together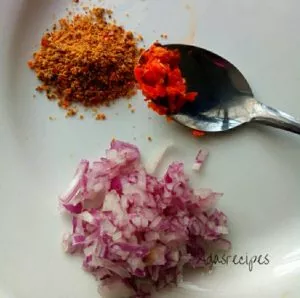 3. Dress the bonga fish by removing the skin and bones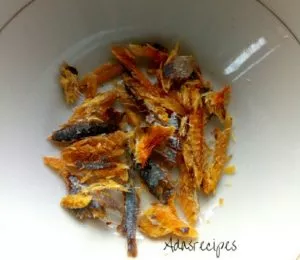 4. Put the natural potash powder in water,stir together and allow to settle,then take the water
Procedure
1. Wash the stock fish ear,put in an empty pot,add water,salt,cook for 15 minutes,then add the chopped cow skin and cook until tender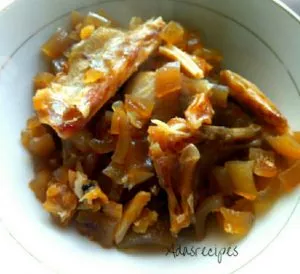 2. In an empty pot or pan,add palm oil and the potash water and stir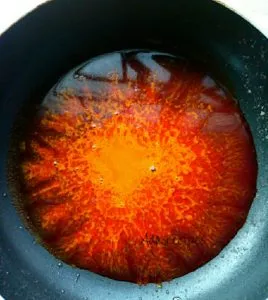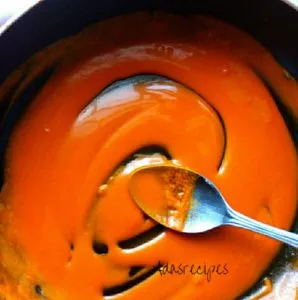 3. Add the chopped onion,pepper,ehuru, dansa, bonga fish,ground crayfish and stir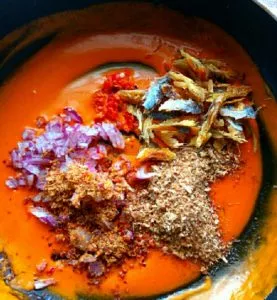 4. Add the stock fish mixture and stir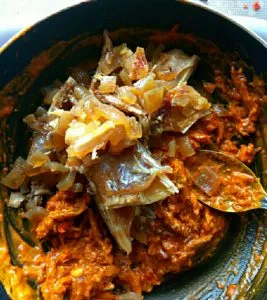 5. Add the shredded oil bean ,stir together until well blended and garnish with garden egg.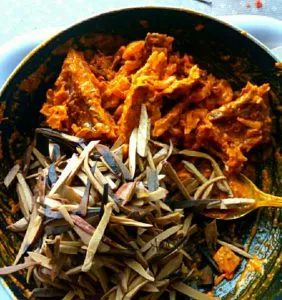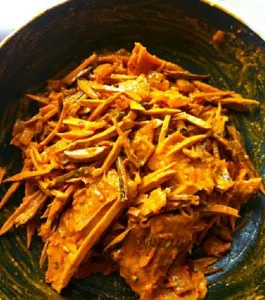 The spicy shredded oil bean sauce (ugba) is ready!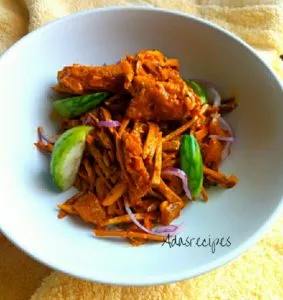 Enjoy and share with those around you!
Please try out this recipe,and don't forget to leave a comment,u should know by now that i enjoy reading your comments.
Have a fulfilled week!
Ada.