Assorted Meat Pepper Soup so appetizing
It's appetizing Assorted meat pepper soup, AKA organ meat pepper soup!
Hello beauties, it's Friday! What are your plans as regards the delicacy you will prepare for your wonderful family this weekend? Try out my recipes and give your family a cool treat.
This highly nutritious cow organ meat pepper soup also known as assorted meat pepper soup was so appetizing.
Don't know the adjective to qualify it, you need to try it out,give hubby a treat, he will confirm he has wonderful cook as a wife. Men make mouth with that o.Lol!
Pepper soup doesn't cost much, as some of us thought. You can make a delicious pepper soup without spending much.
I used 4 different organ meats. Tripe, liver, the two different round about.
Nigerians love pepper soup, its seen in virtually all local joints. Its an appetizer, that when you take you will always crave for more.
Also read this: Hot delicious Fresh Fish pepper soup for this season!
Assorted meat pepper soup is a spicy soup enjoyed by Nigerians and can be taken with rice, agidi or any drink of choice. It was prepared with assorted organic spices that gave the pepper soup a super taste. Leafy vegetables such as Uziza, scent leaf and utazi were also added which gave me that aromatic taste and flavor.
The cow organ meats is rich in protein and healthy. It is the internal organ of a cow which are known as offals.
The leafy vegetables are packed with a whole lot of health benefits, which includes regulation of blood sugar, helps in weight management, reduces bowel movements etc.
Also Read: How To Make Super Goat Meat Pepper Soup
To prepare Assorted meat pepper soup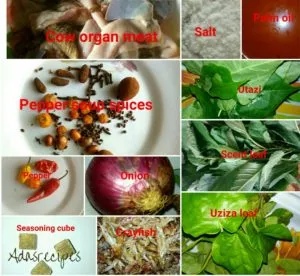 Assorted Meat pepper Soup Ingredients
16 medium cow organ meat( 4 pieces each)
1 medium onion
2 seasoning cubes
Salt to taste
1 tablespoon ground pepper soup mixed spices(3 ehuru, 3 dansa,1 control onion,1 efi,1/2 teaspoon orima,1/2 teaspoon ganiperi,1/2 teaspoon uziza seed,1 kpafula) all grounded together
3 medium pepper(yellow and red pepper)
1 1/2 tablespoon ground crayfish
1 cooking spoon palm oil
Water for cooking
Little shredded uziza, utazi, and scent leaves.
Preparation
1. Thoroughly wash the organ meat with salt water and set aside, I turned the round about inside out
2. Slice the onion and set aside
3. Break open the ehuru and kpafula and blend together with other spices i mentioned
4. Coarsely blend the pepper
5. Shred the leafy vegetables
Cooking procedure
1. Put the meat, add the sliced onion, seasoning cube, salt and pepper soup mixed and work with hand to mix very well
2. Leave to cook for 20 minutes on medium heat,add the pepper and stir
3. Add more water ,palm oil,salt, cook until tender then add the shredded vegetables,stir and cook for 2minutes,remove from heat.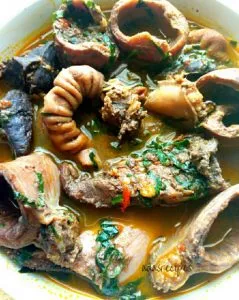 Ready ready! Get your spoons!
Enjoy!
Don't forget to leave a comment.
Have a great weekend!
Ada.