Aju Mbaise Herb For New Moms
Aju Mbaise Herb for new moms fully loaded!
Hello Lovelies, how are you guys doing today?
Will be sharing with you on how to prepare Aju Mbaise herb for New Moms.
This wonder herb is very effective and more effective, depending on how twas prepared.
Please read to the end to get the powerful information about the super power, super wonder, herb called Aju Mbaise.
Will major on the preparation of this power herb for new moms, which is majorly what is known for in Mbaise.
Continue reading as I Share this information.
No Mbaise woman misses this herb after giving birth.
This is why am particular about it in this post so that other new moms who are not from Mbaise can take advantage of it, start taking the herb, and will thank me later.LOL!
I know most of you are familiar with Aju Mbaise herb.
it has been trending seriously all over the internet on account of the how effective it is, how it has changed lives and still changing lives.
I'm an Mbaise woman, I meant all round, paternal home, maternal home and matrimonial home all in Mbaise.LOL!
I also stayed in my home town (Mbaise) a good number of years.
I have four kids and I took Aju mbaise after each birth for 3 consecutive months.
Aju Mbaise herb is originated from a town in Igbo land called Mbaise, under owerri senatorial zone.
Mbaise comprises of 3 local Government, namely; Ahiazu, Aboh and Ezinihitte Mbaise .
It's a town also located in Imo State, Nigeria.
Aju Mbaise is a medicinal herb also called Ahihia Ogwu by the Mbaises'
It's a tested, tried and trusted herb used by Mbaise women in the olden days to get rid of gynecological issues women face.
It's a combination of different herbs and roots that does wonders and still used till date to make women with gynecological problems smile.
it's a natural herb with no side effect.
These herbs and roots are gotten from the bush, dressed and wrapped.
Sourcing of these herbs is a skill, that is acquired,and can't be gotten by everyone.
This is one of the areas God has used Mbaise women through these herbs to bless and bring joy to faces of women both within and beyond.
You cannot just wake up and enter the bush to get these herbs.
You are trained to know the type of herbs and the particular quantity needed for a wrap.
The combinations of these different herbs have their roles and functions.
This power herb called Aju Mbaise Herb has lots of powerful functions
It's very effective and advisable for new moms to take it for at least good 3 months if you can.
Functions of Aju Mbaise herb
It flushes perfectly postpartum blood also known as lochia, which you know is not healthy if doesn't go out completely.
It stimulates the hormone called prolactin which is responsible for flow of breast milk, invariably, taking this herb as a new mom will increase the flow of breast milk and baby will have enough food to eat, which is the joy of every woman especially those their breast milk don't flow well.
It helps reduces colic in babies when taken by new moms.
It's a fat burning herb which aids weightloss.
Watch the video to get other powerful functions
Back to our bone of contention which is how to prepare Aju Mbaise for new moms.
Aju Mbaise herb for new moms is a medicinal soup also known as mmiri ogwu in Mbaise.
Instead of cooking the herb which is a general method of preparation majorly known by most people.
Here, the herb is boiled and taken as a tea, which is also called Aju Mbaise for weightloss.
In the preparation of Aju Mbaise for new moms, you go further to making it more like a soup by adding soup and pepper soup ingredients.
This soup is similar to any type of pepper soup, such as catfish pepper soup, goat meat pepper soup, organ meat pepper soup, yam pepper soup, plantain pepper and so on.
It's a delicious, medicinal, and a healthy soup that shouldn't be missed as a new mom.
Aju Mbaise herb is very effective and the nutrient intact, whether still green or dried, can be boiled up to 3 times provided the water is still highly concentrated.
This soup can also be taken by other categories of persons if they wish.
Not advisable to be taken by pregnant women please and please.
Wait till you give birth and enjoy it to the full. LoL!
The preparation is easy and not time consuming.
To Prepare Aju Mbaise Herbs for New Moms.
Here are the Ingredients I Used;
1 dried wrap Aju Mbaise ( I took a custard cup +1 cup=1250 ml concentrated water)
½ long prekese
½ big spoon uda seed
1 tablespoon uziza seed
2 medium dried fish
½ teaspoon grounded cameroun dry pepper
1 cup crayfish (not grounded)
11/2 seasoning cube
Salt to taste
Preparation
1.Unwrap Aju Mbaise and wash.
2.Pound crayfish and set aside.
3.Ground or pound the uziza seed.
4.Wash the uda and prekese.
5.Wash the dry fish with warm salt water and debone.
Cooking Procedure
1. Put the washed aju mbaise in clean pot and add water to the same level of the herb.
2. Cook till the water is very concentrated, with a sifter, take the water.
3. Transfer the aju mbaise water to another pot and apply heat.
4. Add the washed prekese, uda seed, dried fish, ground uziza seed, crayfish, pepper and leave to boil for 30 minutes.
5. Add seasoning cube and salt to taste and leave to boil for another 5 minutes.
6. Remove from heat.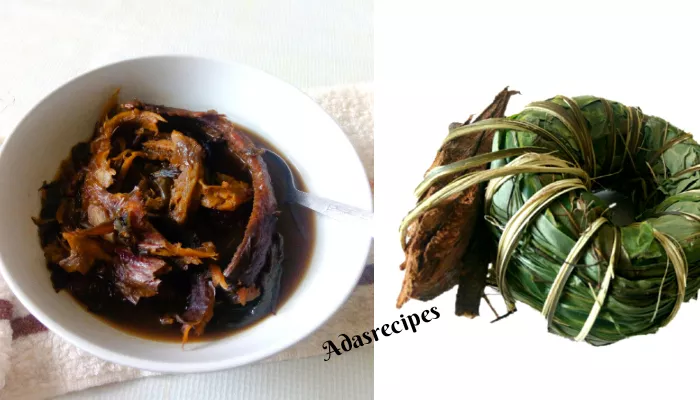 It's ready! Enjoy!
It can be taken like that, with any swallow of choice, yam or with anything that works well with you.
Hope you enjoyed reading this post? Please Share! Share!! Share!!!
Also leave a comment and tell me what you think about the recipe.
Watch the video below on how to prepare Aju Mbaise herb for new moms.
See you in my next post.
Tada!