Delicious ukazi soup fully loaded! Hello beauties, how are you and family doing today? Hope you are all doing wonderfully great?
I prepared delicious ukazi soup today, and will be teaching you guys, how it was prepared .
You need to try out this recipe,twas second to none, so delicious! The ehuru I added gave my ukazi soup a super flavour, lol! Check out the rest of the ingredients on the lists below.
Ukazi soup is one of my Mum's favorite soups. She often prepared it when we were growing up. Because she loved the it, we automatically followed suit.
I really thank God for my mum because, she made us not to be too selective in foods.
She prepared more of those foods she knew we don't enjoy, and with time we started enjoying them,ukazi soup was one of them.
Those foods we don't enjoy then were very healthy and nutritious,  so she never wanted us to miss out.
I've also extended that to my kids. They are under going the training of not be too selective in foods, they enjoyed the soup, lol!
Also read: Fingerlicking Bitter leaf Soup(Ofe Onugbu)
Ukazi soup is a native soup enjoyed by the people of the Eastern part of Nigeria majorly Imo State. It is similar to the preparation of ora soup , with difference in the vegetables.
Ukazi leaf can also be used as the vegetable in the preparation of egusi and vegetable soup.
To Prepare Delicious Ukazi soup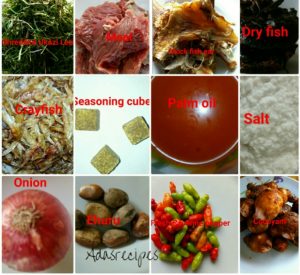 I Used
10 medium cow meat
2 medium dried fish (ebeiyi)
5 sizeable stock fish ear
3 seasoning cubes
1 medium onion
Water for cooking
1 cup crayfish( not grounded)
A handful fresh Cayenne pepper
3 medium seeds ehuru
salt to taste
1 custard cup cocoyam
3 cooking spoons palm oil
2 cups shredded ukazi leaf
Preparation
Wash and boil the cocoyam till tender, remove the outer skin,pound till soft,add palm oil to control stickiness, then set aside.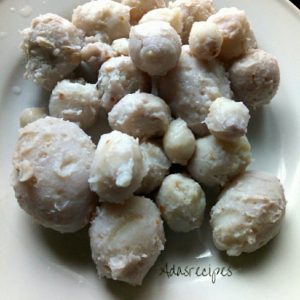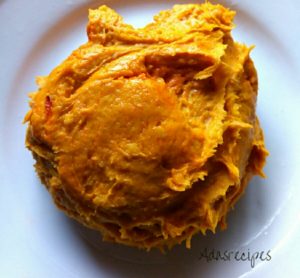 Thoroughly wash the meat, stockfish ear and set aside.
First scrub the dry fish with salt,then put in hot water for 2minutes,after which you transfer to cold water and properly debone. This washing procedure will remove sand and excess oil used in the preservation of the fish.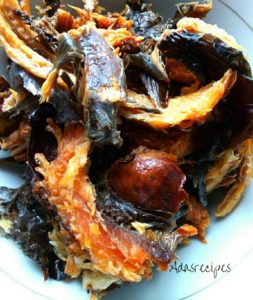 Ground the crayfish and fresh Cayenne pepper
 Cooking procedure
Wash the meat, add sliced onion, seasoning cube, salt and steam for 5 minutes.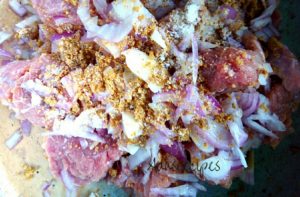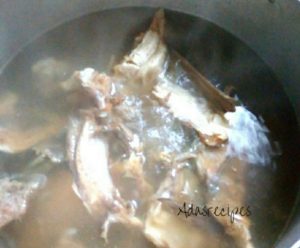 Add the  pepper crayfish blend and the dry fish, add the remaining seasoning cube and leave to boil for 5 minutes.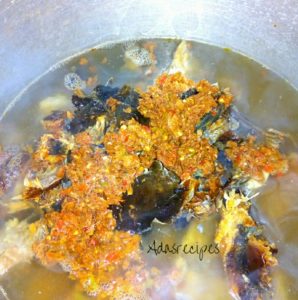 Add palm oil, add the pounded cocoyam which serves as the thickner into bits and leave to dissolve completely, add salt.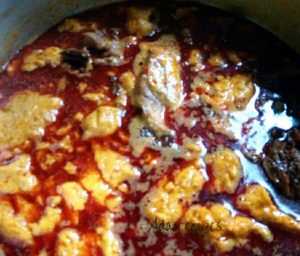 Wash the  thinly shredded ukazi leaf with a sifter, add to the soup, stir, leave to cook for 2 minutes and remove from heat.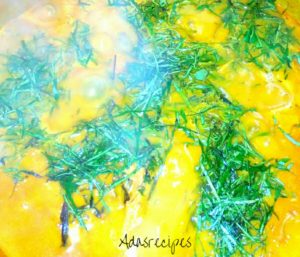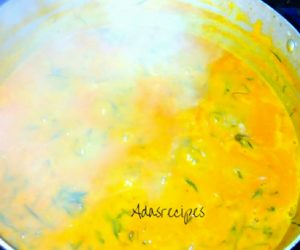 My delicious ukazi soup is ready!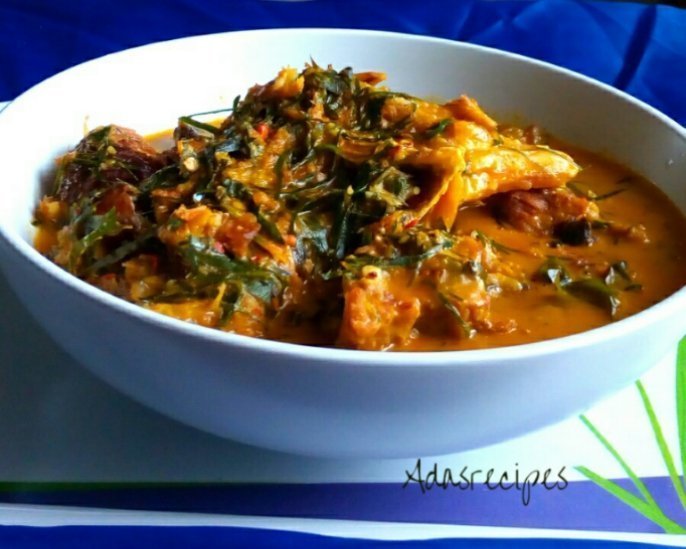 Enjoy with any swallow of choice.
I love mine with fufu!
Please don't forget to share post and leave a comment.
Talk to you soon,
Ada.