Nigerian jollof rice recipe is one of most popular recipes in Nigeria. This is one recipe prepared in every Nigerian home.
Not only that, you cannot talk of event organized in Nigeria without a pot of jollof Rice. It is always the number recipe that takes the lead in every occasion.
Nigerians so much love and enjoy jollof rice. Nigerian jollof is my favorite dish. Yes! I Say it again and again!
Give it to me for one full week without any other food, will still not get bored! LOL!
I know most of you will be in the same category with me. Without mincing words, the truth is, most, if not every Nigerian enjoy the Nigerian jollof rice so much!
What about our children? Let me not even go there. This is one food they enjoy and make sure no grain falls on the ground.
I Personally called the Nigerian jollof rice recipe, evergreen recipe, it doesn't phase out, neither do one get bored with it.
it's an appetizing recipe at all times. I really applaud the recipe developer!
This recipe is well known and is a recognized recipe, such that, there's a day set aside to celebrate enjoying this recipe known as THE WORLD JOLLOF RICE DAY!
The Nigerian jollof rice is a tasty recipe prepared with tomato plum, tomato paste and red fresh pepper which usually give it the red appetizing colour. It can also be prepared with beef, chicken or fish.
The Nigerian jollof recipe is a sister to the Nigerian fried rice. Aside from jollof rice, there are other rice recipes such as white rice with tomato stew, ofada stew, vegetable soup , ofe akwu, curry sauce, pepper soup, local jollof rice , coconut rice and the rest of them.
Nigerian jollof can be enjoyed with Nigerian salad and moi moi.
This recipe can be found in any type of eatery both local and International.
Ingredients for Nigerian Jollof Rice Recipe
3 cups rice
700g beef
15 medium Tomato plum
150g Tomato paste
Shombo pepper to taste
Scotch bonnet to taste
Salt to taste
3 seasoning cubes
 2 medium onion
1 teaspoon Curry powder
1 teaspoon Rosemary spice
1 tablespoon Fried shallot
1 teaspoon Beef spice
½ teaspoon Fresh ginger
1 teaspoon Fresh turmeric
½ teaspoon Fresh garlic
200ml vegetable oil
Preparation
Wash the meat thoroughly with salt water.
Wash the tomatoes, onions and pepper.
Blend the tomatoes, pepper both scotch bonnet and shombo, with one onions together.
Slice the remaining onion and set aside.
Blend or grate the fresh garlic and ginger.
Wash rice first with cold water and parboil for 7-10 minutes
Drain water, then wash again with cold water and set aside
Cooking Procedure
Put the washed meat in an empty clean pot
Add the sliced onions, salt, 1 seasoning cube, part of the curry powder, fresh garlic, ginger, part of the beef spices, part of the fried shallot and mix everything together.
Apply heat and leave to steam for 3 to 5 minutes, then add water and leave to cook until it's done.
Remove the meat from the stock and transfer into another plate.
In an empty dry frying pan or pot, add vegetable oil, leave to heat, add the meat and fry.
Add tomato paste, fry for 5 minutes, with the oil used for frying the meat stir at intervals, add the blended tomatoes, pepper and onion, also stir at intervals, it's ok when the sour taste of the tomatoes is no more.
Add the meat stock, seasoning cube, salt, the remaining part of the mixed spices and leave to boil.
Take a very small portion of the stew for the fried meat. (beef in tomato sauce)
Put water in another empty clean pot, leave to boil, add the stew, taste for salt, add more salt if need be.
Increase the heat to boil, then add the parboiled rice, mix and make sure the water is in the same level with the rice, reduce the heat to medium.
Leave to cook until it's done.
Turn with a wooden stick
It's ready!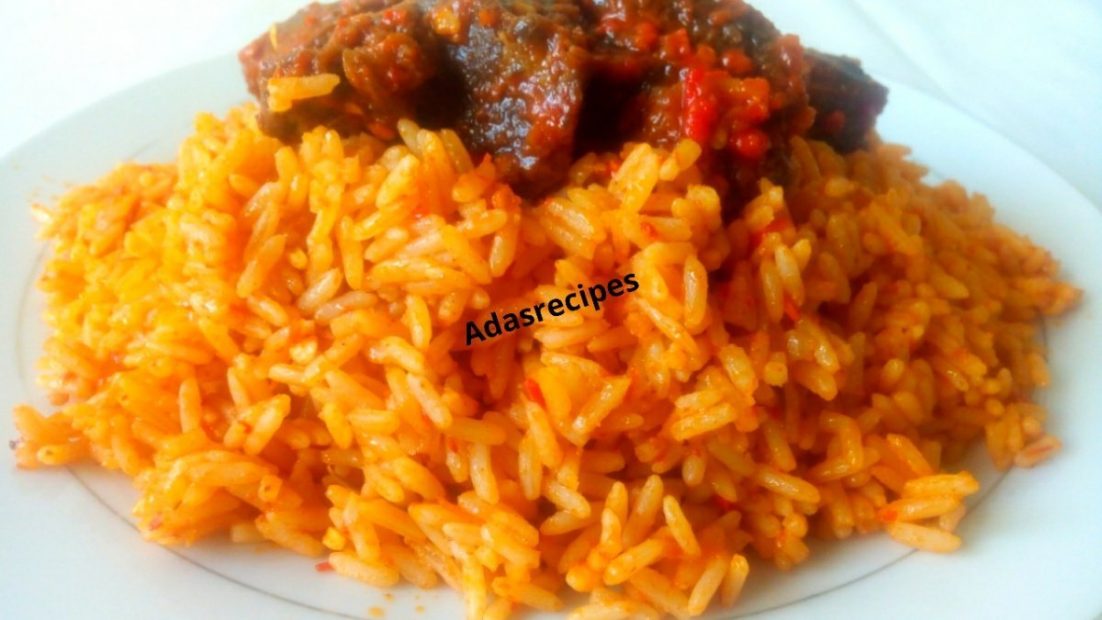 Enjoy!
Hope you enjoyed reading this post, don't forget to share and leave comment below.
Watch the practical video below on how to make Nigerian jollof rice recipe.
Ada.