How to make Bread with Stove | No Oven Bread
Make bread with stove, this is a must try!
Bread is one recipe Nigerians don't joke with. I could a remember a time when bakery in my locality went on strike due to the high rise in the price of flour.
I was surprised how people reacted to the situation as though bread was the only food they could survive with.
Peoples' reaction made me know how much Nigerians value and love bread.
You don't talk of breakfast without mentioning bread and tea as long as Nigerians are concerned.
There other varieties of breakfast such pap, akara, moi moi, ukpa, scrambled egg, plantain and egg pizza and many others.
An average Nigerian on a daily basis go home after work or business with at a least a loaf of bread, which makes bread high in demand, and highly profitable for those in that line of business.
If you've been thinking of the business to start, launching a bakery will be a smart move. Though is capital intensive, if you are aiming at setting up a standard bakery, which of course you should have in mind because there are basic things that should be on ground to start such business.
But the truth is, you will have no regret if you are buoyant enough or have such capital to venture into bakery business.
The sweetest part is, you can still bake or make bread with stove or without an oven, at home and enjoy with your family.
There are also other recipes you can bake with stove, such as Nigerian meat pie, cake etc.
Yes! That is what I will be sharing with you. How to make bread with stove. I'm super excited.
Continue reading as I unleash my ingredients, preparation and Procedure below.
To make bread with stove
Ingredients
2 cups or 250g flour
1 medium egg
50 ml melted margarine
2 tablespoons sugar or to taste
1 teaspoon yeast
1 teaspoon baking powder
½ teaspoon salt or to taste.
120ml water (lukewarm)
60ml liquid milk (lukewarm)
Preparation
Sift flour into an empty dry bowl.
Add sugar, salt, baking powder, mix together.
Measure 30ml water from the 120 ml water, dissolve the yeast.
Break in the egg into a clean plate and whisk.
Add the dissolved yeast, half whisked egg into the milk content and mix.
Make a hole in the center of the flour, add the egg mixture, mix, add melted margarine, mix and finally add water.
Work dough with hand, then transfer to a hard surface and continue to knead till you get a soft non-sticky and stretchy dough.
Divide the dough into sizes of choice and roll into desired shapes.
Grease pan with margarine, rub melted margarine on the bread dough.
Put the dough into the greased pan, with a pastry brush or anything that works well, rub the remaining whisked egg (egg wash) on the bread dough, and leave some for later use.
Cover and leave for 45 minutes to double in size.
Baking Procedure
Light the stove, put a stand in the pot, place on the stove and pre heat for 5-7 minutes.
Put the pan of the bread dough in the preheated pot.
Bake initially for 30 minutes, rub the remaining egg wash and leave to bake for another 10 minutes, making it a total of 40 minutes baking time medium heat.
It's ready! Enjoy!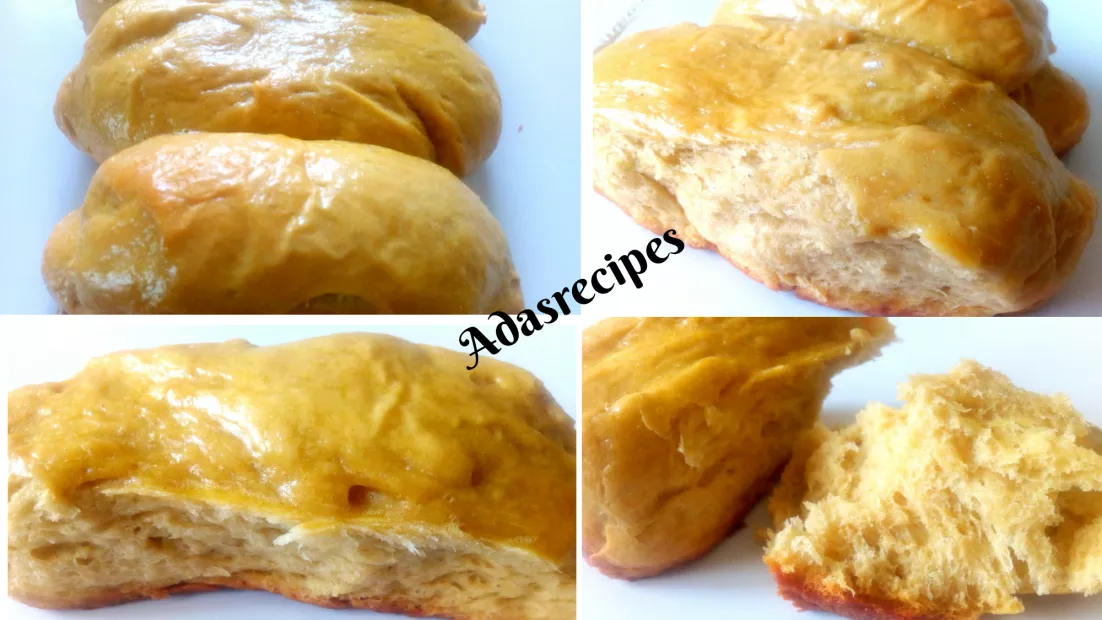 Note: The egg wash is a glaze that gives the bread a shiny look and makes it look more appetizing.
Hope you enjoyed reading this post?
Don't forget to share with family and friends and as well leave a comment in the comment section below.
Watch the practical video below on how to make bread with stove.
See you in my next post.
Ada.
Watch how to Make It