How To Make Nigerian Puff Puff You Will Always Love
Nigerian Puff Puff is a yeast based small chop. This tasty recipe is usually enjoyed in parties and of course in most Nigerian homes.
The ingredient I used for this recipe will give a yummy puff puff you will always love and want to make.
Unlike the Nigerian buns made with baking powder, Nigerian puff puff is usually soft and made with yeast.
In my recipe, I used the combination of baking powder and yeast to have smooth puff puff. Only yeast can also be used, it all depends on choice.
The Nigerian puff puff is very similar to the Nigerian doughnut because they share just the same ingredients with slight difference in the quantity of water added.
Nigerian puff puff needs more quantity of water than the Nigerian doughnut, which makes puff puff softer than doughnut and most Nigerian Snacks.
Like the Nigerian Puff puff, there are other small chops and finger foods served in parties such as peppered meat, peppered snail, peppered gizzard, peppered cow liver, samosas, spring roll and the rest of them.
Continue reading as I unleash my puff puff ingredients and the method of preparation I used.
To make the Nigerian puff puff
I used;
4 leveled cups all-purpose flour
2 leveled tablespoons yeast
1 leveled teaspoon baking powder
150ml lukewarm liquid milk
250ml lukewarm water
2 medium eggs
½ teaspoon grated nutmeg
2 tablespoonful granulated sugar or to taste
1 teaspoon salt or to taste
Enough vegetable oil for deep frying.
Preparation
Put the liquid milk in an empty dry plate, add yeast and mix, no worries if it doesn't dissolve completely, then set aside.
Break in the eggs into a separate dry plate and whisk, set aside.
Sift the flour into an empty dry bowl, add baking powder, sugar, salt and mix together.
Add the egg, yeast and milk mixture into the sifted flour, mix, add water and continue to mix for about 15 -20 minutes until you get a stretchy and sticky dough or batter. (watch the video below to see consistency)
Cover the dough with towel or foil for an hour to double in size.
Add the grated nutmeg, deflate and mix the dough.
Note; There are other methods of making puff puff. You can dissolve the yeast in ordinary water. You can as well add the yeast directly to the flour if you are sure of the efficacy of the yeast.
Frying Procedure
Put enough oil in a clean dry pot and heat up on medium heat until hot.
Add the add the dough and don't over crowd.
Fry on both sides until golden brown.
It's ready!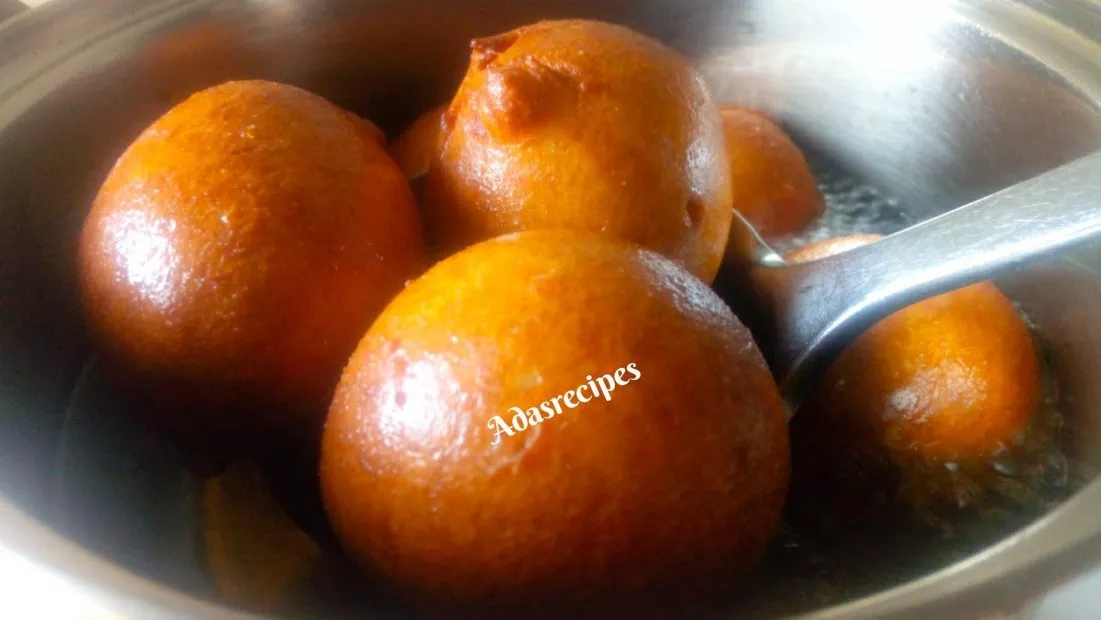 Serve hot with tea or any soft drink of choice.
Hope you enjoyed reading the post? Don't forget to share with your family and friends.
Watch the practical video on how to make the Nigerian puff puff.
Have a great day!
Ada.