Nigerian Buns Recipe it's soft and crunchy
Nigerian Buns Recipe it's Soft and Crunchy!
If you want to get the feel of the Nigerian buns, take the hot, soft,crunchy and really tasty ones. LOL!
For those that love eating akara, taking cooled buns is like taking akara when its cooled, and you will not just get the feel.
I enjoyed the Nigerian buns so much while going up.
Like I said above, the buns was not only hot but crunchy, soft and tasty.
So think of how satisfying this recipe would be.
There was this woman that sold Nigerian buns close by, her buns never got to the ground, you know what I meant by that.
As she fried the buns people bought it immediately, you hardly got cold buns from her, and above her buns was soft,crunchy and tasty.
The buns ingredient below will give you a soft, crunchy and tasty Nigerian buns.
Nigerian buns recipe is a popular Nigerian snack loved by many. It's deep fried and made with flour, sugar, margarine, check out the rest of the ingredients on the list below.
The preparation is similar to the Nigerian egg roll because they share almost the same ingredients.
Most Nigerian Snack such as puff puff, samosa, meat pie, fish roll, sausage roll, pancake, etcetera has flour as their major ingredients.
This recipe is made without a filling inside unlike the Nigerian meat pie, egg roll and the rest of them.
Nigerian buns is sold in streets and also hawked by hawkers.
Ingredients for making Crunchy and tasty Nigerian Buns recipe
4 leveled cup all-purpose flour
1 table spoon margarine
2 teaspoons baking powder
2 table spoons sugar or to taste
½ teaspoon salt or to taste
1 tin liquid milk or 150ml (lukewarm)
50g powdered milk flavor
1 teaspoon grated nutmeg
80ml luke warm water for mixing
Vegetable oil enough for deep frying
Preparation
Sift all-purpose flour into an empty dry bowl.
Sift the baking powder into the sifted flour.
Add the margarine and rub it into the flour
Add ground nutmeg , powdered milk flavor, sugar and salt then mix the dry ingredients together.
Add the lukewarm milk, mix, add little lukewarm water.
Mix and knead until you get a non-sticky dough.
Mold the dough into balls.
Frying Procedure
Pour in enough vegetable oil into an empty dry pot
Leave to heat up very well, you can test the hotness with a wooden spoon, if it forms bubbles, the buns is ready to be added.
Add buns dough, don't over crowd the oil with the dough
Fry on a low heat and stir at intervals.
It's done when it's golden brown.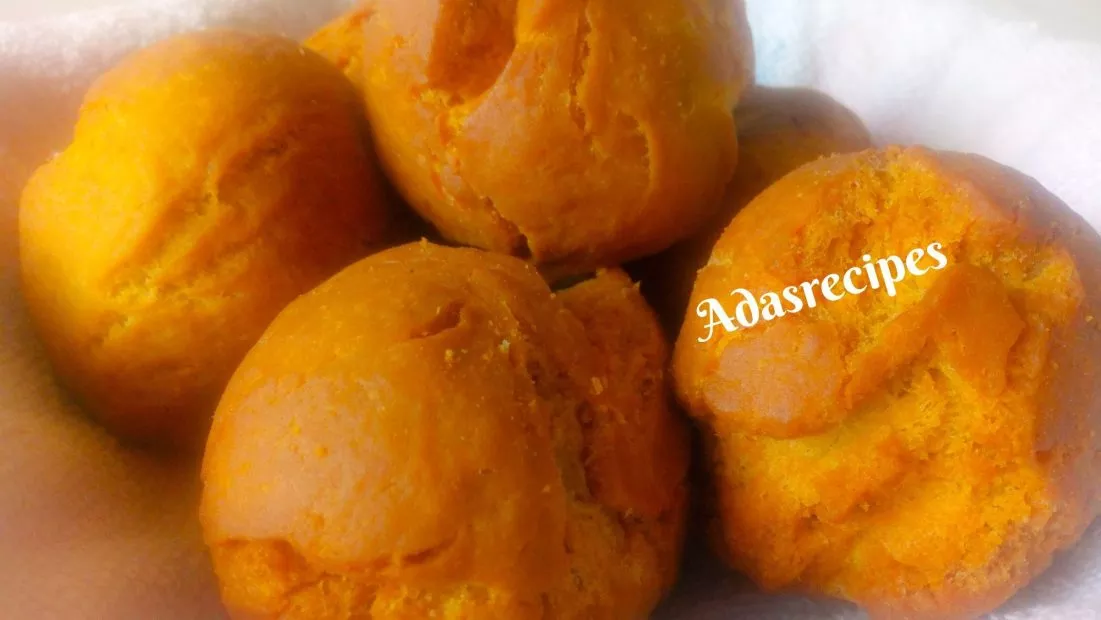 Enjoy with soft drink of choice!
Hope this post was helpful?
Share, comment below and tell me what you think.
Also, watch the practical video below to see how to make the Nigerian buns recipe.
See you in my next post.
Ada.