How to make easy Nigerian Egg fried Rice
Nigerian egg fried rice is another version of Nigerian fried rice recipe.
This method of fried rice was prepared with eggs.
Unlike the well-known Nigerian Fried rice which usually takes time as a result of the cutting of the vegetable and the rest of them, the Nigerian egg fried is not time consuming as you could choose to add vegetables or not.
This is one delicious recipe your children would love, for those that have kids.
Like I said earlier, you could choose to add vegetables and extra ingredients, and can as well go with few ingredients like I did, and it will come out delicious.
Nigerian egg fried rice is not as popular as the Nigerian fried rice which is mostly prepared in events and occasions organized in Nigeria.
This recipe is also budget friendly and a good to go recipe for students, who don't spend much but love something healthy.
There are a good number of Nigerian rice and egg recipes such as the Nigerian jollof rice, palm oil rice, coconut rice, egg sauce, scrambled eggs, carrot stir-fry for rice and the rest of them.
Continue reading as I share my ingredients and method of preparation.
To make Nigerian egg fried rice
Ingredients
1 cup boiled white rice
2 medium raw eggs
1 teaspoon curry powder
1 medium onion
1 seasoning cube
Salt to taste
Fresh chopped pepper to taste
2 tablespoons vegetable oil
Little shredded ugu leaves for flavor
Cooking Procedure
Put the already boiled rice in a clean bowl
Break in the raw eggs in the rice, add curry powder, pepper and seasoning cube.
Mix together until well incorporated
Put the vegetable oil in a dry frying pan, leave to heat up a little, add the rice and egg content and stir-fry until dry, add salt if need be. I added salt to the already boiled rice. So, there wasn't the need.
Sprinkle the little shredded ugu leaves, leave for 3-4 minutes.
Remove from heat. It's ready!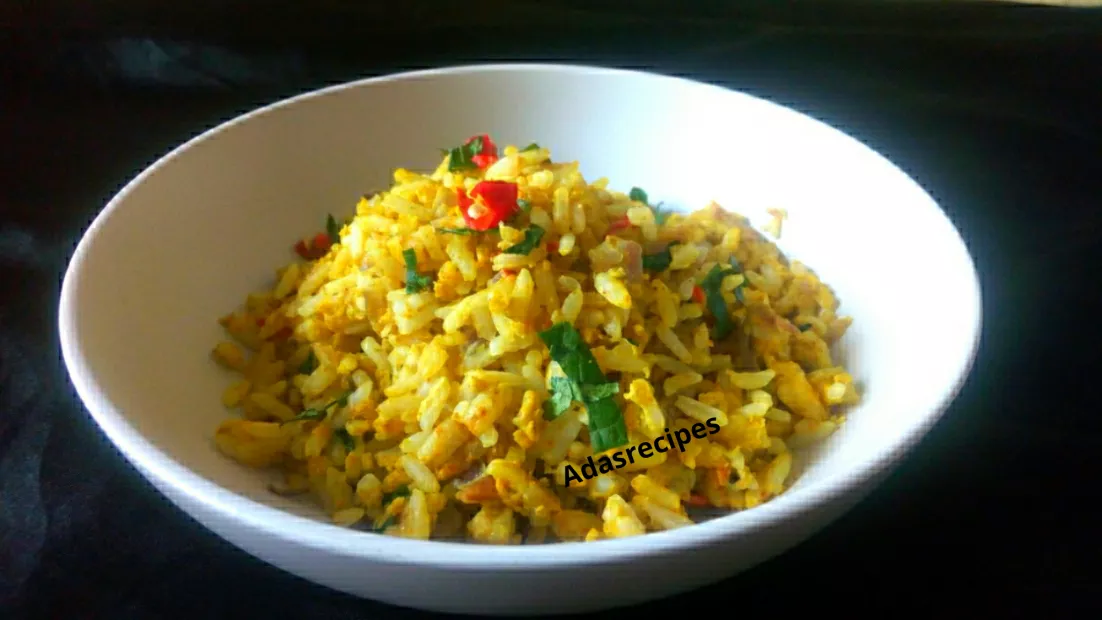 Watch the practical video on how to prepare the Nigerian egg fried rice recipe.
Hope you enjoyed reading the post. Don't forget to leave a comment below.
Have a fulfilled day!
Ada.