Carrot stir-fry for rice, easy recipe!
White Rice has many recipes it goes with. You have much more option to enjoy your white rice with varieties of sauces and stews.
Carrot stir-fry is not left behind as it is one of the recipes you could also enjoy you white rice with.
The good thing about this recipe is that, is not only healthy but very easy to prepare.
It's a very quick recipe that doesn't consume time at all.
It's a recipe you will love and would want to prepare when you have limited time or rather something quick.
Another exciting thing about this recipe is that, is budget-friendly, so basically students that operate mostly on low budget would find it interesting and one of their best options.
This is a healthy recipe prepared with carrot which was the major ingredient.
Depending on choice, you could choose to cut your carrot into cubes or strips.
Mine was cut into strips because twas my choice and the way I wanted it, reason being that I wanted the carrot to be more visible.
Carrot being the major Ingredient was added more compared to other ingredients.
Other ingredient such as kidney and green pepper was added, which made this recipe tastier and nutritious.
Continue reading as I show the rest of the ingredient I used for my carrot stir-fry.
Carrot stir-fry is a tasty recipe, healthy, nutritious, and majorly taken with white rice. It's prepared with very few ingredients and comes out super tasty.
The flavor of carrot and green pepper would also make crave for more.
It's a budget-friendly recipe virtually every caliber of persons including students can afford to prepare.
Carrot stir-fry is the best option if you want to go for a fast recipe to enjoy your white rice.
It's an alternative to the carrot stew, chicken curry sauce, egg stew, banga soup and the Nigerian Tomato stew
To prepare Carrot Stir-fry for Rice, below were the Ingredients I used;
500g carrot
500g kidney
2 seasoning cubes
80ml vegetable oil
1 teaspoon rosemary
1 teaspoon shallot
1 teaspoon tumeric
1 teaspoon curry powder
Powdered ginger
1 large green pepper
2 scotch bonnet pepper
2 shombo
1 medium onion
Salt to taste
Preparation
Scrape the back of the carrot, wash and cut into strips or as desired.
With a knife, cut open the green pepper, remove the seed, wash and cut into strips or cubes
Peel, wash, slice the onion and red pepper
Wash the kidney and set aside
Pound or blend the pepper
Cooking Procedure
Put the kidney in an empty clean pot, add seasoning cube, sliced onion, salt and mixed spices, add very little water, stir apply heat to cook for 8- 10 minutes, or until the water is almost absorbed.
Transfer into a small tray, with a cutting board, cut into cubes.
In an empty dry pot, add the vegetable oil, leave to heat up a little, add the sliced onion, stir and leave for 2 minutes, then add the prepared carrot,
Stir, add sliced pepper, stir, add chopped kidney, stir, add some curry powder, tumeric, powdered ginger, then stir, cover and leave to cook for 5 minutes or when you notice the water in the carrot is almost dried.
Stir, add the green pepper , stir, add the remaining seasoning cube and salt, stir, leave for another 2 minutes.
Its ready!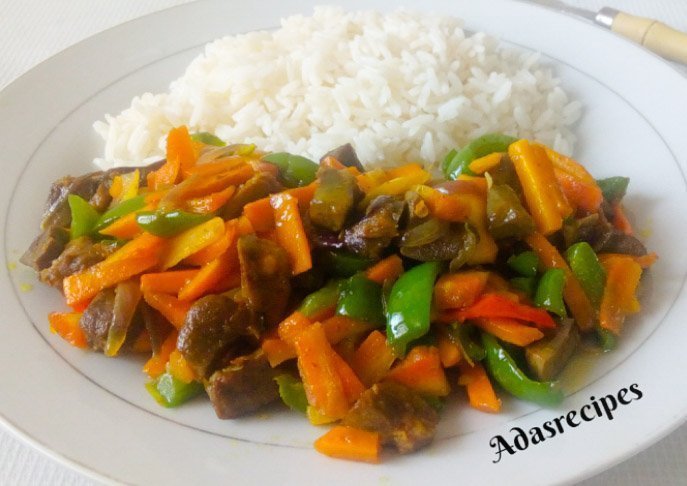 Serve with white rice and Enjoy!
Watch the video below on how to practically prepare carrot stir-fry for white rice.
Hope you found this post helpful? Leave me a comment below!
See you in my next post.
Ada.