Chicken Pepper Soup Recipe You Will Always Love
My Super tasty chicken pepper recipe!
Hey Loves! Happy new year! This is my first post this year!
How was your Christmas Holiday? Hope twas a memorable one?
We thank God we made to 2019. Want to also use this medium to thank you all for 2018!
Thank you for reading my post, your comments and heartwarming emails.
I'm glad you guys found my posts helpful. If is your first time of visiting my blog, you are welcome, thank you for stopping by and keep coming.
This Chicken pepper recipe was so delicious, I meant Super tasty!
Twas prepared during the harmattan and it really made our day, we enjoyed it so much.
Pepper soup is the best treat you can ever give yourself and family during cold weathers, that is, during rainy and harmathan season.
Cold weathers are when you need the most warmth you could ever imagine.
So this chicken pepper soup recipe served that purpose, it really provided solutions, LOL!
Chicken Pepper soup recipe is a delicacy, an appetizer and a spicy soup found in most restaurant.
It's a recipe loved by all both young and old on account of its taste and flavor which was as a result of the spicy ingredient used in the preparation.
The preparation is similar to assorted meat pepper soup, cat fish pepper soup, Aju Mbaise pepper soup which is particularly recommended for new moms.
Generally, pepper soup can be taken like that or with, white agidi, non soggy white rice, Nigerian boiled yam and swallow of choice.
The natural spices I used for this chicken pepper soup recipe gave that smell which you cannot just resist.
Hubby don't really enjoy chicken pepper Soup, he prefers taking chicken fried because of the irritating smell which is normally noticed taking boiled chicken.
The natural spices I added to this chicken pepper soup recipe suppressed that smell and he so much enjoy it, like wise everybody in the house.
Read on, as I list these natural spices below.
Chicken pepper Soup Recipe You Will Always Love, I used;
1kg chicken

½ teaspoon orima spice

1 seed efi spice

1 seed control onion spice

3 seeds jansa spice

3 seeds ehu spice

3 seeds uda spice

1 leveled cup crayfish(not ground)

½ prekese

1 medium onion

2 medium fresh turmeric

3 seasoning cube

½ teaspoon uziza seed

2 small scotch bonnet pepper

½ kpafulo spice

1 large shombo/cayenne pepper for flavor

Salt to taste

700 to 1000ml water which is equivalent to a custard cup of water or less.

Little uziza leaf, scent leaf and utazi leaf.
The names of the Spices are their native names.
Preparation
Wash the chicken and set aside

Remove the back of the ehu seed, then with a mortar, pound the ehu seed, jansa, orima, kpafulo, efi, control onions together.

Wash onion, slice, then separately pound or blend the pepper and fresh turmeric with the outer skin.

Coarsely pound or grind the crayfish.

Wash and Chop the shombo

With your fingers tear the vegetable into pieces, like you do your uha leaves, you can also shred as well. If you are shredding, you have to wash the leaves first.
Cooking Procedure
Add the slice onion, salt and 2 seasoning cube to the chicken, then work with your hand to mix evenly.

Apply heat, don't add water, leave to steam until the water is almost absorbed

Add water depending on the level of choice, I needed more water, so I added almost a custard cup because of the harmathan.

Add the prekese and the uda seeds

Add the grounded natural spices, then cover to boil for 10 -12 minutes

Add the ground crayfish, then stir, leave for 3minutes

Add the blended turmeric, leave to boil for another 3minutes

Add the pepper, then salt, the remaining seasoning cube, stir, have a taste and cover.

Add the chopped shombo for flavour

Add the vegetables, cover and leave to boiled for another 2 minutes.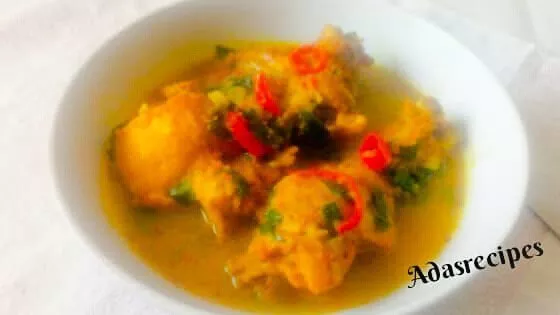 It's ready! Delicious! I bet you, you will always want to prepare this recipe!
If you love this post, please share! Leave a comment and tell me what you think.
Also watch the practical video below on how to prepare this super delicious chicken pepper soup recipe.
See you in my next post!
Ada.