Valentine's Day Cookies Made With Stove
It's love in the air….Perfect Valentine's day cookies fully loaded!
Hello people, how are you doing? How are you preparing for the Valentine's day?
What surprise treat do you intend to give your family and friends this Valentine?
LOL! Super excited to share with you guys, how I made this perfect Valentine's day cookies with a stove!
Not only was it baked with a stove, twas also prepared using an improvised mixer which was a bowl and turning stick.
You don't have an oven or electric mixer? I've got you covered because you can make perfect cookies with neither oven nor electric mixer!
Surprise? Continue reading as I take through the whole process.
I know almost every Nigerian irrespective of their financial status, at least have a stove, bowl and a turning stick, which is the major equipment to make these Valentine's day cookies.
Valentine's day as we all know is a special day set aside to celebrate love.
Love not just to your family, but go as far as to extending love and hand of fellowship to friends, well-wishers, less privileged, poor and needy.
I will say is another opportunity to tap into the blessing of giving. Anything! Could cash gift, food items, could be these cookies etc. LOL!
There's a saying GIVERS NEVER LACK! It's a special day of showing love through giving!
When you give, you will never lack! So always be on the giving side because of the blessing attached to it.
So guys, is all about showing people love they can't deny!
These Valentine's day cookies were perfect and delicious. Twas heart shaped and decorated with color red, usually known as Valentine's color as well symbolizes love. Please make sure you try it out!
These cookies weren't so time consuming, the baking time took 20 to 25 minutes for each batch.
Depending on the quantity you want to make and size of pot and pan you have, determines the time you will spend.
If you want to make large quantity with a large pot and pan that could contain the whole, it then means, you will bake once.
But if not, you will bake in batches which will consume more time on account of the size of pot you use.
The average time to bake cookies is 20- 30 minutes per batch on medium heat, using a stove which is our bone of contention.
For the mixer, I used a bowl and turning stick like I said earlier, then a baking pan, you could also use baking tray, which must be greased with a good quantity of margarine to avoid sticking if you don't have parchment paper.
Then for the stand, which you will place in the pot to place your baking pan or tray.
You can use your gas cooker top, which was what I used, or a small or medium used tin tomato cup, or even stove top if you have extra.
Watch the practical video at the end of the post to see for yourself the whole process.
Valentine's day cookies are yummy treats specially made and enjoyed using valentines season.
The cookies are always well decorated, once seen, one could easily identify it as valentine's inspiration.
The preparation is similar to cake making, and was decorated with buttercream icing, royal icing can also do a great job.
The ingredients share similar ingredients with other varieties of snacks, such as chin-chin, buns, meat pie, fish pie, etc.
To make perfect Valentine's day cookies, I used;
2 cups all-purpose flour
60ml liquid milk
2 medium eggs
1 cap liquid flavor
200g margarine
1 teaspoon baking
½ tablespoon powdered vanilla flavor
½ cup granulated sugar
Preparation
Sift the flour, add powdered vanilla flour and baking powder and mix very well. (Dry ingredients)
Add margarine in a dry bowl, turn with a turning stick to loosen, then add granulated sugar and mix till creamy and fluffy.
Add flavour mix, liquid milk, mix till well incorporated.
Break the egg in separate plate, don't whisk, add and mix in one direction till well incorporated.
Add the flour, little at a time, mix, add till you exhaust all the flour.
At this time, work dough with hands till it becomes non-sticky.
Transfer the dough to a floured surface, flatten dough with a rolling pin, cut out dough using fondant cutters of different shapes and sizes. I used the heart shape cutter because of Valentine's season.
Grease baking pan or tray with a good amount of margarine.
Place the dough cut outs in the greased pan or tray.
Place a stand in an empty dry pot, and the baking pan on the stand in the pot.
Light your stove, place the pot of cookies on the stove. Bake on medium heat for 20- 25 minutes.
Decorate with butter cream icing.
The perfect Valentine's day Cookies is ready!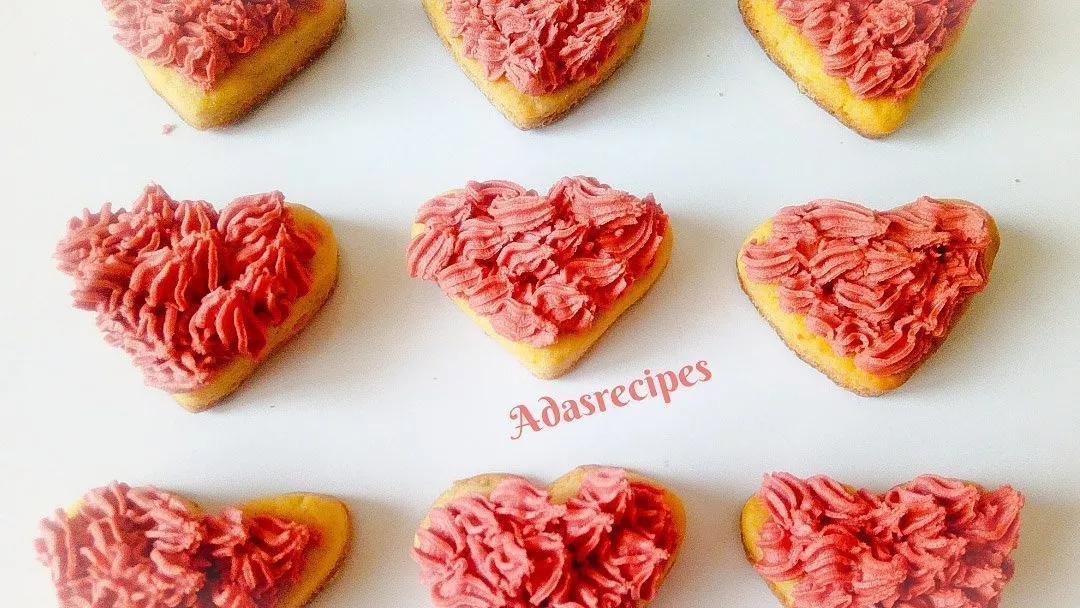 Enjoy and share with people around you!
Watch the practical video below on how to make perfect Valentine's day cookies with stove.
Hope this post was helpful? Let me know by leaving a comment in the comment section below.
It's love we are talking about, love is sharing and sharing is caring. Please share this post with the share button below.
See you in my next post.
Happy Valentines!
Ada.