Ofe Ugba(Shredded Oil Bean Soup) Recipe
Ofe Ugba(shredded oil bean soup) is one the soups I so much enjoy!
Hello loves, how is it going? This soup has been on my mind and I'm super excited to share how twas prepared.
Like I said earlier, give it to me any time, any day, will always love to enjoy this soup.
The first place I tasted this soup was at my maternal home, in fact that was one of the things we always remembered whenever we planned visiting my maternal home, so basically my siblings enjoy it too.
It's one soup I'm so sure when you taste, you will definitely want more.
My mom noticed we all loved and enjoyed the soup so much, so she prepared it most times. This was one the soups I learnt how to prepare so fast. LOL!
Ofe ugba means shredded oil bean in Igbo dialect. People from the Eastern part are more familiar with this soup.
My late maternal grandma who introduced us to the soup called it ofe aragha which is usually called by the people of Owerri but generally known as ofe ugba .
The ugba used for the preparation of ofe ugba is quite different from the ones used in making the ugba sauce we all know.
The ones used for soup ferment more and are softer compared to that used for Ugba sauce.
Ofe Ugba(shredded oil bean soup) originated from Igbo land, the eastern part of Nigeria.
It's a delicious soup with the ugba being the major ingredient.
Ugba gives a super taste and flavour to this soup which will always make one crave for more.
Other soups that originated from Igbo land are, onugbu soup, ukazi soup, oha soup garden egg leaf soup and the rest of them.
To Prepare Ofe Ugba(Shredded oil bean Soup) recipe
Ingredients
2 cups ugba
11/2 custard cup okro(not cut)
1 cup crayfish (not grounded)
200ml palm oil
1 sizable smoked fish
1 sizeable cow skin
700g cow meat
Fresh pepper to taste
Salt to taste
3 seasoning cubes
2 medium onions
Preparation
Wash the meat thoroughly with salt water, set aside.
Wash the Okro, cut, pound and set aside.
Pick, wash, shred the ugu leaves and set aside.
Wash the pepper, grind or pound with crayfish
Scrape the in and out of the kpomo, cut into smaller sizes or sizes of choice, set aside.
Wash, debone fish, set aside.
Chop the onions and set aside.
Cooking Procedure
In a clean pot, put the the washed meat, add onion, seasoning cube, little salt and water, leave to cook for 7 minutes on medium heat.
Add the grounded crayfish and pepper combo, kpomo, smoked fish and water to the same level of the content, leave to cook for 10 minutes.
Add seasoning cube and salt.
Remove the fish to avoid breaking into pieces, as okro will be added which will need heavy turning.
Add the okro, stir, leave for 2 minutes, add the shredded ugu, stir, add the fish that was removed initially and gently stir, be mindful of the fish not to go into pieces, leave for another 2 minutes.
Our Delicious Soup is ready!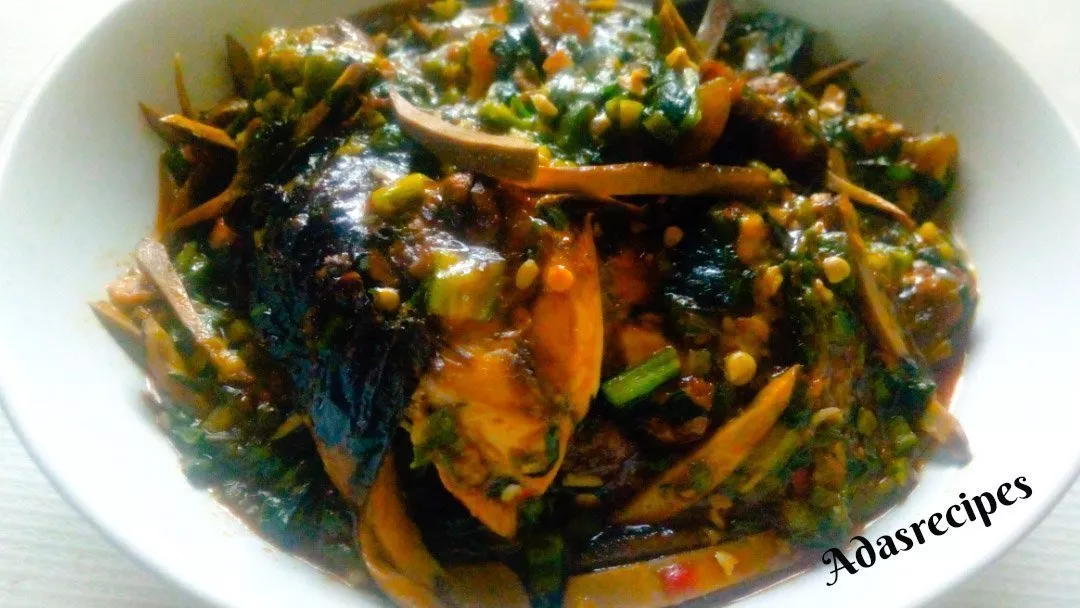 Enjoy with any swallow of choice! I enjoy it with akpu AKA fufu! LOL!
NOTE: if your cow skin is hard, cook first without salt till tender. Mine was already soft, so that part was skipped, and was added alongside with the fish.
Hope you enjoyed reading this post?
Also watch the practical video on how to make delicious ofe ugba(shredded oil soup) recipe below this post.
Please share, don't consume this information alone. Don't forget to leave a comment in the comment section as well.
See you in my next post
Ada.