Garden Egg Sauce Recipe Very Tasty!
Garden egg sauce recipe is one of Nigerians favorite sauces.
It's a Nigerian sauce prepared majorly with garden eggs.
This is a very tasty sauce that go well with boiled yams.
You also enjoy boiled yams with egg sauce, raw palm oil, tomatoes stew etcetera.
As you all know, garden eggs are packed with so many health benefits which makes this recipe a very healthy one.
Virtually everyone irrespective of their health status can as well enjoy this recipe.
You are watching your weight? This recipe is a yes!
Garden egg sauces are best known taken with boiled yams as I said above, that does mean you cannot take with boiled white rice.
This recipe can also be taken with boiled plantains, either ripe or unripe.
For weight watchers, I suggest you take this recipe with unripe boiled plantains.
Garden egg can also be taken raw, when washed properly with salt water.
It also goes well with groundnut and Nigerian peanut butter also known as ose ogi in Igbo land.
In the preparation of this delicacy, garden eggs which is major ingredient is cooked for few minutes and pounded with mortar and pestle.
This recipe is prepared with fish of choice. Check out other ingredients on the list below.
Ingredients To prepare garden egg sauce recipe
350g garden eggs

Stripe or shaki

7 medium cuts
Sizeable smoked fish
1 wrap ogiri
Fresh pepper to taste
Salt to taste
2 seasoning cubes
Medium onions
Half cup palm oil
1 cup crayfish (not grounded)
Preparation
Wash the garden eggs and cut into cubes
Put the cut garden egg into a boiling, cook for 3 minutes and remove from heat, strain to remove water and pound using a mortar and pestle.
Slice onions and set aside
Wash the shaki set aside
Wash and debone fish, pound crayfish and pepper together.
Cooking procedure
Put the shaki in the pot season with salt, seasoning cube and onions, add little water and leave to cook for 5 minutes, add the fish and leave for another 10 minutes.
Put oil in an empty dry pot, leave to heat up a little, add some sliced onions, stir, add the ground crayfish and pepper, stir, cover and leave for 2 minutes, stir and add the shaki and fish already cooked, stir again.
Add

ogiri

, cover and leave to cook for 2 minutes, stir, and add the pounded garden eggs, stir till well incorporated,
Add salt, stir, cover and leave for 3 to 5minutes.
Its ready! Serve with boiled yam!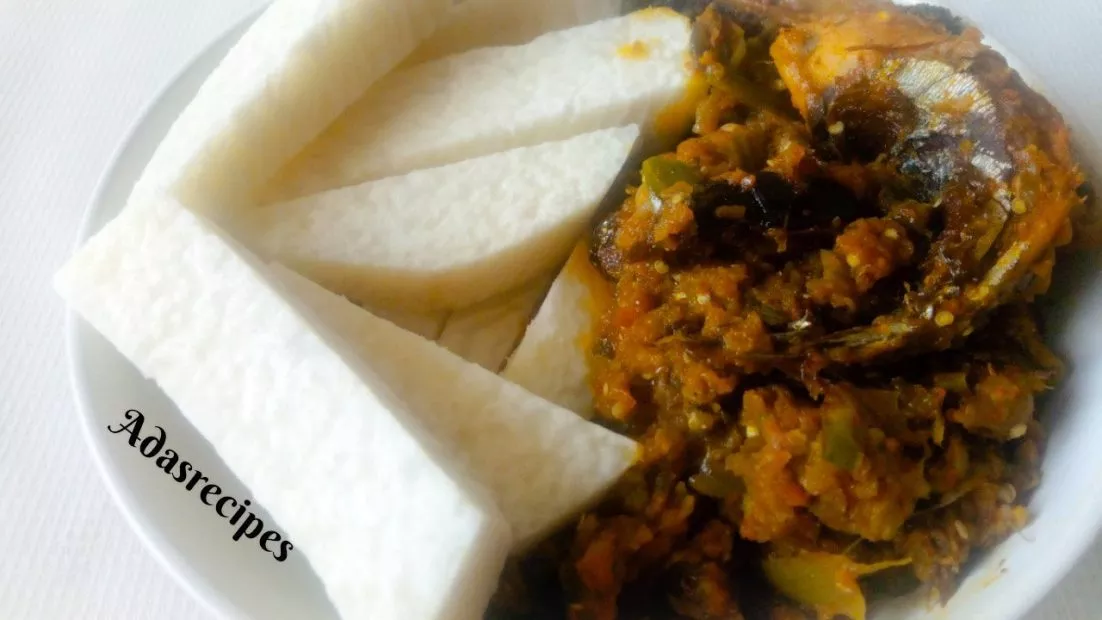 Watch the practical video below on how to prepare this delicious garden egg sauce recipe!
Please share and leave a comment below!
Ada.