Hey guys, welcome to the month of December!
The year is coming to an end and we are finishing strong.
For those that felt they didn't accomplish all they intended to do this year, no worries, the glory of the latter will always be greater than that of the former.
You will achieve far more you could ever imagined in the coming year.
Yes! The treat I have for you today is the yummy Nigerian meat pie.
I love Nigerian meat pie! Give it to me as many time as possible, there's always a space for it, lol!
My yummy Meat pie tasted good, the one I reserved for hubby, the kids made sure they finished it and was very sure nothing was left.
You know, children can be wonderful, especially when it comes to something they so much enjoy.
Nigerian meat pie is a crusty delicious snack with meat, carrot and Irish potato filling.
It is called meat pie on account of the filling which contains meat, which could be chopped or minced.
It is similar to Nigerian fish pie, with a difference in the filling, and a  popular snack enjoyed by many.
For this recipe, the meat was thinly chopped.
The meat  pie dough was pampered, and not over-worked in order not to get a dense meat pie.
For you to get that soft and crusty meat pie, not over- mixing the dough is the key.
It is consume within a particular time frame as it could go bad when stored because of the filling.
It can be found in hotels, eateries.
It's a preferable snacks  served in corporate events such as seminars,workshops and conferences, and some social events.
Meat pies are baked like cakes with the difference in the timing.
The preparation is time consuming, you have to chop the carrot, potato and the likes for the filling which will also be left to cool before use.
For the meat pie dough, it takes less time compared to the filling .
So aside from that, meat pies are baked for 30-35 minutes while cakes take longer time.
To Make the Yummy Nigerian Meat pie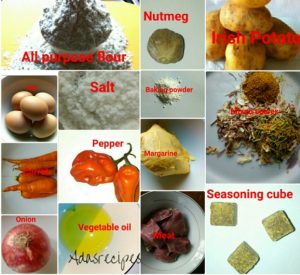 I Used
For the filling
6 medium meat

5 Irish potato

5 small carrot

1 medium red bonnet pepper

1/2 medium onion

Little mixed spices

1 seasoning cube

1 tablespoonful flour (thickener)

Water

1 cooking spoon vegetable oil
For the meat pie dough
4 cups All purpose flour ( leveled)

1 teaspoon ground nutmeg

1 teaspoon baking powder

Little salt to taste

250 grams margarine

150ml lukewarm water for mixing

1 medium egg for sealing and glazing
Preparation
Thoroughly wash meat, season with seasoning cube, salt, onion, mixed spices, pepper, add little water, cook until tender, then chop.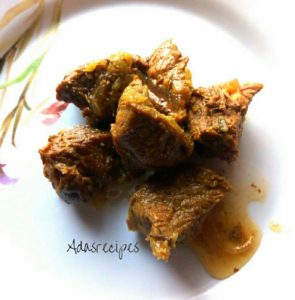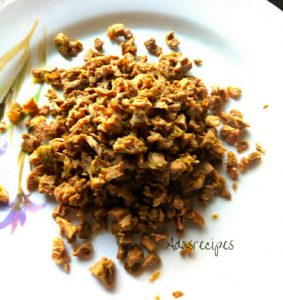 Scrape the back of carrot, peel the back of the Irish potato, wash and dice.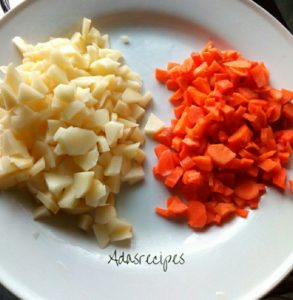 Dissolve 1 tablespoonful flour in water and set aside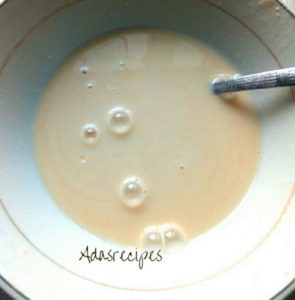 Sift flour, add baking powder, salt, ground nutmeg, mix the dry ingredients, add the margarine, mix till is well incorporated and look likes raw garri, add water, mix and don't over-work dough.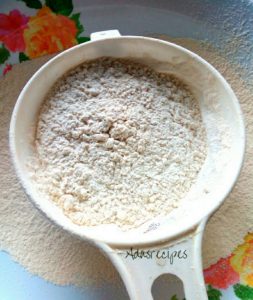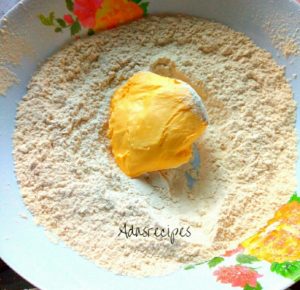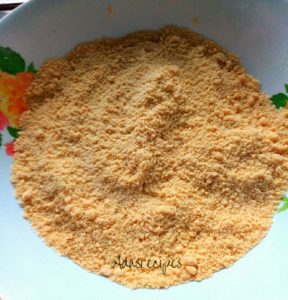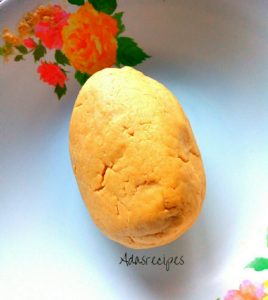 Cooking procedure
Add the diced meat to the stock, add little water, leave to boil for 5 minutes, add carrot and Irish potato,seasoning, taste for salt, be careful how to add salt because the dough already contains salt, then cook until tender.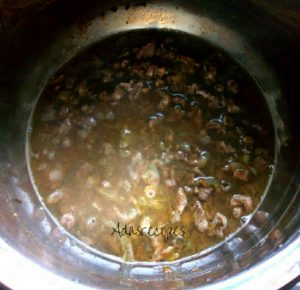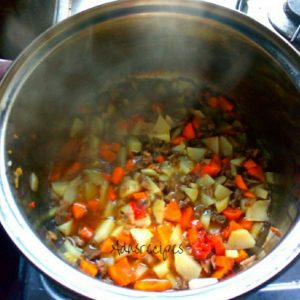 Add the dissolved flour mixture and stir to thicken, there you have the meat pie filling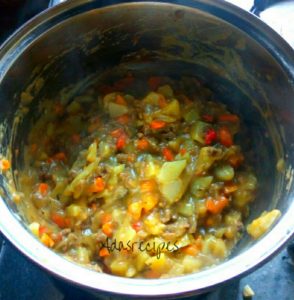 Little at a time, spread the dough on a flat surface, flatten with a rolling pin, place on a meat pie cutter, scoop in the filling, break open the raw egg, whisk, with a pastry brush, take the egg wash, apply on the surface of the dough to seal.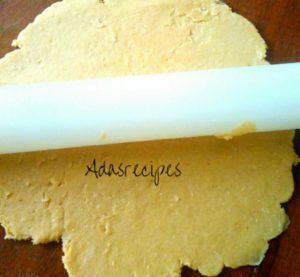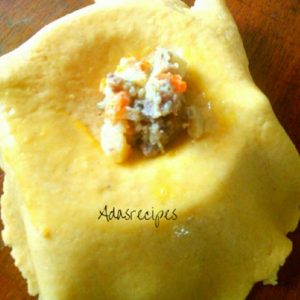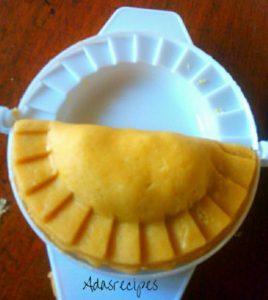 Grease the baking tray or pan with margarine, place the meat pie, brush the top of the meat pie with the egg wash to glaze or make it shine.Then with a fork indent and bake for 35 minutes.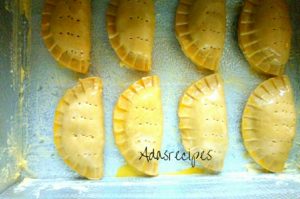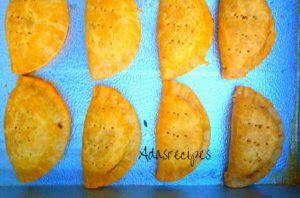 The yummy Nigerian Meat Pie is ready!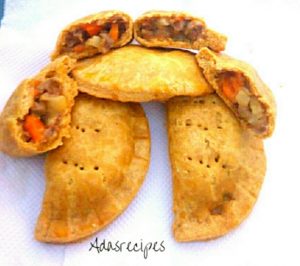 Enjoy with any drink of choice!
Share this post , leave a comment and tell me what you think about my Yummy Nigerian Meat pie.
Have a great day!
Ada.