Coated Peanut Recipe Without Egg
Coated Peanut Recipe you should try out. No jokes.
This is a coated peanut recipe you will always want to make. It's everything extra soft, crunchy, tasty and the best path, twas made without egg.
Most people think a soft, crunchy and tasty coated peanut must be added eggs during production, but the truth is, you can also have that burger kind of coated peanut without adding eggs.
Truth be told, peanut made with egg turns out good and tasty.
On the other hand,without eggs you can still have that perfect Coated Peanut Recipe.
The common ingredients for coated peanut most people are familiar with is the egg type but I have a different coated peanut ingredients recipe for you. You will love it.
I have coated peanut made with egg and commercial coated peanut recipe, both peanut recipes are super.
If you want to start coated peanut for business the commercial peanut recipe is something you should read.
Your customers will love the commercial peanut because twas tasty, soft and crunchy, and on your own part, you will make good profit.
I always get comments of which groundnut, raw or roasted is used in the production of coated peanut recipe.
Raw groundnut is what you need to make that perfect Coated Peanut. You don't need roasted groundnut
Make sure you watch the detailed practical video below this post see how this recipe was made.
Coated Peanut is a popular deep fried African Nigerian Snacks made from groundnut which is also known as peanut, and the groundnut or peanut is coated with flavoured flour.
There are other popular deep fried Nigerian Snack such as egg roll, puff puff, buns and so many others.
Continue reading I share my peanut recipe.
To Make Perfect Coated Peanut Recipe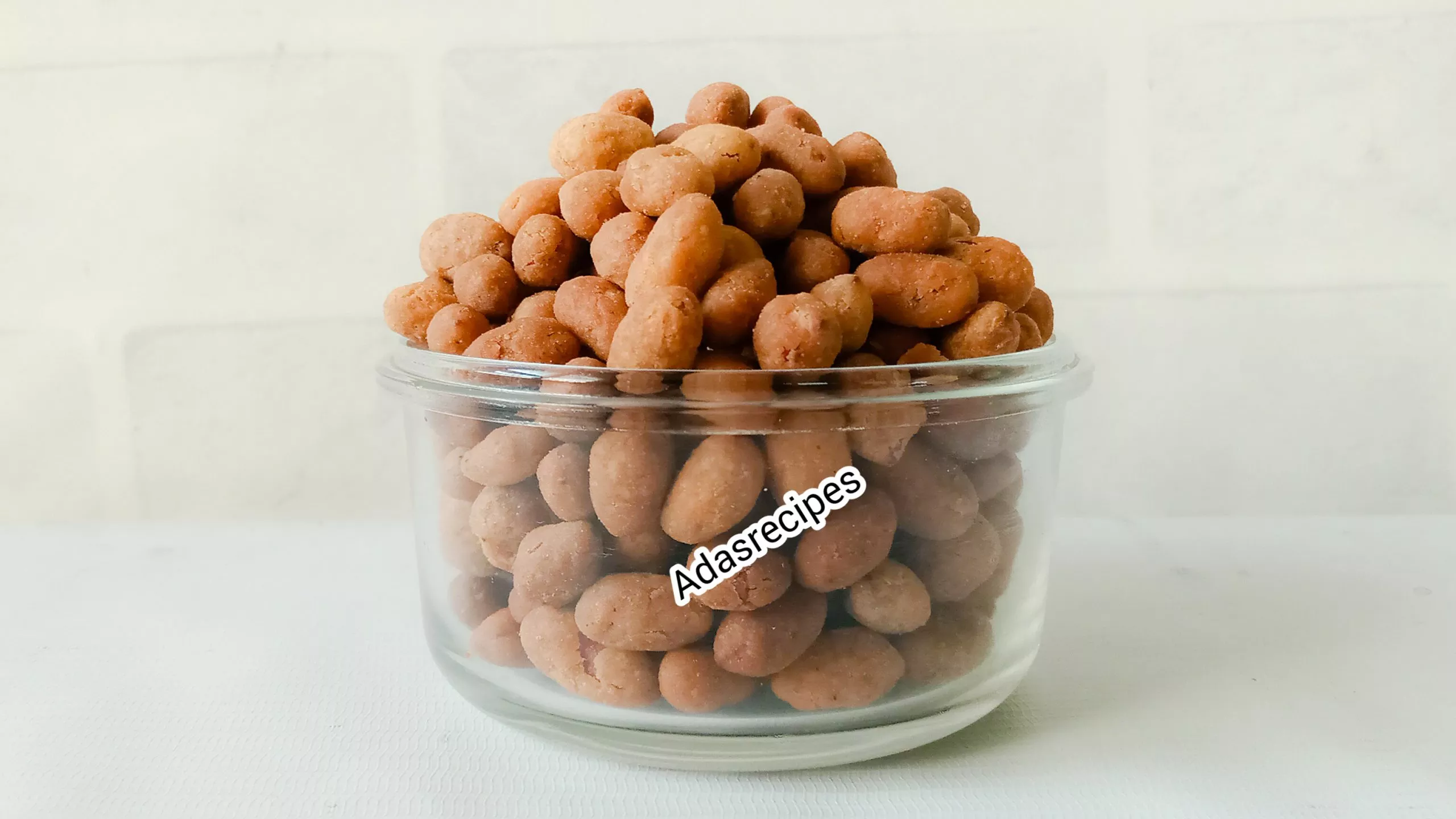 Ingredients
3 cups Peanut/ Groundnut
Salt to taste
3 cups flour
1/2 teaspoon baking powder
1/2 cup coconut milk
1/2 cup granulated sugar
1 tablespoon margarine
1 tablespoon powdered milk
Enough Cooking oil for deep frying
Instructions
Put the groundnut in a tray and remove spoilt and broken ones.
Transfer the peanut into a tray, add enough salt and a very hot water.
Leave the groundnut in hot water for about 20 to 25 minutes.
Strain, transfer to a tray, spread out and sun-dry
Break a mature coconut, get the coconut meat, peel off the back, add little water, blend to get the coconut milk.
Add sugar to the coconut milk until well dissolved
Sift the flour, sift in the baking powder,add powdered milk, mix, add margarine and rub the margarine in the flour.
Transfer the sun-dried peanut into a bowl, add the coconut milk and sugar mixture, mix well.
Divide the flavoured flour, put the groundnut mixed with the coconut milk mixture, add the remaining flour.
Move the bowl to coat the peanut. Watch the video to see exactly how twas coated.
Coat till you exhaust the flour.
Once the peanut is perfectly coated, heat up cooking oil and fry peanut till golden brown
Transfer to a paper towel and leave to cool completely.
Store in an airtight container. Enjoy!
Did enjoy reading this post? Are you trying this recipe out? Honestly you will love it!
Share your thoughts in the comments section below.
Thank you for reading to this point.
See you in my next post, until then take good care of yourself.
Ada.