How To Make Homemade Coated Peanut
I'm yet to see anyone I came across who doesn't love coated peanut.
While I was growing up, the type we enjoyed and was used to was burger peanut snack.
Burger peanut was soft and crunchy such that children could as well enjoy.
There are some peanut these days that is as hard as stone, and I've come to realize that it's a function of the ingredient used.
This homemade coated peanut recipe I' m about to share is just as tasty, soft and crunchy as the burger coated peanut snack.
Coated peanut is a Nigerian snack loved and enjoyed by so many. It's made with groundnut and the rest of ingredient on the list below.
It's a Nigerian deep-fried snack similar to the Nigerian buns, chin chin, puff puff, doughnut, and the rest of them.
If you're interested to know how I came up with tasty homemade burger kind of peanut snack continue reading.
To Make Homemade Coated Peanut
Ingredients
2 cups raw groundnut
3 tablespoons sugar
Salt to taste
2 tablespoons powdered milk flavor
1 cap liquid vanilla flavor
½ teaspoon grated nutmeg
2 cups of flour
2 medium eggs
Enough vegetable oil for frying
Procedure
Remove the spoilt and broken groundnut and pour into a bowl, add hot water to the groundnut, add enough salt to taste and leave for 20-30 minutes.
Pour the soaked groundnut into a sieve to drain water, transfer to a large tray, spread and sun-dry.
Add powdered milk flavor and grated nutmeg into the bowl of sifted flour, set aside.
Break in the eggs into a clean plate, add sugar, salt and liquid vanilla flavor and mix.
Transfer the sun-dried groundnut into a dry bowl, add the egg mixture enough to coat the batch of groundnut you have in the bowl, mix, add the flour mixture to groundnut mixed with egg mixture, flip the groundnut with flour. Watch the video below this post to see how exactly twas done.
Repeat the coating process like 4 times till you exhaust your flour and egg mixture and the peanut well coated.
Heat up the vegetable oil and fry.
Stir continuously to avoid getting burnt. It's done when it's golden brown.
Transfer to a paper towel to drain excess oil, leave to cool completely.
Store in an air- tight container.
Enjoy!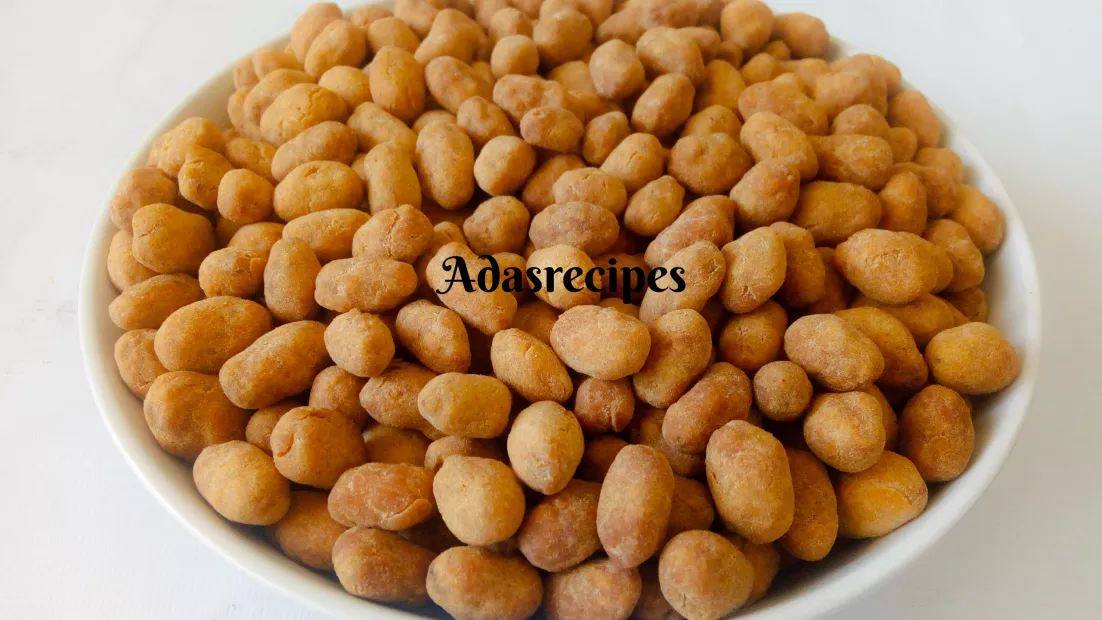 Hope you found this post helpful?
Share your thoughts in the comment section below.
Watch the practical video on how to make this delicious, crunchy homemade coated peanut.
Have a blessed day!
Ada.