How To Make Tasty Egg and Plantain Frittata
One of the yummy breakfast treat you will never regret trying out is egg and plantain Frittata, if you've not tried it for the first time.
For those of you that make and enjoy it, you will know it's a recipe that one would always love to make.
Nigerians have similar egg and plantain frittata recipes such as yam and plantain frittata, scrambled eggs, plantain fritters, plantain omelette, indomie frittata, as well as how to make fried plantain pizza.
Egg and plantain frittata is one of the breakfast recipe that will always make your day. This recipe can be baked with oven or on a stove top. Both ways come out delicious.
Continue reading as I share the ingredients and procedure.
To Make Tasty Egg and Plantain Frittata
Ingredients
3 medium hard and ripe plantains
Vegetable oil for frying the plantain
8 medium raw eggs
1 cup of boiled cow liver
1 medium onion
Fresh pepper to taste
1 medium green pepper
1 Seasoning cube
Little fresh ginger and garlic
2 medium carrots
Salt to taste
Procedure
Wash the plantain, peel, make sure the plantain is hard and ripe.
Cut the plantain into circle shapes, salt and mix.
Fry plantain until light yellow and set aside.
Fry the boiled chopped cow liver a little.
Break in the eggs in a clean plate.
Cut the onions, fresh pepper, carrot, grate the fresh ginger and garlic, add to the egg including the fried chopped cow liver, seasoning cube, salt and mix.
Add very little vegetable oil in a dry frying pan place on fire, add the raw egg mixture.
Cover with a tight lid and cook on a low heat.
Leave to firm up.
It's ready! Enjoy!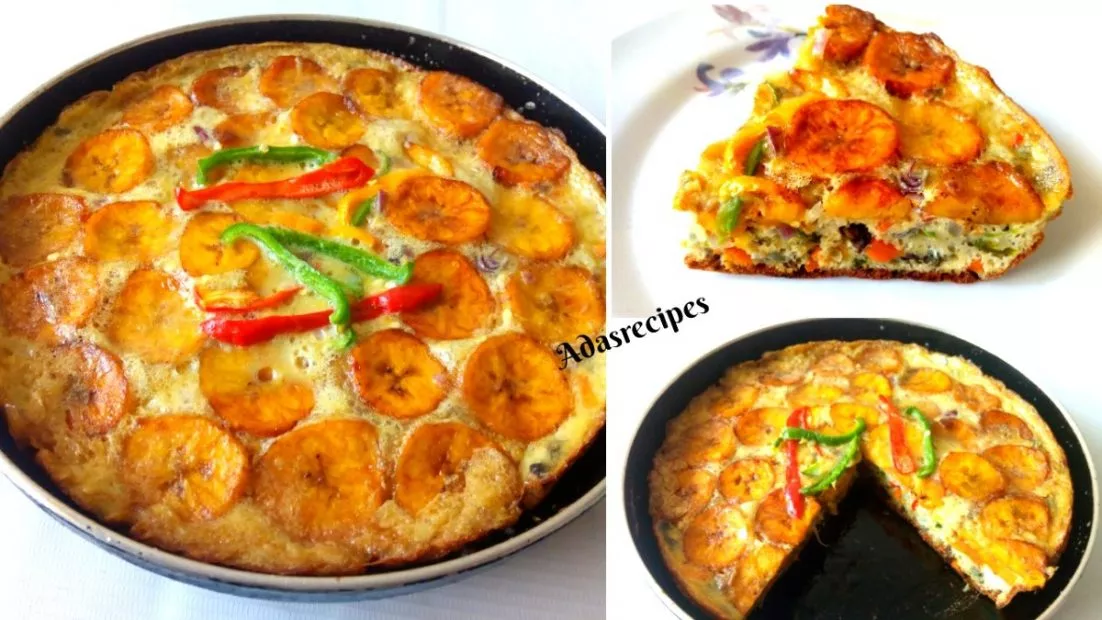 Make sure you try out this recipe. You will love it.
Hope this post was helpful?
Please your thoughts in the comment section below.
Watch the practical video below on how to make egg and plantain frittata.
See you in my next post.
Have a blessed day!
Ada.