Commercial Coated Peanut Recipe
Commercial coated peanut recipe is what I'll be sharing with you today.
If you've thought of starting coated peanut business this article is for you. Generally starting a business that will yield profit is what everyone would want to do or a type of business everyone will want to venture into.
Commercial coated peanut recipe I'll be sharing with you is of quality and will yield you a very good profit.
When you talk of coated peanut people would like and enjoy, you think of coated peanuts that will be soft and crunchy.
This recipe will yield that kind of peanuts that it's soft and crunchy and delicious.
Think of this coated peanut recipe as the burger peanut snack we all know which is originated from Ghana.
That particular type of coated peanuts made me personally fall in love with enjoying coated peanuts because it's soft delicious and crunchy.
Coated peanuts is a popular deep fried snack enjoyed by many. It's basically peanut or groundnut coated with flour.
There's a particular question I keep getting when it comes to making coated peanut. People always ask me is it raw peanuts or fried peanut that is used for making coated peanut? The simple answer is we use raw groundnut in making coated peanuts.
Continue reading as and I walk you through the practical steps on how to make a quality coated peanuts for business.
There are two popular methods of making this snack, we have the egg method coated peanut and the non- egg method, both methods are good in terms of the peanut coming out nice, delicious, soft and crunchy.
This particular method of making coated peanuts I'll be sharing with you is the non- egg method and it will yield profit as you want which is the main goal of this post.
Like I said, the key thing in this post is to make good quality peanuts that will as well yield a good profit.
If you've not made coated peanuts for the first time, this practical video with easy step-by-step guide will put you through on how to make this coated peanut for business.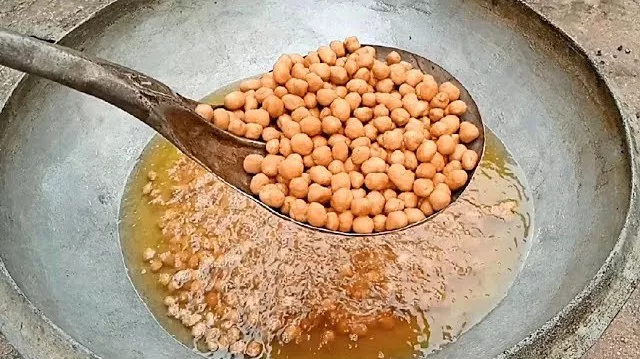 For the ingredients, measurements and to make the snack.
Watch the YouTube video below to start making your quality coated peanuts with good profit. Good luck.
Please don't forget to like, share and subscribe. Leave your thoughts in the comment section.
Thank you so much and see you in my next post.
Ada.