Nigerian Coconut Fried Rice with Vegetables
Nigerian Coconut Fried Rice is what I have for you today!
Hello loves trust you're doing great today.
This Nigerian Coconut Fried Rice was prepared with vegetables and you would definitely love this one.
This is not the regular coconut fried rice recipe you know or used to.
This was deliciously prepared with mouthwatering coconut fried rice ingredients you will always crave for.
Nigeria has varieties of rice recipes, you would also bear me witness if you're familiar with Nigerian food.
On the other hand, rice is a major dish in Nigeria. That is to say, you must find certain quantity of rice if not bag of rice in most Nigerian homes.
Rice has been saving lives since time immemorial, LOL! I know you understand what meant as a typical Nigerian.
As a matter of fact, rice is my favorite dish, I can eat rice a whole week, yes that's the extent to which I love rice.
Give me varieties of rice dishes I will comfortably enjoy without getting bored.
Nigerian Jollof Rice, Nigerian fried rice, Coconut Rice, Palm oil Rice, are some of the rice recipe most us are conversant with.
Nigerian Coconut Fried Rice is a Nigerian rice dish flavored with coconut.It's a delicious and healthy meal loved by children and adults.
This recipe can not only be served in homes, but can also be served in parties and events. It's a tasty dish everyone enjoy.
Like I said, the recipe was prepared with vegetables and spices for coconut fried rice which took this dish to another level of taste and flavour.
Continue reading as I share how this deliciousness was made.
To Make Nigerian Coconut Rice with Vegetables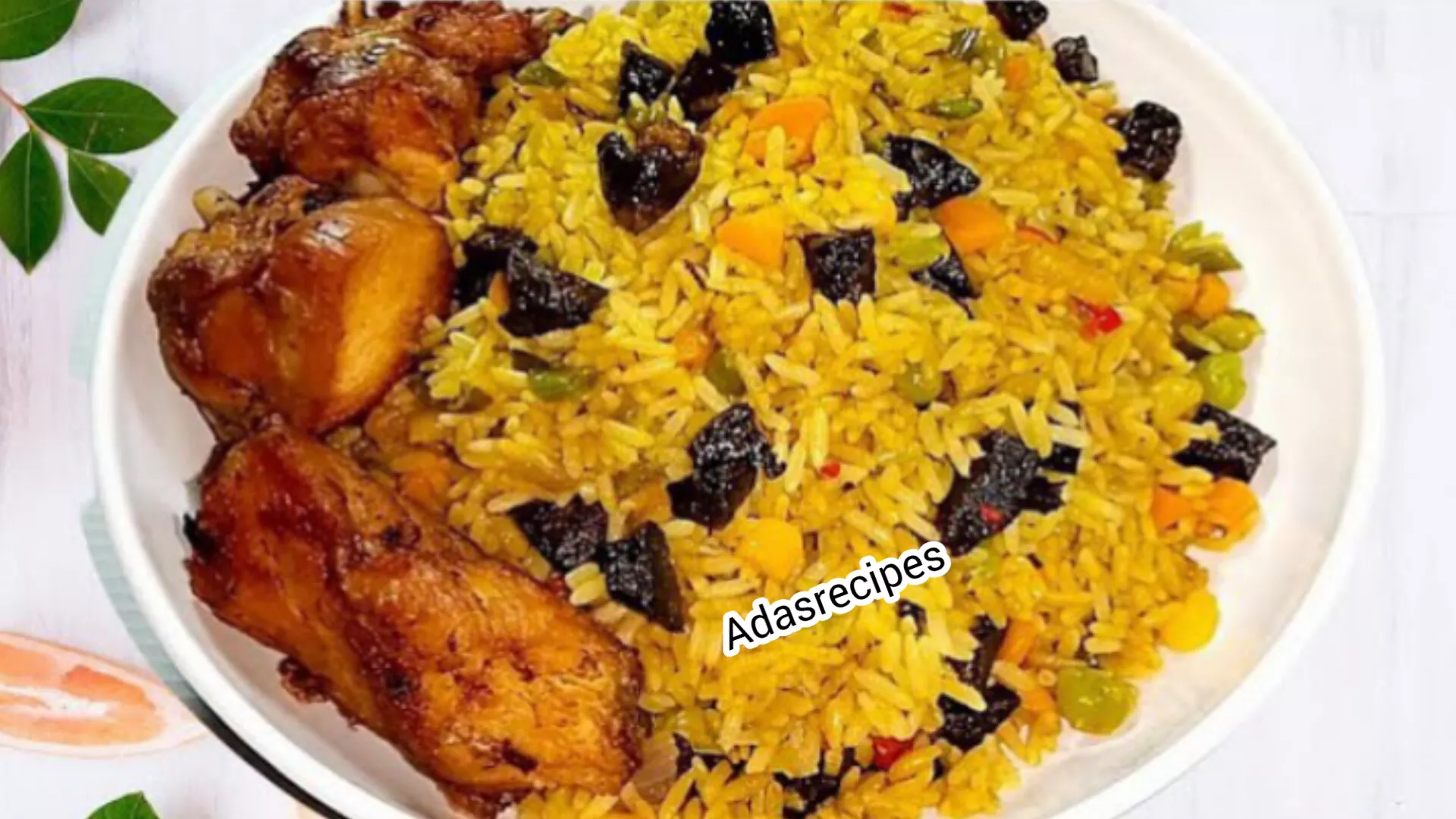 Ingredients
1kg Rice
1kg Chicken(500ml Stock)
1/2 teaspoon rosemary spice
1/2 teaspoon grated nutmeg
2 medium onion
Fresh ginger and garlic (little)
1 teaspoon curry powder
500ml coconut milk
400ml water
1 tablespoon fennel seed powder
5 tablespoons soy sauce
1/2 cup sweet corn
1/2 cup green beans
1/2 cup green peas
2 spring Onions
200g cow liver
1 medium green
1 medium yellow pepper
Red pepper to taste
Salt taste
1 tablespoon margarine
I cooking spoon cooking oil
Instructions
Wash and season chicken with rosemary spice, curry powder, grated fresh garlic and ginger, pepper, onion, cow liver, seasoning cube, salt, grated nutmeg, little water, mix, cover and cook for 10 minutes.
In a dry pot, put margarine leave to heat up a little, add onion and saute for 3 minutes.
Add chicken stock and coconut milk, stir, add fennel seed powder, seasoning cubes, pepper, little more water if need be, add salt and leave to boil.
Add washed rice, stir and cook rice till 70% done, and set aside.
Heat up cooking, add onion, carrot, green beans, spring onion, yellow, green and red peppers, sweet corn, green peas, stir each vegetable for 2 minutes.
Add curry powder, salt and set aside.
Place a dry pan on the stove, measure cooked rice, stir fry the rice for 5 minutes, measure fried vegetables and add to each batch of rice, stir- fry for 3minutes.(Fry in batches, 3:1 ratio, the rice should have the higher ratio).
Add soy sauce, stir fry, add fried cow liver. It's done remove from heat. Enjoy!
Hope you enjoyed reading this post? Leave your thoughts in the comments section below.
Watch the practical video below to see how this delicious Nigerian Coconut Fried Rice Recipe was made.
Thank you for reading up to this point. See you in my next post. Take care.
Ada.