Ogbono Soup with Okro Recipe
Ogbono Soup with Okro Recipe
Hello besties, I'm serving Ogbono Soup with Okro today. This is sizzling hot and trust me I always got your back.
This recipe is as easy as anything easy you can think of, no too much protocol.
If you're a reader of this blog you would notice my recipes are as simplified as possible.
This blog is a beginner friendly blog, you can find your place in whatever level you are in the world of cooking.
Without further Ado, let's talk about this deliciousness.
Ogbono Soup with Okro is one soup once you have a taste you always want to make.
For some persons that don't know, you can actually make Ogbono Soup with Okro or Okra and also Okro Soup with Ogbono.
On the other hand, one can prepare Okro Soup separately as well as Ogbono soup, and both soups are popular Nigerian draw soups.
Ogbono Soup with Okro is packed with flavours that tickles the taste buds.
You can also cook Ogbono soup with uziza leaf, Ogbono Soup with bitter leaf, Ogbono Soup with egusi, Ogbono Soup with fresh fish, Ogbono Soup with goat meat.
You see you can enjoy Ogbono in different ways.You can also choose whatever choice of protein to cook this soup
Nigerian draw soup are mostly starters for toddlers who are newly introduced to swallow.
There are varieties of Nigerian soup such as egusi soup, vegetable soup, afang soup, groundnut soup, white soup, fisherman soup to mention but a few.
You can enjoy this delicious Ogbono soup with Okro with any swallow of choice.
Continue reading as I share how this finger licking Nigerian soup was made
To Cook Ogbono Soup with Okro Recipe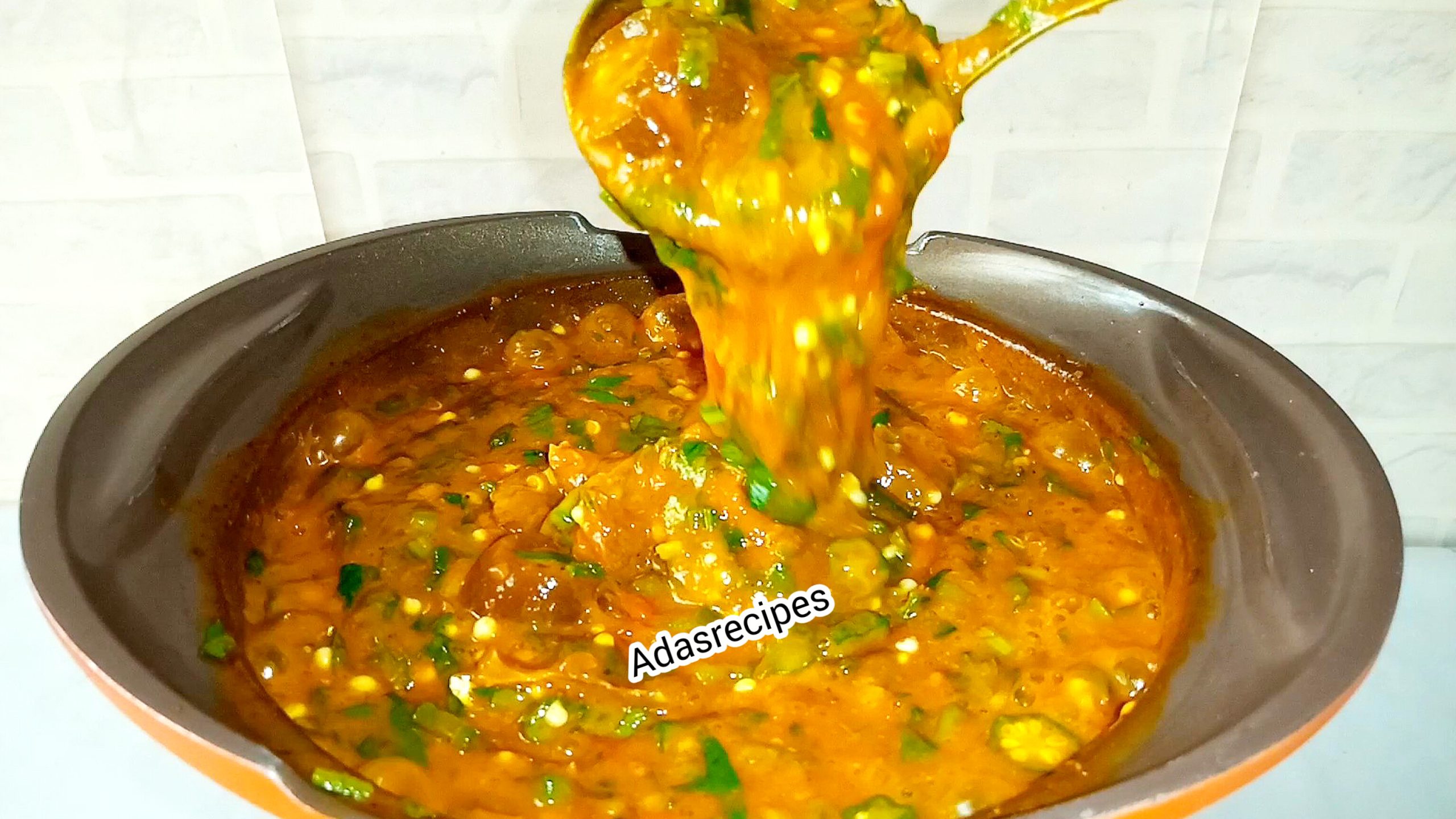 Ingredients
1/2 cup Ground Ogbono
2 cups cut Okro
700g beef
300g kpomo/ Cow Skin
500g stock fish (You can combine fish)
1 cup crayfish (not grounded)
1 medium onion
2 and 1/2 seasoning cubes
80ml palm oil
Fresh pepper to taste
Salt to taste
2 handfuls original Uziza leaves(Shredded)
Instructions
Wash, cut the Okro
Grind the Ogbono
Wash, shred Uziza leaves
Wash and put the beef in the pot
Add stock fish, chopped onions, seasoning cubes, salt and little water.Cook for 5- 7 minutes, add cow skin and leave for 5 minutes
Add ground crayfish, pepper
Add water to cook the soup and leave to boil
Add oil to the ground Ogbono and mix well
Add the mixed Ogbono in soup and stir, cover, keep an eye, stir at close intervals to avoid getting burnt. Takes about 10- 15 minutes for the Ogbono to get done.
Add salt and seasoning cubes if need be, leave for 2 minutes
Add Okro and Cook for 3 minutes
Add Uziza leaf, leave for 2 minutes.
Remove from heat. Soup is ready.
Serve with any swallow you love
Hope you found this post helpful? Leave your thoughts in comment section below.
Also watch the practical video on how to make this finger licking soup.
Don't forget to share this post with family and friends.
Keep taking good care of yourselves.
See you in my next post.
Ada.