Stir fry Egg Noodles with Vegetable
Stir fry egg noodles recipe with Vegetables is what we have on the table.
Hello good people, hope you're good today?
Stir fry egg noodles recipe with Vegetables is one quickest and healthy recipe we have.
This is a satisfying meal that can be served as breakfast or lunch and what have you.This recipe is so delicious and quick to come up with. You will love it.
When I was in university, noodles was one my quickest recipe whenever I had early morning lectures,and one of the filling meal I've ever seen.
Back then in school I bought in cartons and prepared it in different ways.
This recipe as the name implies was prepared eggs and combined with loads of vegetables.
You can also enjoy stir fry egg noodles with chicken, stir fry egg noodles with shrimp, stir fry egg noodles with beef.
There are also a good number of quick recipes you can try out. Fried egg, scrambled eggs, jollof pasta, fried plantain etc.
Noddles are best fortified to give that nutrients and nourishment you need for healthy living.
I used indomie noodles which is loved by many, it has a good seasoning too.
You don't need any seasoning cube if you're using the customized seasoning that came with the noodles.
Without wasting your time, let me share how twas made.
To Make Stir fry Egg Noodles with Vegetables Recipe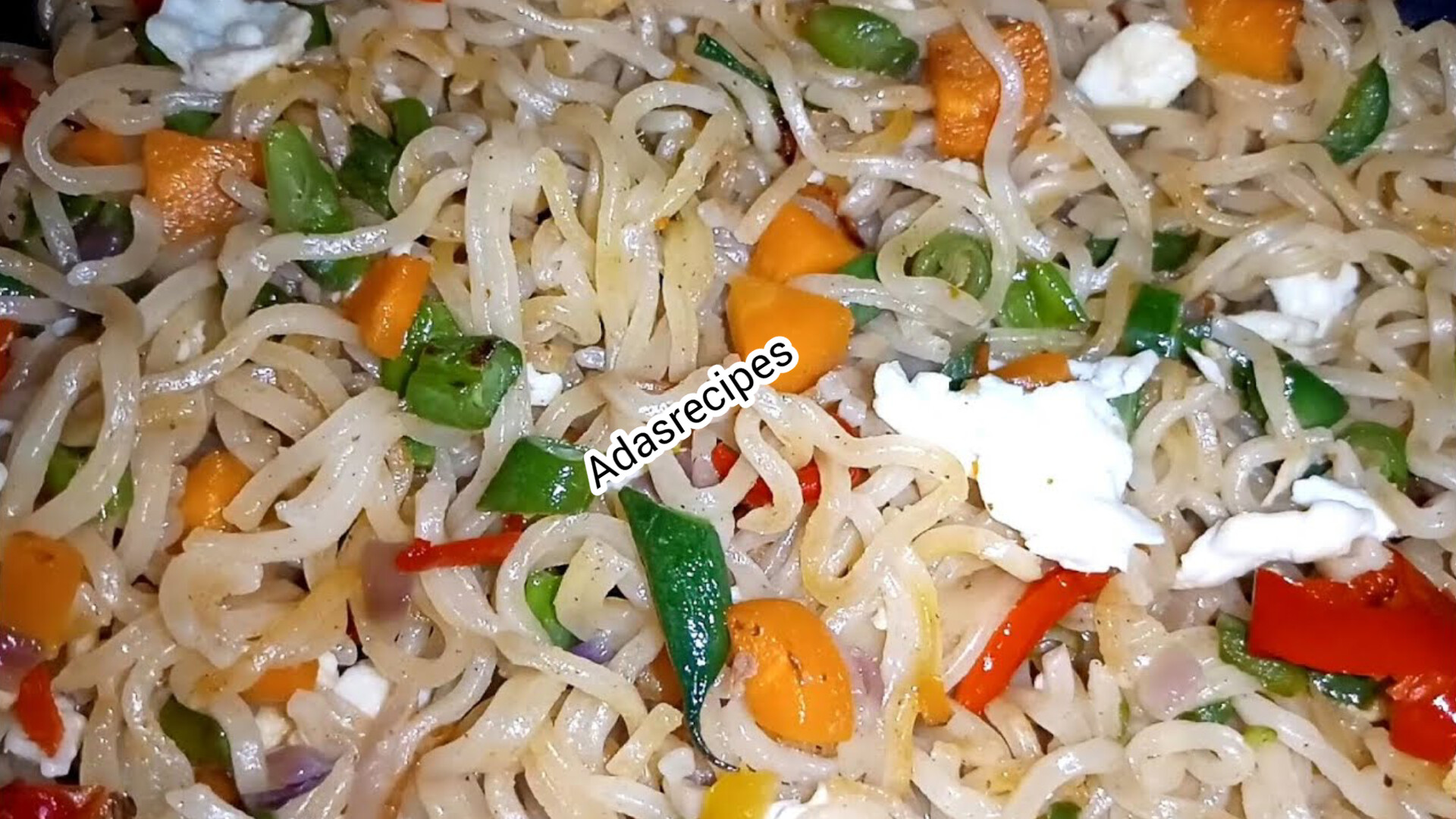 Ingredients
3 packs indomie noddles
(I used only 2 of the indomie seasoning)
4 medium eggs
1/2 cup chopped carrot
1 medium green pepper
1/2 cup green beans
5 medium cayenne pepper
40ml vegetable oil
Instructions
In a dry pan, place it on a stove
Pour whisked salted egg into heated oil and scramble
When the egg is done transfer into a plate
Using the same, heat up little oil, add chopped onions and saute for 3-4 minutes
Add green beans, carrot, stir fry for 2 minutes each, add green and red peppers and stir fry.
Add noodles seasoning, stir.
In a boiling water, add the noodles, cover and cook for 3 minutes.
Strain the noodles and add to the vegetables, stir, add the egg
Stir-fry for 3-4 minutes.
Remove from heat and serve.
Hope you enjoyed reading this post.
Leave your thoughts in comment below.
Share the post with your family and friends. Remember, caring is sharing.
Watch the practical video on how make this deliciousness.
Stay well and take good care of yourselves.
See you in my next post.
Ada