Delicious Jollof Spaghetti recipe (Pasta)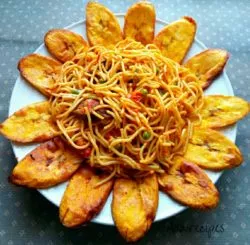 Hello people, happy new week! How was your weekend? Hope you surprised your family over the weekend with a cool treat? Try out this Jollof spaghetti recipe! Twas so Delicious!
My daughter actually doesn't enjoy spaghetti. For the first time in the history of eating spaghetti, she enjoyed spaghetti. Lol!
This Jollof spaghetti recipe was the best because my daughter demanded for more, twice.
Was excited about that. so if you don't enjoy spaghetti, You will enjoy my Jollof spaghetti recipe.
This Jollof spaghetti was super tasty. I added fresh peas, not the the tinned peas, green pepper and shombo pepper which gave it a skyrocketing flavour. The preparation is easy and not time consuming.
Spaghetti also known as pasta is a delicious dish enjoyed by many. It is a household food because is virtually seen in almost every Nigerian home.
The preparation is similar to that of Jollof rice, it can also be prepared fried like fried rice and enjoyed with moi moi and fried plantain.
To Prepare Delicious Jollof Spaghetti Recipe (Pasta)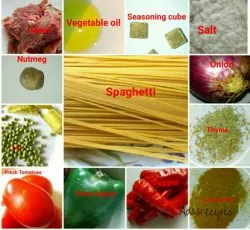 I Used
1 pack golden penny spaghetti
8 medium cuts cow meat
5 large fresh tomatoes
5 large shombo pepper
1 medium onion
1/2 teaspoon ground nutmeg
1/2 teaspoon curry powder
1/2 teaspoon thyme
2 stock cubes
salt to taste
2 handfuls peas
1 large green pepper
3 cooking vegetable oil
Water for cooking
Preparation
1. With hands, break spaghetti into preferred length.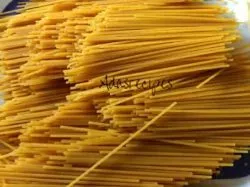 2. Wash, cut blend fresh tomatoes, pepper, and onion together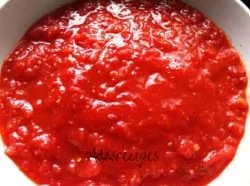 3. Wash the the meat and set aside.
4. Cut open the green pepper, remove the seeds, wash and dice.
Cooking procedure
1. Season the washed meat with salt, seasoning cube, onion, thyme, nutmeg and curry powder, steam for 5 minutes.
2. Add the spaghetti to a boiling salt water, parboil for 5 minutes, pour in a sifter to drain water.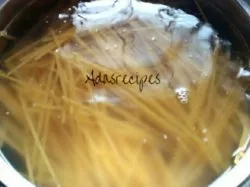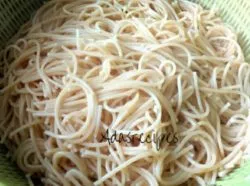 3. In an empty dry pot,add vegetable oil, add the tomatoes blend, and stir-fry until the sour taste is no more, the add the meat with the stock.(water gotten from meat)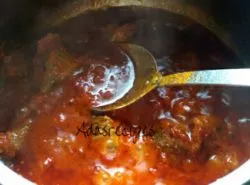 4. Add the the remaining seasoning cube, add little water for cooking, remember we've already parboiled the spaghetti,add salt to taste, the spaghetti should be little above the water level.
5. Leave to cook, when water is not completely dry, add the peas, green pepper, stir and leave for 4 minutes, remove from heat.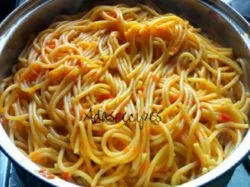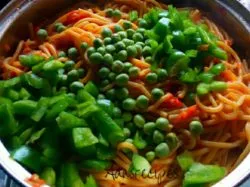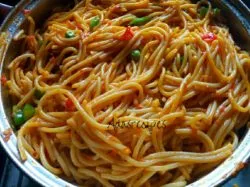 My delicious jollof spaghetti is ready!
Enjoy with fried plantain.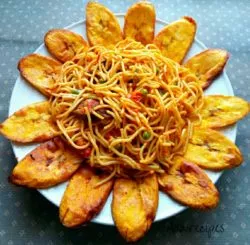 Please share this post and don't forget to leave a comment.
Have a great week!
Ada.