How To Make Ofe Nsala Recipe | White Soup
Ofe nsala recipe also known as white soup is a delicious traditional spicy soup originated from the riverine areas.
This Nigerian soup recipe is mostly prepared with fresh fish(cat fish) and can also be twisted to your taste.
It's called white because it was prepared without palm oil and yam is uually used as the thickner.
Like I as said earlier, this soup is mostly prepared with fresh fish, and can as well come out delicious when prepared with other types of fishes and meat like offal(assorted meat), chicken and the rest of them.
Without wasting so much of your time, let me share, my ofe nsala ingredients and procedure.
To make Ofe Nsala Recipe|White soup
Ingredients
1kg Offal (Cow organ meat)
5 medium cubes of yam (Thickner)
Local spices(check video below)
Little uziza leaves
Little utazi leaves
1 cup crayfish (not grounded)
Fresh pepper to taste
1 medium onion
Salt to taste
2 seasoning cubes
Procedure
Wash the cow organ meat thoroughly with salt water, put in the pot, cut the onions, add the cut onion, seasoning cube, salt, yam cubes, apply heat and cook the yam cubes till hard boiled.
Take out the yams and pound using mortar and pestle.
Add more water to the meat pot, grind the local spices, pepper and crayfish together, add and stir.
Cover the pot and leave the meat till well cooked.
Add the pounded yam(thickener) in bits, cover the pot and leave till the yam dissolves completely, you can add more water if need be or too thick.
Add the remaining seasoning cube and salt to taste, stir and leave for 5 minutes.
Wash and shred the vegetables, add and leave to boiled for 2 minutes.
Our delicious ofe nsala recipe AKA white soup is ready!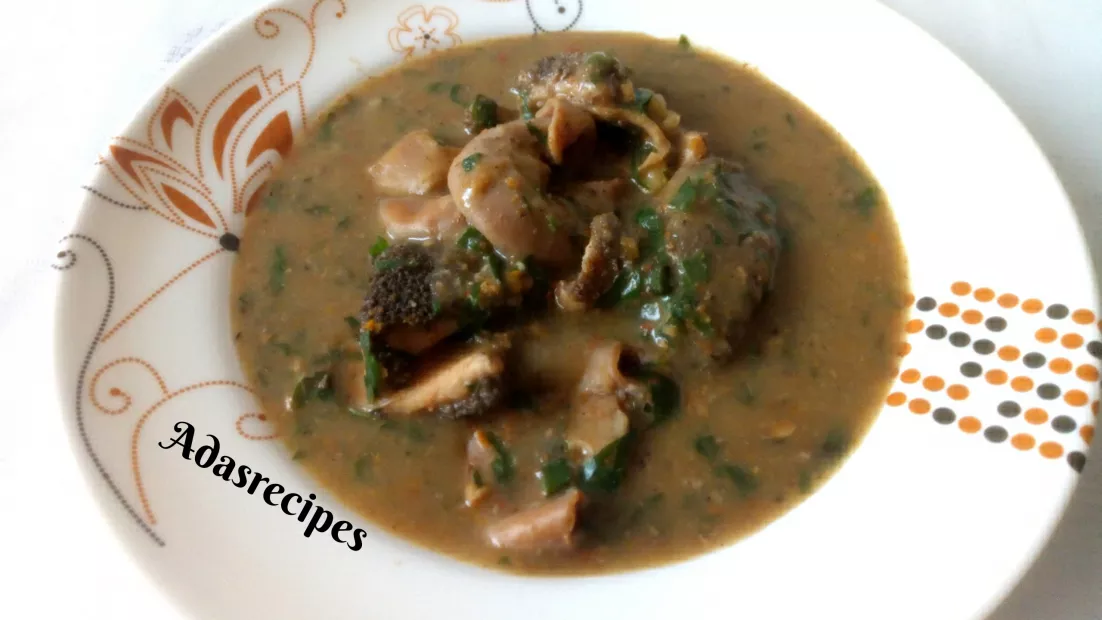 Get your plates! Which swallow would you love to enjoy this soup with?
Let me know your thoughts in the comment section below.
Watch the video on how to cook ofe nsala below.
Have a glorious day!
See you in my next post.
Ada.