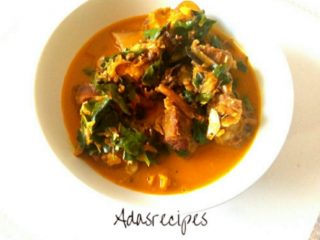 It's my fingerlicking uha soup recipe! Hello beauties, how are you guys and family doing today? Trust you are doing great?
It's really been a while, been trying to put somethings together. Missed you guys! How was valentine day?
What did you prepare? Hope you gave your family an unforgettable treat with Adasrecipes?
I know you will be so much excited about my uha soup recipe, because uha soup is generally enjoyed by many. Twas indeed fingerlicking!
Please try it out. Wouldn't want you to miss out in this recipe, trust me you will love it.
Like I said, my oha soup recipe was wow! Was is it the taste and flavour of the uha leaves, or the uziza seed and ogiri that gave an irrestible aroma and flavour? Oh my God! My uha soup was mehn, super!
Oha is a native soup mostly enjoyed by the the people of the Eastern part of Nigeria.
It is also enjoyed by other tribes as well. The oha leaves which is the key ingredient gives a remarkable taste, which will always make you salivate.
Uha soup preparation is similar Garden egg leaf soup, bitter leaf soup and the likes.
To Prepare Fingerlicking Uha Soup Recipe
I Used
9 medium cow meat
7 cow skin
2 medium,1 small dried catfish
1 medium stock fish head
1 cup crayfish(not grounded)
1 wrap Ogiri
1 level teaspoon uziza seed
3 stock cubes
2 cooking spoons palm oil
21/2 tablespoon ground Achi/Thickner
1 medium onion
4 fresh pepper or to your taste
Salt to taste
Water for cooking
Preparation
Wash thoroughly the meat with salt water twice and set aside.
Wash thoroughly the cow skin, I, scrub with iron sponge to remove sand.
With hot salt water,not too hot please, wash, transfer to a cold water and debone dry fish properly.
Cut open the stock fish head, wash with salt water and set aside.
Pound or grind the crayfish, pepper, and uziza seed together, the uziza seed should be grounded first before adding pepper and crayfish.
Remove the uha leaves from the sticks , with fingers, tear the uha leaves apart into pieces.
Cooking Procedure
Precook cow skin for 10 minutes if very tough or hard with only water.Depending on how tough the cow skin is.If it's not tough, you  steam together with the cow meat.
In a separate pot, put the washed meat, add diced onions, stock cube, little water and salt, apply heat and cook for 5minutes.
 Put the washed stock fish head in an empty pot, add water and cook for about 10- 12 minutes.
Add the cow skin to the stock fish head content, add the cow meat, leave for 5 minutes, add the washed dried fish, add stock cube,salt add crayfish, pepper and uziza seed mix, add ogiri and stir, leave to simmer for about 5 minutes.
Add palm oil, leave to boil for 5- 7minutes, dissolve the ground achi/thickner in water and add, leave to thicken, you can add water if need be, it depends on choice some like it thick, while some light.Personally, I love mine light.
Wash and add the uha leaves, leave to cook for 2minutes, remove from heat.
My fingerlicking Uha soup is ready!
Enjoy with fufu or any swallow  of choice!
Don't forget to share this post and leave comment.
Watch video on how to prepare fingerlicking uha soup recipe below and please make sure you subscribe.
Enjoy your day and have a great week ahead!
Ada