It's my delicious Nigerian white coconut rice! Hello beauties, a wonderful day to you all. Hope you and family are doing great?
I love coconut! Give me anything prepared with coconut I will do justice to it lol!
I've not come across anyone who doesn't like Nigerian coconut white rice, jollof coconut rice or dishes flavoured with coconuts. So you can see is everyone's delight.
This recipe is so delicious that you don't need stew in whatever form to take it down.
My kids also enjoy it, such that they told me to always prepare it. They preferred it compared to the ordinary Nigerian white rice.
Lately it has become one the meals I prepare regularly, because my kid don't joke with it.
The preparation doesn't require much ingredients with your coconut milk, salt, rice, I added onion because I like the flavour it gives my white coconut rice. Though it's optional.
Nigerian white coconut rice is a palatable dish enjoyed by many. The preparation is similar to Nigerian white rice. Unlike Nigerian white rice, Nigerian white coconut rice can be taken comfortably without stew.
Aside White coconut rice, coconut rice can also be prepared Jollof and fried.
To Prepare Delicious White Coconut Rice
I Used
1 cup rice
1 Small coconut/1/4 drinking glass coconut milk
1/2 medium onion
Salt to taste
Water
Preparation
Wash and parboil rice for 5 minutes.
Break open coconut, with a knife bring out the coconut meat and wash.
Blend or grate coconut, add 11/4 drinking glass of water to the grated coconut squeeze, then sift to bring out the coconut juice or milk.
Dice the onion
Cooking Procedure
Pour the coconut milk in an empty pot, add diced onions and salt, apply heat and leave to boil.
Add the parboiled rice and leave to cook until well done.
Yes! Get your spoons! My delicious white coconut rice is ready!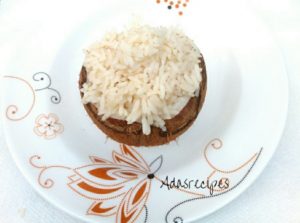 Serve hot and enjoy!
Leave a comment and let me know what you think about this recipe and please share! share! share! With the share button below.
Watch the video on how to prepare Nigerian white coconut rice below.
Have a great weekend!
Ada.