Nigerian Party Vegetable Soup Everyone Will Love
Nigerian Party Vegetable Soup is a delicious Nigerian soup loved by many. it's also called Edikang Ikong. It 's usually made with water leaves and ugu leaves also known as fluted pumpkin. This soup is also one the popular soup prepared and served in parties. It's healthy and can be taken down with any swallow of choice.
Nigerian party vegetable soup need a whole lot of ingredients and most especially a good amount of palm oil, onions and crayfish to come out very tasty.
There are similar Nigerian Soup also prepared in party such as Egusi soup, oha soup, bitter soup, banga soup, Afang soup and the rest of them.
Continue reading as I share the Ingredients and method of preparation.
To make Nigerian party vegetable Soup
Ingredients
4 small custard cups shredded ugu leaves
3 small custard cups water leaves
2 cups crayfish (not grounded)
1 cup periwinkle (without shell)
1 cup snail (without shell)
2 large onions
4 seasoning cubes
Fresh pepper to taste
3 meduim dry catfish
500g cow meat
1 medium stock fish head
300g cow skin
400g shaki/roundabout
One and half cup palm oil
Salt to taste.
Procedure
Wash the shaki/roundabout, stock fish head, put in a clean pot, chop the onions and add some.
Add 2 seasoning cubes, salt, some water, cover and leave to cook for 15 minutes.
Add the cow meat, cow skin, cook for 8-10 minutes.
Add the washed and deboned catfish, snail, cook for 7 minutes.
Add the roughly blended fresh pepper, stir, cover and leave to cook until the water in the protein is almost dried or absorbed.
In a clean dry pot,pour in your palm oil,heat up a minute, add grated onions, stir-fry for 2 to 3 minutes.
Add ground crayfish, stir for 2 to 3 minutes.
Add shredded water leaves, stir-fry for 3 minutes , cover and leave to cook until the water is absorbed.
Add the cooked protein, periwinkles, cook for 4 minutes.
Add seasoning cubes, salt, and shredded ugu leaves and stir.
Cover and leave to cook for 3 minutes.
Ready! Enjoy!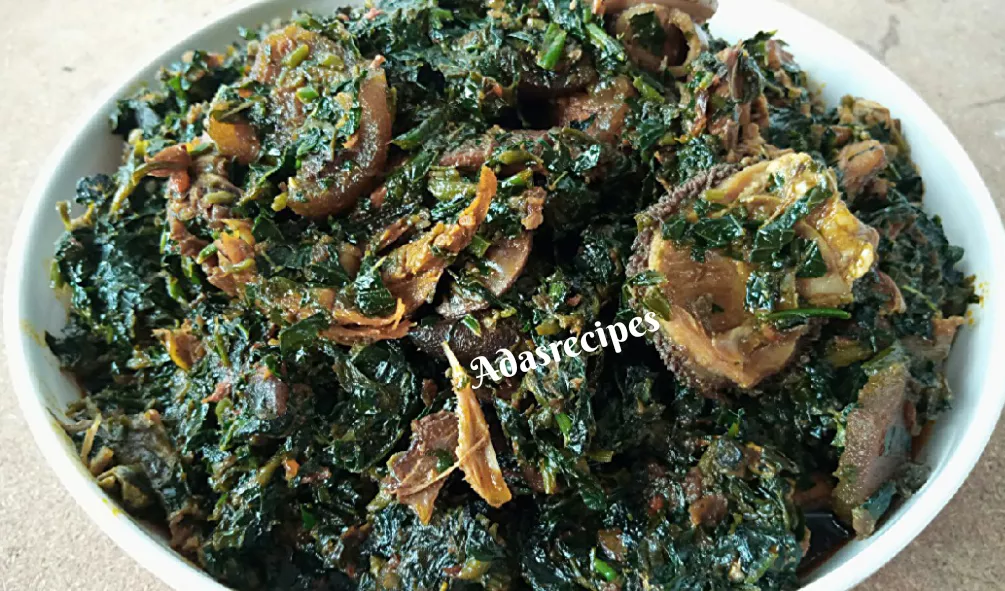 Watch below video on how to make Nigerian party vegetable soup.
Hope you found the post helpful? Don't forget to share your thought in comment section below.
Also share this post as there's love in sharing!
See you in my next post.
Ada.