Palm oil rice is a Nigerian dish similar to the popular Nigerian Jollof Rice. This recipe can equally be called native or traditional rice recipe because twas prepared with local ingredients.
The popular Nigerian Jollof rice we all know is usually prepared with tomato plum and paste which are some of the major ingredients. These ingredients mentioned above gave the red appetizing colour.
As the name implies has palm oil as one of the key ingredients.This recipe is also known as native or concocion rice.
This is a palm oil rice without tomatoes. You can as well add fresh tomatoes if you choose and can be customized by adding more ingredients of choice.
This is a delicious,spicy palm oil rice with Iru,other local spices like ehu seed also known as calabash nutmeg with more ingredients you would love, which took this recipe to another level of taste and flavour.
Again, this dish share similar ingredients with Palm Oil Rice and Beans. Can be paired with fried plantain and the likes.
Continue reading as I share how this deliciousness was prepared.
To Make Palm Oil Rice Recipe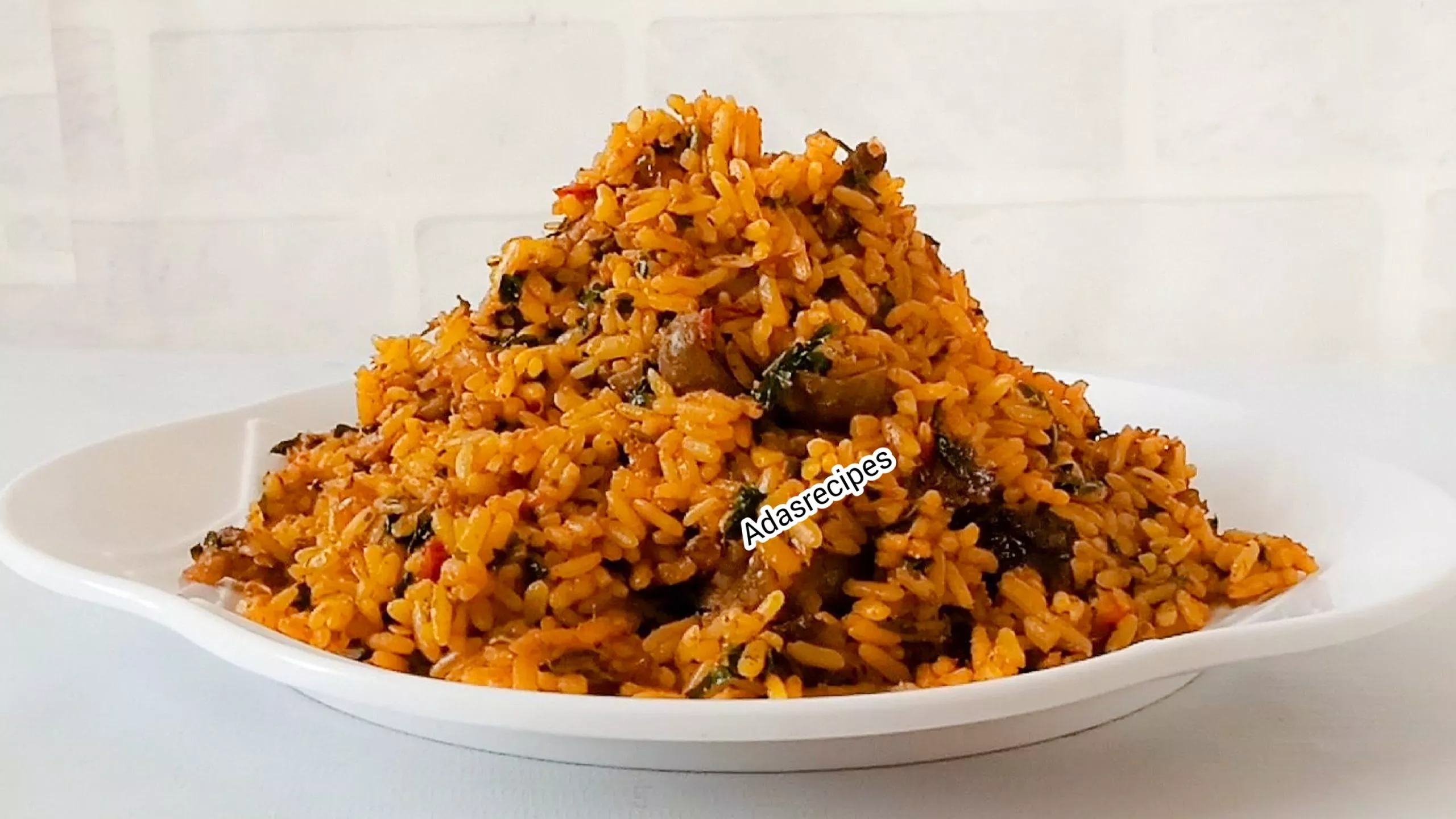 Ingredients
300g rice
3 tablespoons ground crayfish
Local spices(3 ehuru seeds,6 jansa grind)
2 seasoning cubes
1 small Iru(dried locus beans)
500g cow kidney
1 dry fish
Stock fish flesh
Ugu and Uziza leaves
1/2 cup palm oil
Fresh pepper to taste
Salt to taste
Cooking Method
Wash the fish with warm salt water
Wash and parboil the rice
In dry pot,pour in the palm oil
Add onion,stir for 2-3 minutes
Add ground local spices and locust beans
Add blend of onion and pepper, stir
Add ground crayfish,stir
Add cow kidney stock,stir
Add Seasoning cube,salt,fish, little water and leave to boil
Add parboiled rice,precooked cow kidney
Cover and leave till done
Add vegatables and leave for 1 minute,stir
Remove from heat. Delicious rice is ready!
Watch below the practical video to make this tasty dish.Don't forget to share your thought in the comment as well as share this post and subscribe to my youtube channel for more super recipes.
See you in my next post until then eat well and stay healthy.
Ada.