Make Soft Onion Flavored Buns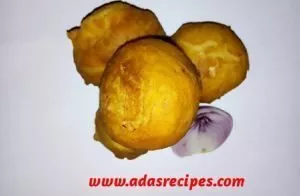 Hello Dearies, a happy new week to you all.
Over the weekend, my kids insisted I made buns. I was surprised, reasons was that normally they preferred puff puff to buns because puff puff it's softer. I made buns on rare occasions, since the kids don't really enjoy it especially when compared to puff puff. Since they demanded for buns, I decided to make a soft onion flavored buns.The buns was really soft and…. you need to make it for your family. Unlike buns known for its hard bite, my onion flavored buns was good as both young and old could really have a soft bite, without extra energy. The onion I added to it was real good! We took it down with chilled soft drink.Lol!
Buns is a Nigerian popular snack, similar to puff puff and doughnut because they share similar ingredients. To make Nigerian buns, baking powder is added to buns as against the yeast added to puff and doughnut. So for buns, baking powder is used as the raising agent.
To make soft onion flavored buns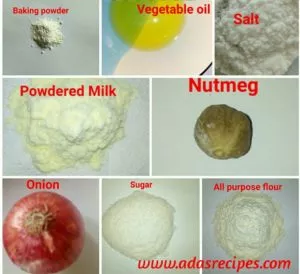 I Used

4 cups All-purpose flour
2 leveled tablespoons baking powder
1 teaspoon ground nutmeg
3 tablespoonfuls sugar
1 teaspoonful salt
2 tablespoonfuls powdered milk
2 medium sized onions(1 for mixing the batter,1 for flavoring the vegetable oil during frying)
50ml vegetable oil for mixing(melted margarine can also be used)
Luke warm water for mixing
Vegetable oil for frying(enough to cover the buns during frying)
Frying Procedure
1. Sift the flour into a dry empty bowl
2. Add the baking powder
3. Add the ground nutmeg
4. Add the sugar
5. Add the salt
6. Add the powdered milk, work with hand or spatula to mix the all the dry ingredients very well
7. Grate one onion, then add
8. Add the vegetable or melted margarine and mix evenly
9. Add the lukewarm water, little at time,mix until you get a soft stretchy batter
10.In an empty dry pot,add the vegetable oil little before half of the pot, place on fire and allow to heat, then add the remaining 1 onion to the oil.
Note; To test the hotness of the oil, dip a wooden spatula,if it forms bubbles when dipped, the batter is ready to be scooped into the oil. Fry on a low heat, not too low please to enable the onion flavored buns cook well inside. Stir when frying.
11.Fry until golden brown, line a paper in a sifter, put the fried buns to drain excess oil.
My soft onion flavored buns is ready!
Lol!
We so much loved and enjoyed it and I know you too will!
Leave a comment and tell me what you think about this recipe
Enjoy your day!
Ada.