Ayamase Stew Recipe | Designers Stew
Ayamase stew recipe which is also known as Nigerian designer stew. It is one of the Nigerian stew recipes we have and most people including me. LoL!
Also See: How To Make Ofe Akwu Recipe | Banga Soup
It's prepared with a combination of Green and red colored scotch bonnet peppers(you can use only the green color scotch bonnet pepper too), onions, including a Nigerian native spice called locust bean that gives it a unique delicious taste and flavour.
Ayamase Stew Recipe is commonly served at Nigerian parties and restaurants mostly in the western part of Nigerian
Also See: How to make Nigerian Stew without Tin tomatoes
One of the processes involved in preparing Ayamase stew has to do with bleaching palm oil which could be very harmful if not handled with care. It's best the oil is bleached on a low heat, the pot well covered and in a well-ventilated kitchen.
Again the peppers used are also coarsely blended.
This recipe don't go well for children as it's hot and pepperish. It goes well with ofada rice. You can as well enjoy with other types of white rice.
Also See: How to make delicious palm oil rice
Keep reading as I share how this delicious designer stew was made
To Make Ayamase Stew Recipe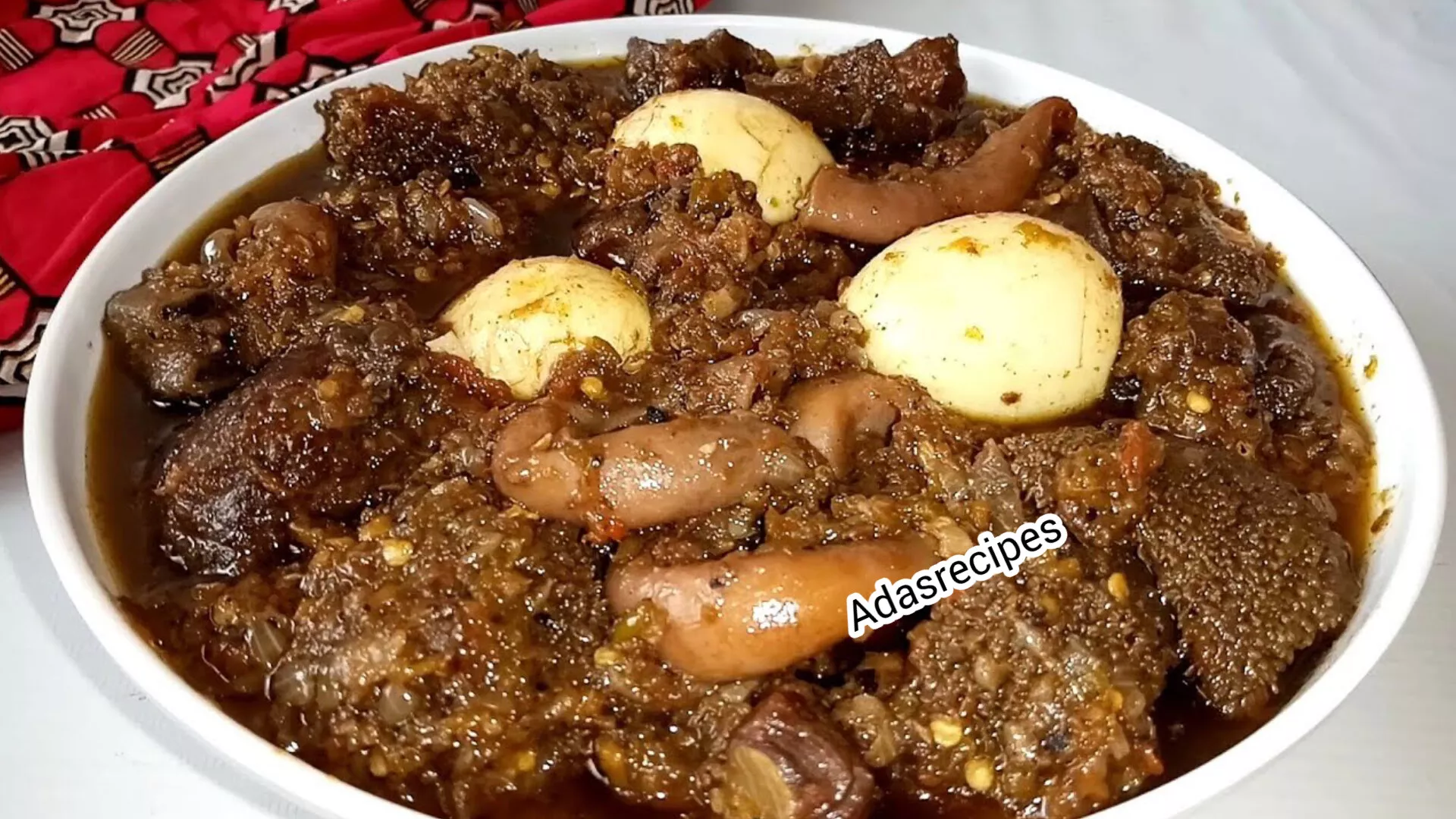 Ingredients
1.5kg Assorted meat
2 large onions
2 small custard cups Scotch bonnet (unripe with little ripe)
300 ml bleached palm oil
2 tablespoons crayfish powder
5 medium boiled eggs
1 tablespoon ground locus beans
1 and 1/2 teaspoon seasoning powder
Salt to taste
Water enough to Cook the meat
Insructions
Wash assorted meat(tripe), put in to a clean pot
Add water, some chopped onions, seasoning powder, salt, mix and cover.
Cook for 15 minutes, add beef and kpomo(cow skin), cook until protein is tender.
Remove protein from stock and set aside.
Pour in bleached palm oil in a dry pot, leave to heat up if cold then add the protein and fry.
Remove the fried protein from oil, add some slices of onion and saute for 3 minutes
Roughly blend scotch bonnet pepper, add to the oil, add locust beans dry or fresh, stir.
Cook for 8 to 10 minutes, add protein stock, add fried protein, leave for about 7 minutes
Add ground crayfish, seasoning powder, salt and stir.
Leave to simmer for 5 minutes, add boiled eggs, leave for another 2 minutes.
Remove from heat. It's ready! Serve with rice!
Hope you enjoyed reading this post? Leave your thoughts in the comment session below if you're trying it out.
Also watch the practical video below on how to make this delicious Ayamase stew recipe.
See in my next post, until then, eat well and stay healthy.