Homemade Pizza Recipe Without Oven and Cheese
Homemade Pizza recipe without oven and Cheese
Hi amazing friends! Trust you're doing great today?
I will be sharing how to make homemade Pizza recipe without oven and Cheese.
Yes! You have no oven and cheese? I've got you covered.
Like I said I'll walk you through on how to come with this homemade pizza recipe
Also Read : How To Make Crusty Nigerian Samosa
Pizza is a type of snack loved by both adults and children.
It's seen and can be gotten from eateries, and usually on the high side. You can also make yours at home, which also budget friendly.
This homemade pizza recipe, I'm not exaggerating is, far better than most of the pizza I've tasted, which I from eateries.
Dominos pizza tasted a little better compared to other ones.
Pizza is popularly known to have cheese in it, and the types of cheese mostly used is mozzarella cheese. Pizza is also known to baked with oven.
Not to mince words, this homemade pizza recipe made without cheese and oven came out yummy and perfect.
Also Read: How To Make Easy No Oven No Mixer Sponge Cake
I used an alternative to cheese and the taste was on another level.
This is chicken pizza recipe, and there's pizza made with beef too.
Anyone can come up with the homemade pizza recipe without cheese and oven.
Also Read: How To Make Homemade Coated Peanut
Continue reading as I share how twas made.
To Make Homemade Pizza Recipe without Oven and Cheese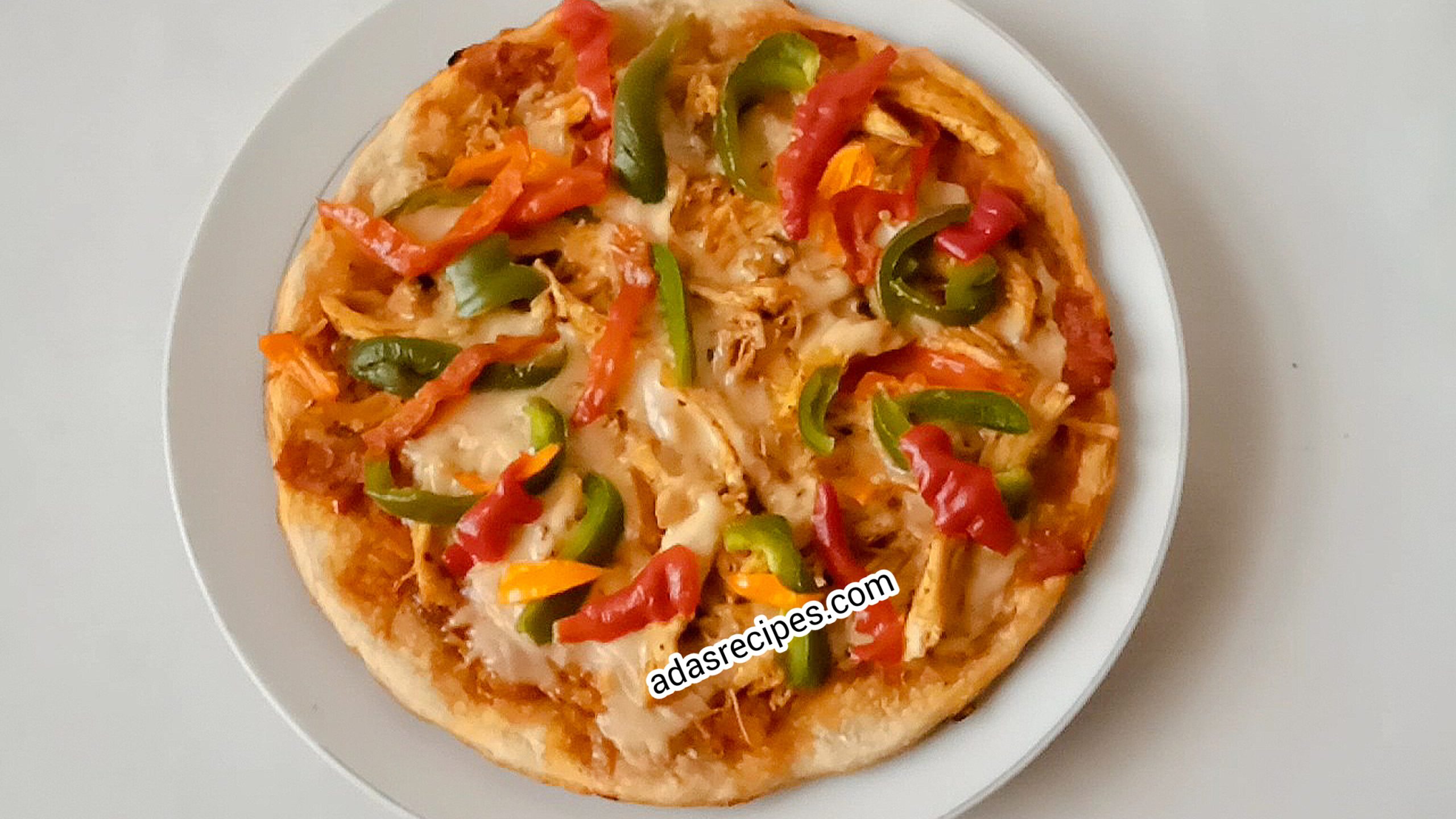 Ingredients
300g chicken breast(precooked with salt)
1 tablespoon margarine
1/2 large green pepper
3 large cayenne pepper
3 yellow Scotch bonnet pepper
1/2 teaspoon dry Cameroon pepper
1/2 teaspoon curry powder
1 seasoning cube
For Pizza Dough
1 cup flour + additional 2 tablespoons
1/2 teaspoon salt
1 tablespoon vegetable oil
1 teaspoon yeast
1/2 cup warm water
Tomato sauce(Pizza Sauce)
20ml cooking oil
1 medium onion
3 medium tomato plum
White Sauce
20ml cooking oil
1 tablespoon flour
200ml milk
Instructions
Pour warm water in a plate, add yeast, stir and set aside
Sift flour, add salt, vegetable oil and mix.
Add dissolved yeast to the flour, mix until you get a sticky dough.
Grease the bowl with vegetable oil, put the dough, cover and leave for 1 hour.
In a dry pan placed on the stove, put margarine, add precooked chicken breast and stir fry. You can as well not precook the chicken.
Add curry powder, stir, seasoning cube, stir, dry Cameroon pepper and stir for about 5 to 7 minutes. You can customize by adding other spices of choice.
Remove the stir-fried chicken from heat and set aside.
For the sauce, using the same pan, pour in some vegetable oil, add some slices of onion and saute for 2 to 3 minutes
Add fresh tomatoes and stir till it becomes a paste, remove from heat and set aside.
For the white sauce, heat up some oil on low- medium heat, add flour, continue stir until the flour dissolves, add milk, stir until it thickens.
Sprinkle flour on the dough, to make it less sticky.
Grease a dry pan with oil, spread the dough until flat, spread tomato sauce on the dough, go in with white sauce(spread),add the chicken, sprinkle white sauce, garnish with green, red and yellow peppers.
Place on a stove, cover and bake on a low medium heat for 10 to 15 minutes.
The mouthwatering homemade pizza recipe without oven and cheese is ready.
Note: Allow the Tomato sauce and white sauce to cool completely before spreading it on the dough.
Hope you enjoyed reading this post, leave your thoughts in comment section and tell what you think.
Watch the practical video below see how this goodness was made.
Make yours and don't forget to give me feedback.
Remember to share this post with your family and friends and they will be glad you did.
Thank you so much and see in my next post.
Ada.