Yam Porridge Recipe which is also known as Yam pottage or Asaro or Agworago Ji is a very delicious Yam recipe eaten by most tribes in Nigeria. It is a more popular dish in Eastern and Western parts of Nigeria. It's easy to prepare. If you love yam, it's a must-try recipe!
It's called Agworago Ji by the Igbos, and my grand had a traditional method of preparing this recipe, where she adds scent leaves,oil bean or this Igbo natural flavouring called ogiri.
However, you can choose to add any herb or leafy green vegetables of your choice like spinach, garden egg leaves, uziza leaves, ugu and the rest.
Porridge Yam Recipe is boiled till it's tender and it's cooked in a blend of Peppers, Tomatoes, onions, palm oil, and more. There are also similar recipes such as plantain porridge and the likes.
While the dish is more common in the Eastern and Western part of Nigeria, it is still a meal enjoyed by the majority alike each with their own styles.
One trick you should learn about preparing Porridge Yam Recipe is to add water at the same level with the yam, that way, you will get the desired slurry consistency that's just good. Unlike the normal boiled white yam, where you can choose to add water to any level, which you can always get rid of it once the yam is done.
For me, I don't like too watery or too thick slurry Asaro, I enjoy it normal.
It is nicknamed "Asaro in Yoruba language or Agworago Ji in Igbo language meaning yam porridge boldly colored with fresh palm oil and garnished to perfection.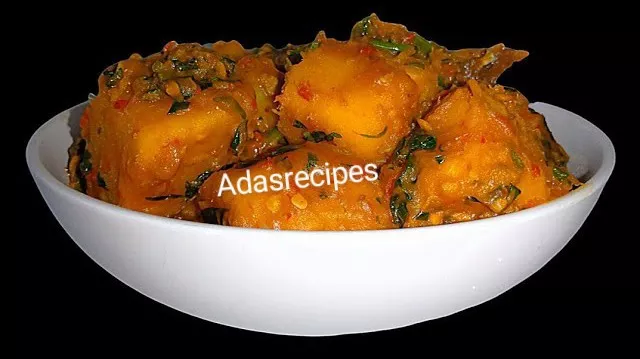 If you don't enjoy porridge yam, you will not resist this yam recipe.
Want to know how this goodness Porridge Yam Recipe was made?
Watch the step by step practical video below on how this goodness was made and ingredients used. Please don't forget to like, share and subscribe to the channel.
Ada