Pepper Onion Chin Chin Recipe
Pepper Onion Chin Chin is simply chin chin made with onion and peppers.
This snack recipe is not common and popular like the ordinary Nigerian chin chin we all know.
The truth is that, you're going love and enjoy this pepper onion chin chin I'm about to share with you.
Chin chin generally is a Nigerian snacks loved and enjoyed by many.
It's a deep fried snack similar to Nigerian buns, Nigerian puff puff and the likes.
This pepper onion Chin Chin Recipe is tasty, soft and crunchy which I'm sure you will enjoy.
The onion and peppers added took this recipe to another level of taste and flavour.
Two different species of pepper was added. You can also to add more than two types of peppers.
Continue reading as I share this super recipe with you.
To Make Pepper Onion Chin Chin Recipe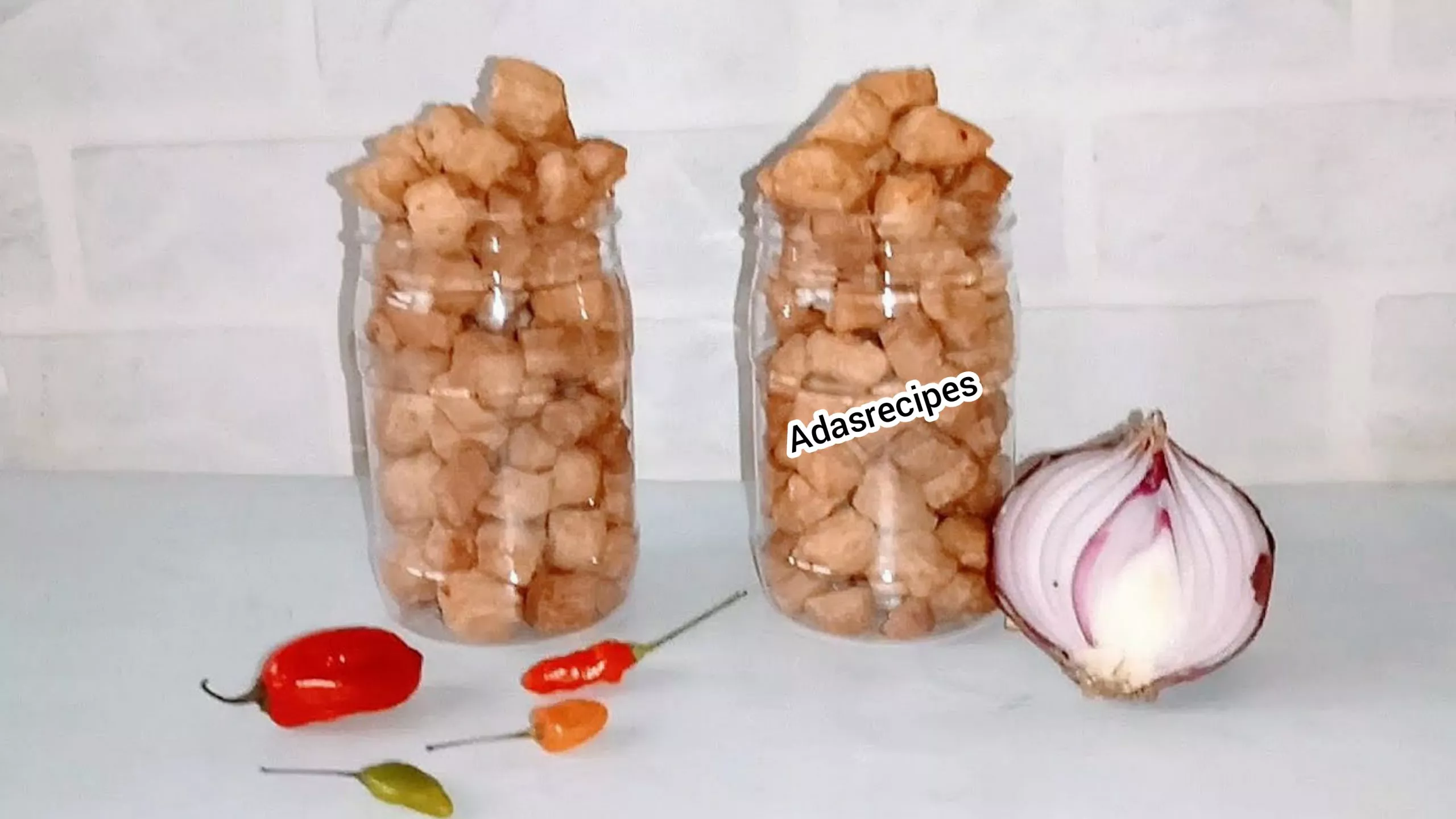 Ingredients
750g All-purpose flour
1/2 cup sugar
1/2 cup margarine
1 and 1/2 teaspoon salt
1 teaspoon baking powder
1 teaspoon grated nutmeg
100g powdered milk
4 medium eggs
250ml or 1 cup water
Onion and fresh pepper to taste
1 litre vegetable oil
Procedure
Sift flour into a dry bowl, Sugar, Salt
Sift baking powder, add powdered milk, grated nutmeg
Combine the dry ingredients together
Add Margarine and rub into the flour until it looks crumby
Make a hole in the flour
Break in the eggs and add blend pepper and onion, mix.
Add water and mix until you get a non-sticky dough.
Transfer to flat surface and kneading for at least 10 minutes.
Cut chin chin into desired shapes and sizes.
Heat up enough cooking oil, add cut chin chin dough and fry on low medium heat.
It's done when it's golden brown.
Transfer to paper towel to drain excess oil.
Leave to cool completely.
Store in an airtight container. Enjoy!
Hope you enjoyed reading this post?
Also Watch the practical step by step video below to see for yourself how to make this tasty pepper and onion chin recipe.
Don't forget to leave your thoughts in the comment below. Also like the video and subscribe to my channel.
See you in my next post,until then stay safe and eat healthy.
Ada.