Nigerian Peppered Meat(Beef)
Nigerian Peppered meat(beef) was indeed super!
Hello loves, a wonderful day to you.
How are you and family doing?
Like seriously, you need to give your family a cool treat this weekend by trying out this super recipe.
Personally, I love peppered recipe and I know most of you do.
This kind of recipe warms the body up especially during cold weather.
So this a cool treat that does better job during raining season and hamarthan
The meat we are talking about here is the cow meat also known as beef.
Most people enjoy meat, and it's basically the major ingredient used in the preparation of most Nigerian dishes
The part of the cow meat I used for the preparation of this super Nigerian peppered meat(beef) is known as best cut. It's also called plain meat.
You can as see how it looks like in the practical video below.
I used the green pepper, scotch bonnet, shombo also known as cayenne pepper and the yellow pepper.
I also added carrot which took the peppered meat to another level of taste and flavor, see the rest of the ingredient on the list below.
The part of meat mentioned above is also the best in making the Nigerian meat pie and which of course is the major ingredient.
In making the Nigerian meat pie, the meat used is usually chopped or grounded, like that which is also used in making meat balls.
While in the preparation of peppered meat, you can cut your meat depending on size of choice, but best cut into smaller sizes so as to be able to enter the mouth at a stretch.
The truth is, I've gotten used cooking with meat, such that once I taste any recipe prepared without meat, I always notice. LoL!
I know this is also applicable to most of you. I know am saying your mind, yes!
Nigerians have so much gotten used to cow meat, such that we find difficult to do away with.
Meat is also never missed in most events organized in Nigeria.
Meat should be taken in moderation due the level of cholesterol it contains.
Like we all know cholesterol is not healthy to the body, especially for adults.
Children need meat more than adults do and should be inculcated in their diet, yes.
So we should be much more careful taking too much of meat, in as a much as we've gotten used to it, taking into consideration your health.
Cow meat can be prepared in different ways and used in the preparation of suya and meat barbecue. I don't make friends with them, LOL.
Nigerian Peppered meat(beef) is a finger food or small chop served in parties.
It is hot and spicy similar to beef kebab also known as stick meat, peppered goat meat (Asun) and peppered cow liver.
It's an appetizer you will always crave for once tasted.
Read on as I unleash the whole ingredients of the super goodness!
To Prepare Super Nigerian Peppered Meat(beef)
I Used
250g plain cow meat
¼ large pepper
2 medium shombo
1 scotch bonnet
1 yellow pepper
½ teaspoon powdered turmeric
½ teaspoon curry powder
½ teaspoon rosemary
1 small glove fresh garlic
1 chop of fresh ginger
2 small carrot
1 medium red onion
½ medium white onion
2 seasoning cubes
Salt to taste
250ml vegetable oil for frying
Preparation
Cut the meat into smaller sizes and wash thoroughly with salt water
Wash the different pepper with the 2 halves of red and white onions, coarsely blend and set aside.
Slice the remaining ½ red onion, then wash and chop the green pepper, set aside.
With a knife scrape the back of the carrot, grate with a grater including the fresh ginger and garlic.
Put the washed meat in a pot, add the already sliced onion, rosemary spice, curry powder, turmeric powder, grated fresh and garlic, seasoning cube and salt.
Work with hands, cover and leave for 30 minutes to absorb the spices.
Cooking Procedure
Put spiced meat on the cooker and apply a low heat, cook until the water is completely absorbed.
Put the vegetable oil in an empty dry pot, allow to heat up, add the cooked meat, fry for 7 to 10 minutes, don't allow to dry.
Reduce the oil, then add the blended pepper mix, grated carrot, stir and leave to simmer until dry.
Add seasoning cube, stir, taste for salt before adding.
Cover and leave to simmer again for 3-5 minutes.
Add the already fried meat, stir, leave to simmer till meat absorb the sauce.
Remove from heat and serve with chilled drink.
It's ready! Super! Enjoy!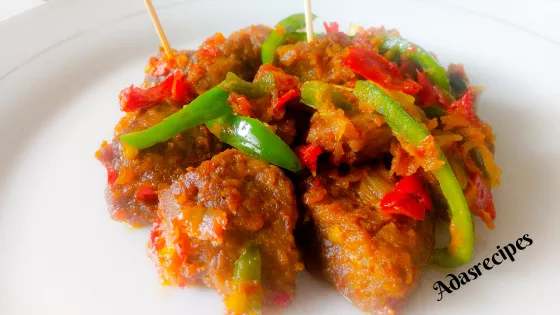 Watch the practical video below on how to make the Nigerian Peppered meat(beef) recipe.
Hope enjoyed reading this post? Please share and leave a comment in the comment section below and tell me what you think .
Enjoy your weekend!
Ada.