Beans and corn porridge recipe(Adalu) is what I will be sharing with you today!
It's really tasty! I bet you, you will love it!
How are you and your kitchen? Hope good? Hope you've been trying out my recipes?
This recipe has been on my mind, and I decided to prepare it now because corn is still in season.
You tend to get fresh and soft corn while still in season.
I don't enjoy beans, combining it with corn gives me the opportunity to enjoy beans to the full.
This is one delicacy I enjoy and have come to realize that virtually everyone that have tasted it love.
The truth is, even if you don't enjoy beans once you have a taste of beans and corn porridge recipe, you will ask for more! I'm a living witness,lol!
This recipe is known by the  Yorubas as Adalu, while the Igbos call it agworagwo agwa na oka.
I enjoyed it so much back then because my late grandmother often prepared it.
She used firewood because beans and corn, more especially corn takes time to cook.
Few ingredients were added then, but still came out delicious.
I took this delicacy to another level by adding Ugba also known as fermented oil bean.This gave it a super unique flavor and taste.
Like I would always say, try out this recipe! You will love it!
Adding enough onion is the secret in the preparation of beans and corn porridge
Beans is a plant protein.It has different species ranging from brown beans to honey beans,potiskum beans and the rest of them.It is also a popular staple in Nigeria
The specie of beans I used was the iron beans, which is bigger in size and takes less time compared to some other species to cook.
It is also used in the preparation of beans porridge, Akara, moi moi, beans and rice, beans ripe plantain, beans and yam and other beans related recipes.
On the other hand, corn which is also a major staple also have different species, can be  prepared with ukwa also known as African bread fruit.
It is also processed into corn flour for baking and other confectionery purposes, used in the preparation of agidi, pap, and corn moi moi.
The specie of corn I used for this recipe was the yellow corn.
Beans-Corn porridge recipe-Adalu is a super delicious and nutritious delicacy, with the combination of beans and corn.
It's a delicious recipe enjoyed by Nigerians, can be prepared with few ingredients and still comes out tasty.
To Prepare Beans and Corn porridge Recipe(Adalu)
Ingredients
2 cups beans

3 cups boiled corn

3 tablespoon ground crayfish

3 medium fresh pepper or to taste

3 handfuls fermented shredded oil bean(ugba)

3 seasoning cubes

1 cup palm oil

2 medium onion

Salt to taste

Water for cooking

Fresh fish
Preparation
1.Put beans in a tray, pick stones and unwanted particles
2.Peel, wash and slice the onion
3.Wash pepper and coarsely blend or pound with some sliced onions and set aside
4.Wash and season fresh fish get the stock, then fry and set aside.
Cooking Procedure
Wash and parboil beans for 10 minutes, with sieve drain water.

Put the parboiled beans in a pot and cook till almost tender

Add the boiled corn, leave to for 5 minutes, then add some slices of onions and cook about 25 – 30 minutes

In a separate dry pot or frying pan, add palm oil, leave to heat up a little.

Add the remaining onion slices, add the pepper and onion blend, stir, then add the fermented oil bean to loosen its stickiness, stir again

Add the ground crayfish, seasoning cube, salt to taste, stir and leave to simmer for 5 minutes.

Remove the crayfish mix from heat and transfer to the corn and beans mix.

Don't stir down to the base to avoid burning on time, cook on low heat please.

Cover the pot, leave to cook until water is not completely dried up.

With a wooden spoon, stir to make slurry, taste for salt and remove from heat.
It's ready! Get your cutleries! Enjoy with the fried fish!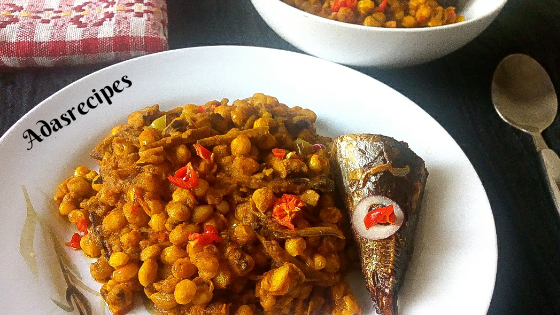 Watch the practical video below on how to prepare tasty beans-corn porridge recipe-Adalu.
Hope you enjoyed reading the post?
Please share with the share buttons below and don't forget to leave a comment to tell me what you think about this recipe.
Have the best of your day!
Ada.