Yes! it's my crispy sweet potato chips recipe!
Hey guys as always, how are you and family doing today?
Trust everything is moving on smoothly?
It's my crispy sweet potato chips recipe, and I know you are so much excited about it.
It's crispy, crunchy, and super sweet.
Sweet potatoes going by the name are already sweet, then when it's made into chips and becomes crispy you know what that means.Super!
Read on as I unleash the preparation of the this goodness.
The amazing thing about sweet potatoes is that is aids weightloss at the same time, sweet.
You want to lose weight and don't like taking bitter things, this is a good news for you.Yes!
The truth is, sweet potatoes is a weight loss diet and will help burn those stubborn fat.
Children naturally love sweet things, so sweet potatoes is a yes for them in whatever form is prepared.
A friend of mine love anything chips and told me to inform him whenever I post chips recipe.Lol!
I also love chips, generally, chips are enjoyed and loved by many.
Crispy sweet potato chips recipe is wow and exceptional because it can go with or without salt.
Salt is optional in the preparation. You can choose to add it or not.
There are two different types or species of sweet potatoes  popularly known in Nigeria.
The first is the pink skinned while the second is the white skinned.
The white skinned specie was what I actually used for my sweet potato chips Recipe.
Potatoes are packed with lots of health benefits so it's shouldn't be looked down on or taken for granted.
It should be inculcated in your diet.
Apart from using sweet potatoes for potato chips, it can also be used in the preparation of other sweet potato recipes such as potato fries, sweet potato porridge, potato balls,and the rest of them.
It is processed into potato poundo used as swallow.
Potato flour is trending now in homes and beginning to take the place of semovita and the likes.
There's another specie of potato though not sweet known as the Irish potatoes used in the preparation of Nigerian vegetable salad and also as a filling for Nigerian meat pie.
It can be boiled like sweet potatoes and taken with fried eggs, tomato stew and the likes.
Sweet potato chips recipe is a deep fried snacks enjoyed by Nigerians.
It is similar to plantain chips and other type of chips in terms of preparation.
It's also a popular Nigerian staple that can be prepared in different ways as mentioned above.
The preparation is easy and not time consuming.
With your potato, vegetable oil and other optional ingredients on the list below, you are good to go.
The potato is sliced with the aid of a plantain slicer so as to give it a thinly, smooth and neat slices.
The sizes of the chips depends on the initial cutting.
If you want your potato chips larger in sizes, then you cut into half during initial cutting.
My potato chips were smaller in sizes because twas cut into six parts or so.
Like I rightly said, your potato slices depends on choice.
I also added onions to give it a nice flavour.
Let's get into the preparation proper.
To Make Crispy Sweet Potato Chips Recipe
Ingredients
550g or 2 medium sweet potatoes.
Salt (Optional).
1 medium Onion for flavour ( Optional).
Vegetable oil enough for deep frying.
Preparation
1. Wash, depending on sizes of choice cut vertically and peel.
2. Wash the peeled potatoes, slice,then salt.
3. In an empty dry pot, put vegetable oil,leave to heat up,then add the Onion for flavour.
4. Add the sliced potatoes, don't cluster, stir at intervals.
5. It's done when the water in the potato is dried up.
6. Transfer into a paper towel to drain excess oil.
7. Leave to cool completely and store in an airtight container.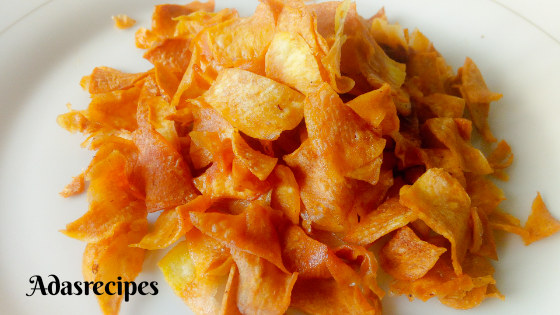 Enjoy with chilled drink of choice, preferably soft drink or fruit juice.
Hope you enjoyed reading this post?
Please don't forget to share and leave a comment in the comment section below.
Watch below the practical video on how to make crispy sweet potato chips recipe
See you in my next post.
Enjoy your day!
Ada.