Homade Spicy Plantain Chips Recipe Everyone Loves
Homade Spicy Plantain Chips recipe is loved by everyone! True or false?
Let me answer the question first, this is absolutely true.
This is one snack I know people, I mean everyone, including children love and don't joke with.
Not only that, homade Spicy Plantain Chips recipe is also a snack, that can be taken and accomodates a good number of people taking into consideration their health status.
Our bone of contention in this post is the unripe plantain chips.
Diabetic and hypertensive patients can comfortably take this snack.
Homade spicy plantain chips recipe is popular Nigerian crunchy deep fried snack enjoyed by everyone.
It is made from home and spiced with pepper and other spices of choice which gives it a unique taste and flavour.
It can also be made without spices like the normal popular plantain chips sold and hawked on the streets.
Plantain Chips can be produced or processed semi-ripe and unripe and thinly sliced into different shapes and sizes with the aid of a knife or plantain slicer.
While the fried ripe plantains known as dodo can be taken with spaghetti, fried egg, pap, custard, tea, rice, beans and the likes. Plantain is also boiled and taken with scrambled egg and stew
Unlike homemade plantain chips produced from home, plantain chips can also be processed in companies and branded for commercially purposes to meet large demands.
Unripe plantains is used to prepare plantain porridge and also processed into flour, used for plantain swallow and other culinary purposes.
It highly recommended for babies, diabetic patients, pregnant women as well as weight watchers.
It's very easy to make with very few ingredients.
To Make Homade Plantain Chips Recipe
Ingredients
4 medium fingers unripe Plantains
1 medium onions
2 cloves garlic
1/2 teaspoon powdered ginger
1/4 teaspoon ground Ghana pepper
Salt to taste
Enough vegetable oil for deep frying
Preparation
Wash and put the plantains in water, indent a straight line, then peel of the plantain skin and put the peeled plantains in water to avoid darkening.
Slice the plantain with the aid of a knife or a plantain slicer,salt and mix evenly.
Frying procedure
Put enough vegetable oil in a dry pot or frying pan to heat up, add the onion and garlic to the hot for flavour.
Add the sliced plantain and don't cluster and stir at intervals
It's done when it looks dry and crunchy.
Put in a paper to drain excess oil.
While still in the drainer and hot, add powdered ginger and ground pepper, shake to mix very well to absorb the spices.
It's ready! Store in an airtight container and enjoy with any soft drink of choice!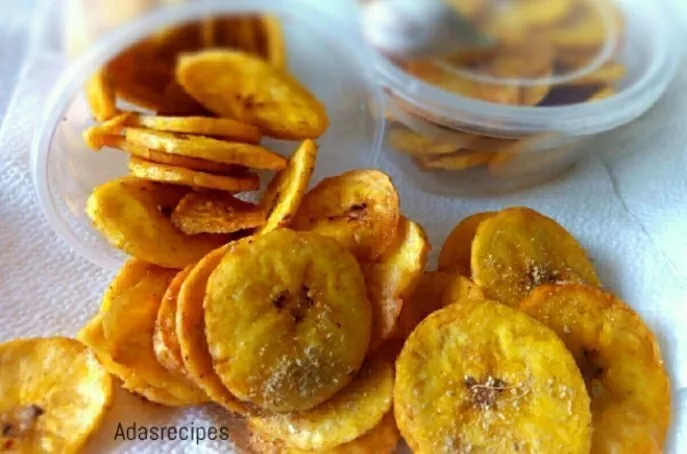 Watch the video on how to make homade spicy plantain chips recipe.
Please share this post, leave a comment and tell what you think about this recipe.
Tada!