Homemade Custard Powder Production
Homemade custard powder is what I'll be sharing today.
Hello loves, Happy new month and welcome to the month of December!
Has God been faithful? Of a truth, He has been faithful to I and my family, and I know He has been faithful to you and your family too?
Being alive is a testimony! It can never be too late for you, if you've not achieved what you have in mind doing this year.
God never fails, He always do that which He says He will do.
Will be sharing with you guys today, on how to produce homemade custard powder.
Yes! Is as easy and simple like anything simple you can think of.
I can't remember when I bought custard powder last.
I've been producing it myself, and the good thing it is that, you can fortify it however you want it.
Not only that, producing custard powder yourself, will also save you lot of money.
By the time you start producing it yourself, you will realize how much you've spent buying custard powder.
Producing custard powder is very easy, virtually every one can produce it. With few instructions you have a ready custard powder.
Children love custard. My kids prefer it to the ordinary pap, still wondering why, may be it could be on account of the attractive colour and flavor. LOL!
Adult also don't joke with it. This has made custard powder in high demand.
Producers of custard powder are really making it big in terms of profit.
It's a viable business in Nigeria because of the profit margin and the large market need.
This homemade custard powder production is super easy like I mentioned above.
With very few ingredients you have your ready homemade custard powder.
You could fortify it further by adding more milk if you choose to produce milk custard powder.
No need of adding milk in milk custard after preparation unless the milk already added is not to your taste.
In this post, I will be concentrating on the standard or normal custard production, which needs milk and probably sugar or honey after preparation.
Homemade Custard powder can also be used in the preparation of other varieties of recipes such as custard cake , custard bread pudding and custard
It is produced from cornstarch of which corn is the primary raw material.
On the other hand, cornstarch can also be used to dust the surface and to avoid the fondant from sticking.
The production is not time consuming at all.
To Produce Custard Powder, I Used;
½ kilo Corn starch
1 teaspoon egg yellow food colour
1 tablespoonful powdered milk flavor
1 teaspoon vanilla powdered flavor
1 teaspoon banana powdered flavor
Procedure
With a sifter, sift the cornstarch into an empty dry bowl
Add the milk powdered flavor
Add the vanilla and banana mixture flavor
Add the egg yellow food colour
Mix very well till well incorporated
That is the ready homemade custard powder!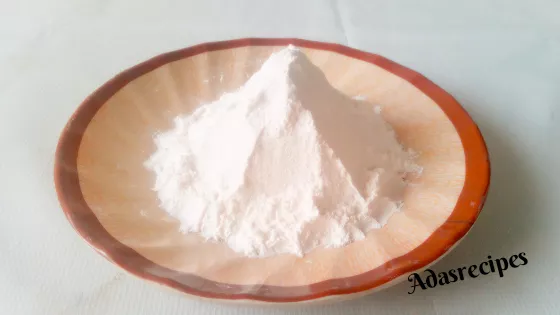 Please share this post with your family and friends.
Leave a comment in the comment section below and tell me what you think about this recipe.
Watch the practical video below to see for yourself how to make your homemade custard powder.
See you in my next post
Ada.