Spicy Puff Puff Recipe worth trying
Spicy puff puff is a snack that is puffy, spherical in shape and deep fried.
It's enjoyed by Nigerians and other African countries and originated from sub-Saharan Africa.
It's one of the trending snacks served in cocktail parties.
It's similar to doughnut, but puff puff is softer because more water is added to it compared to that of doughnut.
I'm yet to see anyone who doesn't enjoy puff puff.
Puff puff is known as a snack that is easy to make and does not require too many ingredients and still comes out yummy.
I love varieties, have known puff puff for a particular ingredients and same taste. The satisfaction I derived from the normal puff puff we all know has diminished.
I wanted a puff puff that tasted very differently from the taste of puff puff am used to.
Also read: Crunchy Soft Peppered Chin Chin
I came up with the idea of making a yummy spicy puff puff,oh my God! you need to have a bite! You will love it!
I called it spicy puff puff because of different spices used for making it. Trust natural spices, I love using it because it gives me what I want.
Also read: How to Make Nigerian Buns
The aroma and flavor of my spicy puff puff was the talk of the town, twas irresistible,my neighbors were like,they've not heard,let alone seen or tasted spicy puff puff. I told them twas Adas recipes. lol!
I made sure everybody had a bite. My yummy spicy puff puff was indeed yummy! lol!
The best part of the story was that all my neighbors made the spicy puff puff for their families the following day.
We enjoyed my yummy spicy puff puff so much that we didn't remember to eat our main meal.
To make this yummy spicy puff puff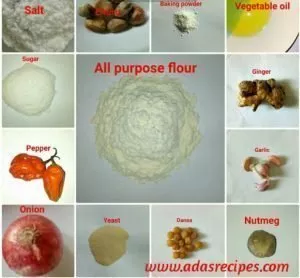 I Used

4 cups all purpose flour
1 leveled tablespoon baking powder
2 leveled tablespoon yeast
1 teaspoon salt
4 tablespoonfuls sugar
1/2 teaspoon nutmeg
4 ehuru seeds
4 dansa seeds
2 medium sized red bonnet pepper
1/2 teaspoon ginger (ground)
1 small sized clove of garlic
1/2 medium sized onion
Lukewarm water for mixing
vegetable oil for deep frying
Preparation
Sift the all purpose flour into a bowl
Add the yeast, baking powder, sugar and salt to the flour
Add the lukewarm water, little at time,work with your hand, till you get the puff puff consistency. It should not be watery or dough-like consistency(hard), rather the flour mixture should be handy when scooping into hot oil
Cover with a tight lid and leave to rest for at least 1 hour or 2 hours maximum.
Open after 1 to 2 hours and deflate.
Grind the spices such as the pepper, ginger, garlic, onion,nutmeg, ehuru and dansa
Add the ground spices to the flour mixture, then work with hand to mix evenly
Frying procedure
Add vegetable oil into an empty dry pot, the level of oil in the pot should be little before halve or halve of the pot, it should be deep fried,there should be enough oil for frying to enable the puff puff float and come out fine
Heat oil,dip a wooden spoon into the oil,when the wooden form bubbles, it means the oil is hot enough
Scoop the batter the hot oil, moving your hand and dropping the batter into hot oil in tear drop motion
Leave to fry until golden brown,you will notice the puff puff turns on its own when done.
Note; don't overcrowd the oil so as to give room for the puff puff to turn and come out fine.
My Yummy spicy puff puff is ready!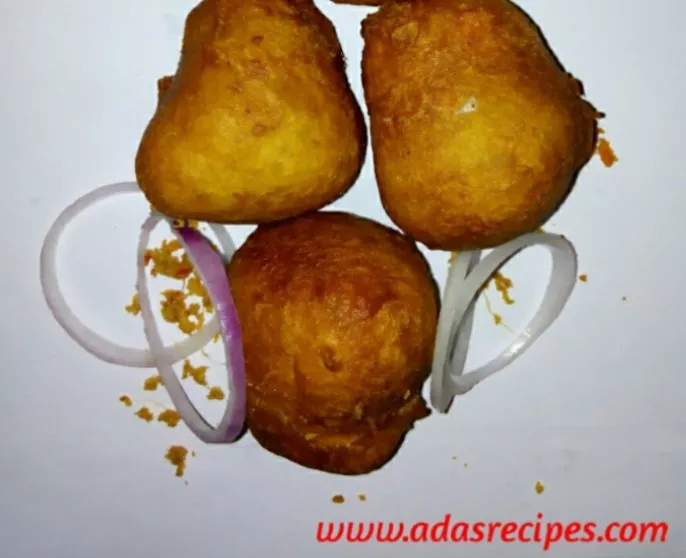 Enjoy!
Ada.