Fresh Fish pepper soup recipe Everyone will love
Fresh Fish pepper soup is best taken during rainy or harmattan season. The weather is usually cold during these seasons.
Is usually served and taken hot. It gives a kind of warmth to the body during cold weather
This is a delicacy eaten by Nigerians and Africans at large.
It is an appetizer. It is a spicy soup because of different spices used for preparation.
It can be taken alone or with drinks, swallow, agidi, yam and rice,depends on what works well with you. Personally I love taking alone or with agidi only.
Is also seen in joints ,bars and restaurants. It's usually called point and kill, because the fresh fish used is catfish.
You can use any fish of choice,provided it's a fresh fish,it mustn't be catfish for it to be called fresh fish pepper soup.
Also read: Prepare Hot Appetizing Cow Organ Meat Pepper Soup
It is prepared with fresh fish which is the key ingredients. Fresh fish is a seafood that is highly nutritious, it's a good source of protein.
The protein in Fresh fish digest quickly. It is a good source of omega 3 fatty acid,vitamin D and also helps in brain development. Fresh fish has a lot of nutritive values.
Also the scent leaf and utazi leaf added to the fresh fish pepper soup has a whole lots of health benefits.
The vegetables added also helps in the regulation of blood sugar,helps in weight management, lowers cholesterol, relieves bowel movement, aids digestion and improves the overall health of the body.
To prepare the hot delicious fresh fish pepper soup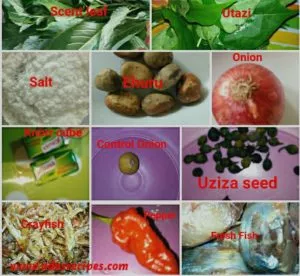 I Used:
1 sizeable Fresh fish
3 red bonnet pepper
2 knorr seasoning cubes
2 tablespoonfuls of crayfish(ground)
1 control onions(ground)
1/2 teaspoon uziza seed(ground)
1 teaspoon of ehuru

( ground)

1 medium sized onions
Salt to taste
Little shredded scent leaf
Little shredded utazi leaf
Preparation
Dress the fresh fish by removing the fins,cut into sizeable steaks,remove the drawn( internal organ),then wash thoroughly and set aside
Pick and wash thoroughly with mild salt water the scent leaf and utazi leaf seperately,shred and set aside
Grind,the control onion,uziza seed,ehuru seed,crayfish separately and set aside
Chop the onion and set aside
Pound the pepper a little not to be well grounded

Cooking Procedure


Put water in a pot,apply heat and leave to boil
Add uziza,control onion,pepper,ehuru and crayfish,seasoning cube and leave to boil for 3 minutes.
Add the washed fresh fish( this will make the fish hard,not break into pieces,when stirring)
Add chopped onion and allow to cook for 10 minutes
Add salt to taste.
Add the shredded scent leaf
Add the utazi leaf and leave to boil for 1 minute
Wow! the Hot delicious Fresh fish pepper soup is ready!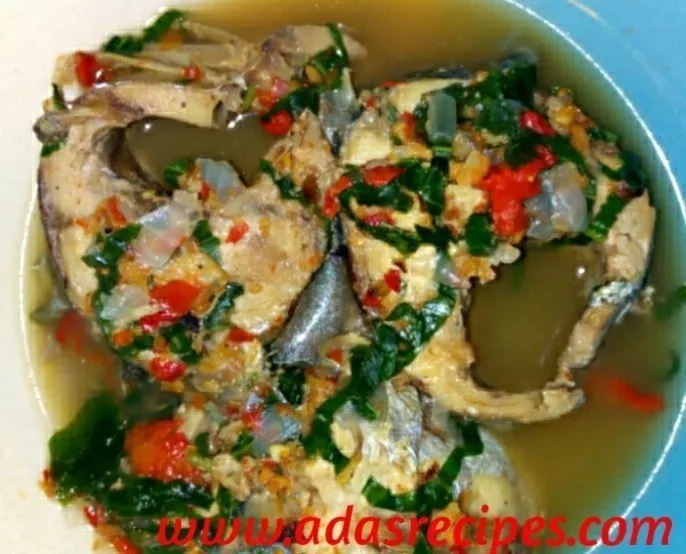 Enjoy!
Don't forget to leave a comment and tell me what you think.
Have a nice day!
Ada.