Cow skin(Kpomo) Sauce You Will Love
Cow skin(kpomo) Sauce on the table!
Hello good people, happy new year to you! This is my first post this year!
Want to use the medium to specially thank you for last year, thank you so very much for reading, leaving comments and sharing my posts.
Knew you really enjoyed and tried out my recipes. Got lots of e-mails to that regard thanking me for relating the information in a clear and simple terms. That's just the tip of the ice berg!
This year will be far more exciting! It's going be a total transformation. Cooking will be a whole lot of fun you. Yes ! Because my Joy is to meet your needs and provide solutions.
Yap! Back to what I have for you today! On the table is my mouthwatering spicy cow skin (kpomo) sauce. Lol!
I will be sharing with you, how I prepared this mouthwatering delicacy. Spicy cow skin(kpomo) sauce is similar to spicy cow leg sauce also known as nkwobi.
I love cow skin, the flavor makes me ask for more. If you noticed I used it in most of my recipes. During the christmas holiday, I often made this delicious delicacy and served most of the visitors we had. They so much enjoyed it.
This recipe share the same ingredients with Nkwobi with a difference in cow leg and skin. Most of the ingredients can be used in the preparation of ugba.
This recipe is very much affordable. With a very low budget, you can prepare and enjoy this super delicacy. It's also easy to prepare.
Spicy cow skin(kpomo) sauce is a delicacy enjoyed by Nigerians.
Its not as popular as the spicy cowleg known as nkwobi. It's an appertizer, so delicious that once tasted, you will become Oliver Twist, you will ask for more!
To Prepare Spicy Cow skin(kpomo) Sauce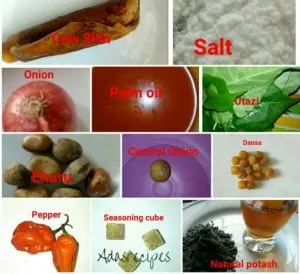 I Used
1 sizeable cow skin
4 tablespoons natural potash water
2 cooking spoons palm oil
1 large fresh pepper
1 medium onion
1 seasoning cube
Salt to taste
3 ehuru seeds
3 dansa seeds
1/2 control onion
Little utazi leaves
Preparation
With a knife, scrape the in and out of the kpomo, wash thoroughly and set aside.
Grind the spicy such as ehuru, dansa and control onion together.
Coarsely blend the fresh pepper and onion
Shred the utazi leaf
Cooking Procedure
Cut the washed cow skin into desired sizes, put in an empty pot, add water depending on how hard or soft it is, when half cooked, add seasoning cube, salt, then live to cook well until it absorbs the water not completely, leave to cool.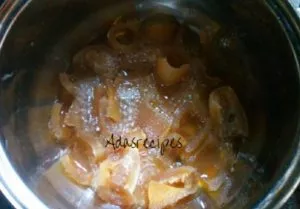 Add the pepper blend and ground spices, then stir, in a seperate plate add 2 cooking spoons of palm oil and 4 tablespoons natural potash water, stir, add the shredded utazi leaf , mix very well and add it to cow skin content, give it a very good stir, taste for salt.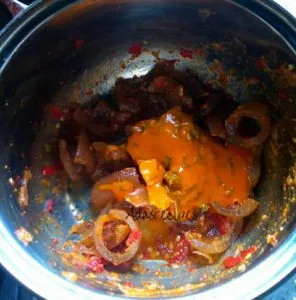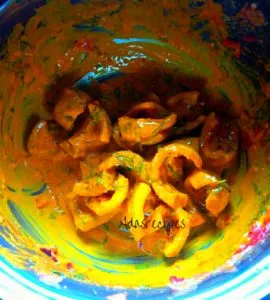 My mouthwatering spicy cow skin is ready!
Garnish with pepper, onion and shredded utazi leaf.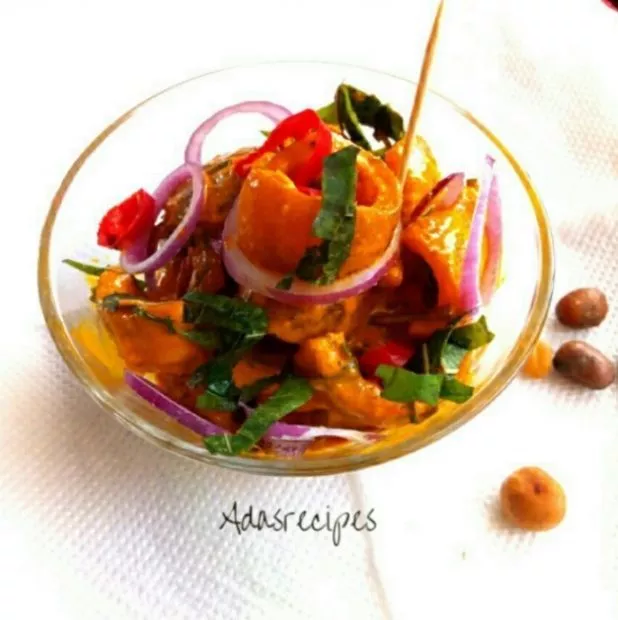 Don't Enjoy alone!
Please use the share buttons below to share this recipe and don't forget to leave a comment .
Enjoy your weekend!
Ada.