Fried Noodles You Will Always Love To Make
Fried noodles you will always love to make!
Hey dearies, It's another Friday! How are you doing today? How has the week been? Hope it wasn't too stressful?
Did you try out any of my recipes within the week? If you didn't, please do that this weekend. I want you to cultivate the habit of trying out my recipes, because it gives so much joy to hear you gave your family and friends a treat with palatable dishes.
Today, I will be sharing with you how I made this super duper delicious fried noodles. My kids finished it and asked for more!
Noodles is one of the fast and convenience food Nigerians prepare when they feel they want something quick.
It is also one of the best treat loved and enjoyed by children. Infact, in Nigeria, its mostly seen as Kids food. I strongly agree with that because am a Nigerian and I also have kids.
Adults enjoy it too, am one of them, lol! Back then in the university, indomie was never found wanted in my closet, virtually every student. You can't go to a student closet without seeing a cartoon of one. It's a fast food, and you know, one had to meet up with morning lectures.
Fried noodles is very easy to prepare and doesn't require much ingredients, even salt because the seasoning that came with it contains salt as adding extra may result to a salty dish, which I know you wouldn't enjoy.
The preparation of fried noodles is similar to that of fried rice. Different vegetables added made it healthy and colorful.
My favourite noodles is indomie and that was the brand I used for this recipe.
To prepare delicious fried noodles
Ingredients
2 super pack indomie noodles
Water for cooking
A handful green beans
2 small carrots
1/2 medium green pepper
1/2 medium onion
Powered curry enough for colouring
1 small fresh pepper( This is optional because indomie comes with pepper, especially if it's prepared for kids)
1 boiled egg
2 cooking spoons vegetable oil
Preparation
Scrape, wash, chop carrot, green beans, onion, green and red pepper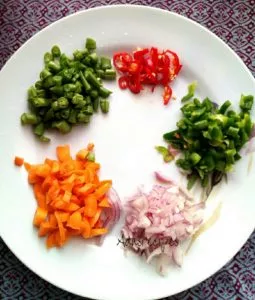 Cooking Procedure
In a boiling water, add curry powder and the noodles , cook for 7 minutes on medium heat.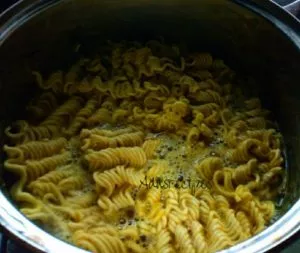 In an empty dry frying pan, put 2 cooking spoons vegetable oil, leave to heat, add the diced, onion, carrot, green beans, green and red pepper, stir-fry for 1 minutes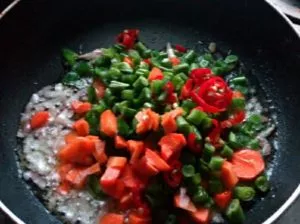 Add the boiled indomie, fry for another 2 minutes and remove from heat.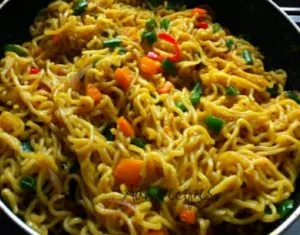 Ready fried noodles!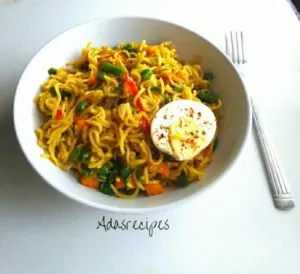 Get your forks, so delicious!
Enjoy!
Please share this post using the social media buttons below, don't forget to leave a comment and tell me you think about this recipe.
Have great weekend!
Ada.